Five Things to Know about the FIFA U-20 Women's World Cup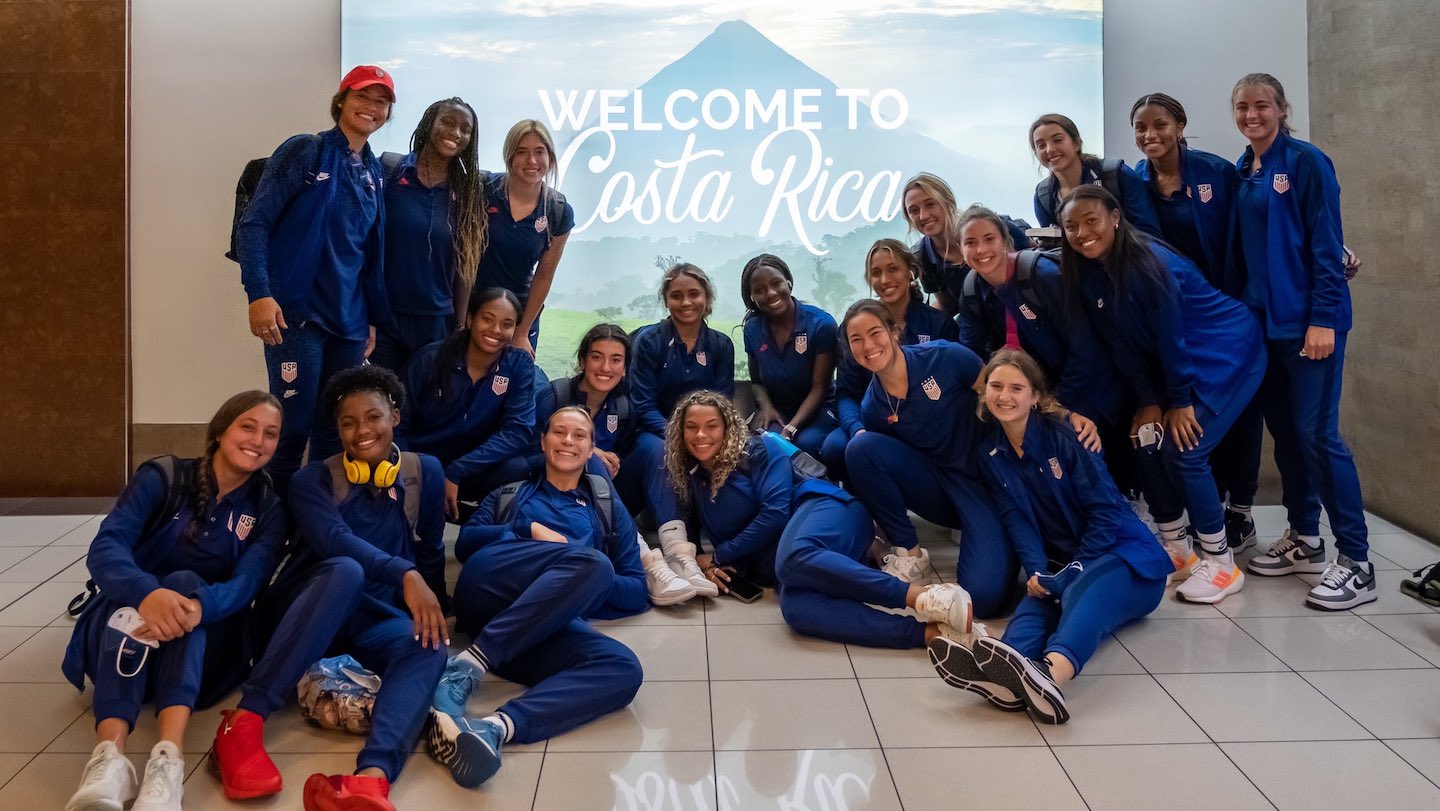 The U.S. Under-20 Women's Youth National Team will compete in the 2022 FIFA U-20 Women's World Cup running from Aug. 10-28 in Costa Rica. This will be the first FIFA Youth Women's World Cup since 2018 after the 2020 U-17 and U-20 tournaments were cancelled due to the global pandemic.
Here are five things to know about the USA's World Cup quest in Costa Rica:
TOURNAMENT FORMAT
Sixteen teams will compete at the 2022 FIFA U-20 Women's World Cup: Host Costa Rica, the USA, Mexico and Canada from Concacaf, Australia, Korea Republic and Japan from Asia, Ghana and Nigeria from Africa, Spain, Germany, France and the Netherlands from Europe, New Zealand from Oceania and Brazil and Colombia from South America. There are no first-time participants in this year's U-20 Women's World Cup, and 11 countries return from the last edition in 2018. The five countries that did not compete in 2018 are Costa Rica, Canada, Australia, Korea Republic and Colombia.
The 16 nations were drawn into four groups of four teams. The top two finishers in each group will advance to the quarterfinals, to be held on Saturday, Aug. 20 and Sunday, Aug. 21. The winners of those matches will advance to the semifinals on Thursday, Aug. 25. The Championship and Third-Place match will be played on Sunday, Aug 28. All matches will be played at two venues which are only about 12 miles apart: Estadio Nacional in San José and Estadio Morera Soto in Alajuela.
All matches of the tournament will be broadcast on the Fox Sports family of networks and online on FoxSports.com with corresponding authentication.
| | | | |
| --- | --- | --- | --- |
| Group A | Group B | Group C | Group D |
| Costa Rica (CRC) | Germany (GER) | France (FRA) | Japan (JPN) |
| Australia (AUS) | Colombia (COL) | Nigeria (NGA) | Netherlands (NED) |
| Spain (ESP) | New Zealand (NZL) | Canada (CAN) | Ghana (GHA) |
| Brazil (BRA) | Mexico (MEX) | Korea Republic (KOR) | USA (USA) |
USA SCHEDULE
The U.S. opens the tournament on Thursday, Aug. 11 against Ghana at Estadio Morera Soto (1 p.m. ET; FS2). The teams last met in the U-20 WWC in 2016, a 1-1 draw in Port Moresby, Papua New Guinea. The USA and Ghana also met in the opening game of the 2012 U-20 World Cup, a 4-0 U.S. win, and in the opening game of the 2010 U-20 World Cup, another 1-1 draw.
The U-20s will then face the Netherlands for the first time in a U-20 World Cup on Sunday, Aug. 14 at Estadio Nacional (7 p.m. ET; FS1) and finish the group stage against Japan on Wednesday, Aug. 17 back at Estadio Morera Soto (7 p.m. ET; FS2). The USA has played Japan in the last two U-20 World Cups, both 1-0 losses, the first in the Third-Place Match of the 2016 tournament and the second in group play in 2018.
2022 FIFA U-20 WOMEN'S WORLD CUP
GROUP D – USA SCHEDULE 
| | | | | |
| --- | --- | --- | --- | --- |
| Date | Match | Kickoff (ET) | Venue; City | Broadcast |
| Aug. 11 | USA vs. Ghana | 1 p.m. | Estadio Morera Soto; Alajuela, Costa Rica | FS2 |
| Aug. 14 | USA vs. Netherlands | 7 p.m. | Estadio Nacional; San José, Costa Rica | FS1 |
| Aug. 17 | USA vs. Japan | 7 p.m. | Estadio Morera Soto; Alajuela, Costa Rica | FS2 |
THE ROSTER
The USA roster is composed of 18 players currently in college or enrolling this fall, one youth club player and two professional players, the most professionals ever for a U.S. team at a FIFA youth Women's World Cup. Players born on or after Jan. 1, 2002, are age-eligible for the World Cup, and the USA roster features eight players born in 2002, eight born in 2003, four born in 2004 and one in 2005.
Sixteen of the 20 players who helped the USA roll to a 7-0-0 record and 49-0 goal differential at the 2022 Concacaf Women's U-20 Championship made the World Cup roster.
The five players who made the roster who were not part of the USA's World Cup qualifying campaign are midfielders Carina Lageyre (Duke) and Korbin Albert (Notre Dame), forwards Jaedyn Shaw (San Diego Wave FC) and Ally Sentnor (UNC) plus goalkeeper Teagan Wy (California), all of whom distinguished themselves during the spring to make late runs to the final roster.
Defender Samar Guidry (Virginia), midfielder Talia DellaPeruta (UNC) and forward Trinity Byars (Texas) are the only three players with previous FIFA World Cup experience, having represented the USA at the 2018 FIFA Under-17 Women's World Cup in Uruguay. Byars and DellaPeruta each appeared in one match at the tournament, while Guidry was rostered but did not see the field.
Forward Michelle Cooper (Duke) enters the World Cup as the USA's leading scorer during this cycle with eight international goals, while fellow linemates Simone Jackson (USC) and Andrea Kitahata (Stanford) have seven apiece. Eleven of the 18 field players on the roster have scored in an international match.
2022 FIFA U.S. U-20 WOMEN'S WORLD CUP ROSTER BY POSITION (COLLEGE OR CLUB; HOMETOWN; U-20 CAPS/GOALS)
GOALKEEPERS (3): Mia Justus (Florida State; Lakewood, Ohio; 6), Neeku Purcell (UCLA; Seattle, Wash.; 6), Teagan Wy (California; Rancho Santa Margarita, Calif.; 2)
DEFENDERS (6): Lauren Flynn (Florida State; Arlington, Va.; 8/0), Samar Guidry (Virginia; McKinney, Texas; 10/0) Emily Mason (Rutgers; Flemington, N.J.; 15/3), Ayo Oke (California; Lawrenceville, Ga.; 9/0), Lilly Reale (UCLA; Hingham, Mass.; 7/1), Laney Rouse (Virginia; Cary, N.C.; 7/0)
MIDFIELDERS (5): Korbin Albert (Notre Dame; Grayslake, Ill.; 4/1), Talia DellaPeruta (UNC; Cumming, Ga.; 19/5), Carina Lageyre (Duke; Cooper City, Fla.; 4/0), Sally Menti (Santa Clara; Seattle, Wash.; 7/1), Olivia Moultrie (Portland Thorns FC; Wilsonville, Ore.; 7/2)
FORWARDS (7): Trinity Byars (Texas; Richardson, Texas; 9/3); Michelle Cooper (Duke; Clarkston, Mich.; 7/8); Simone Jackson (USC; Redondo Beach, Calif.; 9/7), Andrea Kitahata (Stanford; Hillsborough, Calif.; 6/7), Ally Sentnor (UNC; Hanson, Mass.; 2/0), Jaedyn Shaw (San Diego Wave FC; Frisco, Texas; 4/3), Alyssa Thompson (Total Futbol Academy; Studio City, Calif.; 5/3)
JUST GETTING STARTED
The FIFA U-20 Women's World Cup has been a launching point for many players who have gone on to represent the full USWNT and many more who have played professionally. In fact, 47 different players who have played in a FIFA U-20 Women's World Cup for the USA have gone on to earn at least one cap for the senior side. From 2002-2018, an average of 6.4 players per U.S. U-20 World Cup Team have gone on to represent the full USWNT.
Following are the players from each of the past U.S. U-20 (and in 2002 and 2004 U-19) World Cup Teams who have gone on to represent the full USWNT:
2018 (5 players): Defenders Emily Fox and Naomi Girma, midfielders Jaelin Howell and Ashley Sanchez and forward Sophia Smith.
2016 (4): Goalkeeper Casey Murphy, Fox, Sanchez and forward Mallory Pugh.
2014 (6): Goalkeeper Jane Campbell, midfielders Rose Lavelle, Lindsey Horan and Andi Sullivan and forwards Pugh and Midge Purce.
2012 (5): Defender Crystal Dunn, midfielders Morgan Brian (now Gautrat), Samantha Mewis and Julie Johnston (now Ertz) and forward Kealia Ohai (now Watt).
2010 (6): Goalkeeper Adrianna Franch, defenders Dunn and Casey Short (now Krueger), midfielders S. Mewis and Kristie Mewis and forward Sydney Leroux.
2008 (5): Goalkeeper Alyssa Naeher, defender Meghan Klingenberg, midfielder Christine Nairn and forwards Leroux and Alex Morgan.
2006 (7): Defenders Stephanie Lopez (now Cox) and Kelley O'Hara, midfielder Lauren Cheney (now Holiday) and Allie Long and forwards Danesha Adams, Tobin Heath and Amy Rodriguez.
2004 (8): Goalkeeper Ashlyn Harris, defenders Rachel Buehler (now Van Hollebeke), Lopez and Becky Sauerbrunn, midfielders Angie Woznuk and Yael Averbuch, and forwards Megan Rapinoe and Rodriguez.
2002 (12): Goalkeeper Harris, defenders Buehler, Kendall Fletcher, Amy Steadman and Jill Oakes, and midfielders Woznuk, Lori Chalupny, Leslie Osborne and Sarah Huffman, and forwards Heather O'Reilly, Kelly Wilson (now Schmedes) and Lindsay Tarpley (now Snow).
TOURNAMENT HISTORY
This year marks the third time that the tournament has been held in the Concacaf region and first time not in Canada, which hosted in 2002 and 2014. Europe has hosted three times; Russia in 2006, Germany in 2010 and France in 2018. The U-20 WWC has been held twice in Asia (2004 in Thailand and 2012 in Japan), once in Oceania (2016 in Papua New Guinea) and once in South America (2008 in Chile).
The USA and Germany have each won the tournament three times. The United States took home the inaugural tournament title at the 2002 FIFA U-19 Women's World Championship. In the Final, the USA defeated host Canada 1-0 in overtime on a golden goal from future USWNT star Lindsay Tarpley. Played in front of 47,784 fans at Commonwealth Stadium in Edmonton, the 2002 championship match remains the largest crowd ever to watch a FIFA youth women's game. Tremendous fan support and media attention at the competition's first edition set the standard for future tournaments.
The United States has qualified for all 10 Youth Women's World Cups at the U-19/U-20 level. After winning in 2002, the USA took third in Thailand in 2004 and fourth in Russia in 2006. In 2008, the USA triumphantly returned to the top of the podium in Chile. Goals from future Women's National Team stars Alex Morgan and Sydney Leroux in the championship match propelled the USA to a 2-1 victory over Korea DPR. A controversial penalty kick shootout against Nigeria eliminated the USA in the 2010 quarterfinals, but the team rebounded in 2012. Featuring future senior World Cup champions Crystal Dunn, Samantha Mewis, Morgan Brian and Julie Johnston, the USA defeated three group winners in the knockout rounds to win the title over Germany, 1-0, on a goal from Kealia Ohai. In 2014, the USA faced another heartbreaking penalty kick defeat, this time falling to Korea DPR in the quarterfinals.
At the 2016 U-20 WWC in Papua New Guinea, the USA finished fourth. After winning its group by the slimmest of margins, topping France on a FIFA Fair Play points tiebreaker, the U.S. downed regional rival Mexico in the quarterfinals. In the semis, the USA suffered a hard-fought extra time loss to Korea DPR before falling to Japan 1-0 on an 87th-minute goal in the Third-Place match. In 2018, the USA had its worst showing ever, bowing out in group play, albeit in a group that featured both finalists – Spain and Japan. Spain defeated Japan, 3-1, to lift the World Cup trophy.
In nine previous tournaments and 47 matches, the USA has lost just six games in regulation, three to Germany, two to Japan and one to China PR. Agonizingly, the U.S. was knocked out of this tournament in penalty kicks in 2006, 2010 and 2014.