Twenty-six players called to U.S. U-20 WNT training camp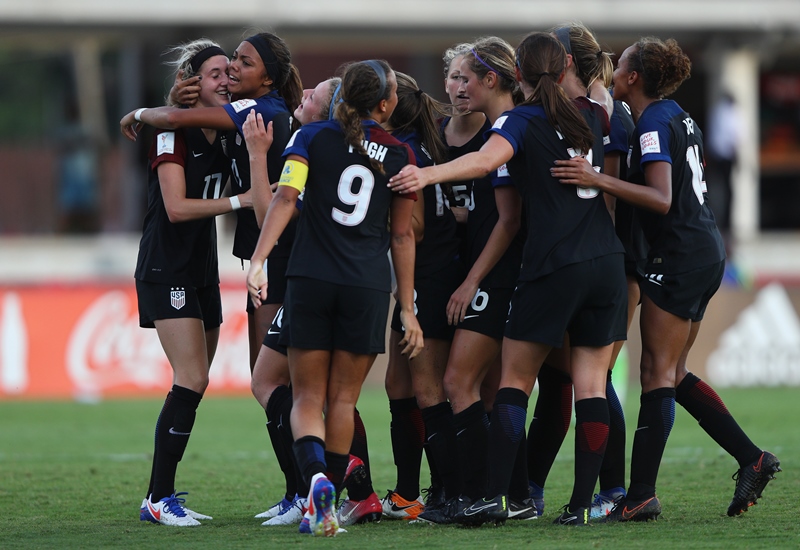 CHICAGO (Via U.S. Soccer) – The U.S. Under-20 Women's National Team will come together for a training camp from Nov. 16-23 in Sunrise, Fla. for this age group's first activity since the college season began. U-20 WNT head coach Jitka Klimkova has called up 26 players to camp.
This will be the first of three events for the U-20 WNT this fall/winter before the 2018 CONCACAF Women's U-20 Championship is contested in Trinidad & Tobago from Jan. 18-28. That tournament will send three teams to the 2018 FIFA U-20 Women's World Cup in France.
The USA was drawn into Group B at the qualifying tournament and will open on Jan. 19 against Nicaragua, play on Jan. 21 against the first-place finisher from the upcoming Caribbean pre-qualifying tournament before finishing group play against Mexico on Jan. 23.
+READ: USSDA Girls East Conference Recap – November 11-12, 2017
The second preparation event for the U-20s will be the first Women's Nike International Friendlies, as the USA hosts Brazil, England and Finland at Premier Sports Campus in Lakewood Ranch, Florida from Dec. 7-11. The USA, Brazil and England will bring players born in 1998 or later while Finland will feature players born in 1997 and later. The event will be held in conjunction with the U.S. Soccer Development Academy Winter Showcase, the first-ever Showcase event for the Girls' Academy, now in its first season.
With many of the top players in the pool still competing in their college seasons, nearly half the roster named by Klimkova are new call-ups. She will use this upcoming camp, in part, to select a roster for the Women's Nike Friendlies.
Of the 26 players named, 15 were born in 1998, the age cut-off year for the 2018 U-20 Women's World Cup. Seven were born in 1999 and four in 2000. Five of the six youngest players are participating in this year's inaugural Girls' Development Academy season. Seventeen are college players whose seasons are over, eight are youth club players and one, forward Courtney Strode, is playing professionally in Sweden for Växjö DFF.
+READ: Development Academy Winter Showcase, Nike Friendlies begin Nov. 29
U.S. U-20 WNT Roster by Position

GOALKEEPERS (5): Jaelyn Cunningham (Illinois; Reynoldsburg, Ohio), Claudia Dickey (Charlotte Soccer Academy; Charlotte, NC), Shelby Hogan (Providence; Franklin, Mass.), Amanda McGlynn (Virginia Tech; Jacksonville, Fla.), Madison Newsom (UC Irvine; Elk Grove, Calif.)
DEFENDERS (8): Nicole Albrecht (Minnesota; Cedarburg, Wisc.), Claire Constant (McLean SC; Alexandria, Va.), Chardonnay Curran (Oregon; Ewa Beach, Hawaii), Sydney Dawson (Internationals SC; Akron, Ohio), Naomi Girma (California Thorns FC; San Jose, Calif.), Sinclaire Miramontez (Nebraska; Lenexa, Kans.), Olivia Petit (Saint Louis; Akron, Ohio), Isabel Rodriguez (Ohio State; Canton, Mich.)
MIDFIELDERS (6): Samantha Coffey (Boston College; Sleepy Hollow, NY), Luca Deza (California; Belmont, Calif.), Kristina Fisher (Miami; Jupiter, Fla.), Jaelin Howell (Real Colorado; Windsor, Colo.), Brianna Pinto (NTH Tophat; Durham, NC), Natalie Winters (Iowa; Plymoth, Mich.)
FORWARDS (7): Jordan Brewster (Internationals SC; Canton, Mich.), Alexandria Griffin (Texas Tech; Southlake, Texas), Jordan Harr (Texas Tech; Sachse, Texas), Abigail Kim (California; Vashon, Wash.), Sophia Smith (Real Colorado; Windsor, Colo.), Kylie Sprecher (Marquette; Menomonee Falls, Wisc.), Courtney Strode (Växjö DFF/SWE; San Diego, Calif.)