West Coast FC to re-brand as Orange County Surf Soccer Club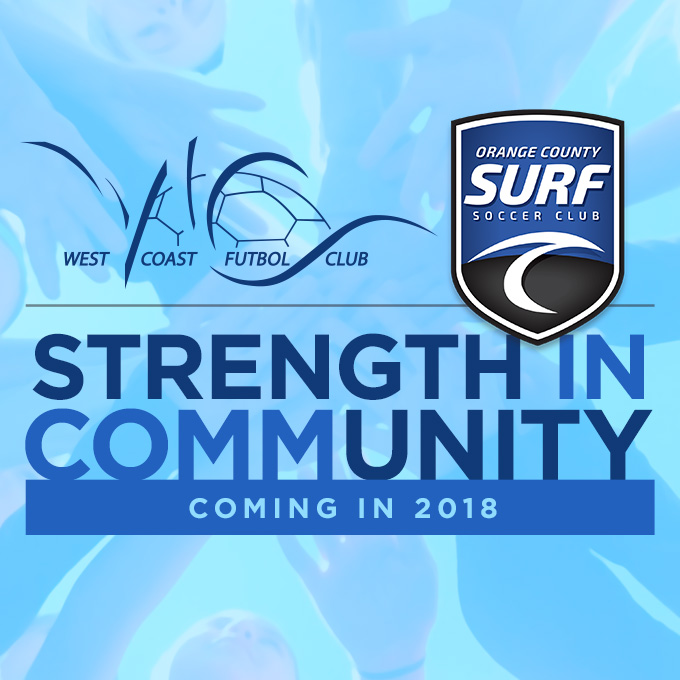 SAN DIEGO, CA (Via Surf Cup Sports) – Starting with the 2018/2019 season, West Coast FC will re-brand as Orange County Surf Soccer Club and become a partner of the Surf Soccer Club, bringing together two of the most influential organizations in the Southern California soccer community.
With an aim to develop world-class soccer players across Southern California, this partnership brings together Surf Cup Sports — an event and brand management firm, with youth club, West Coast Futbol Club — which has earned four USYS and one ECNL National Championship, is routinely ranked among the top 10 clubs in the nation. This partnership tracks a trend in the past five years of clubs and brands coming together to pool resources in order to provide a development pathway for the best soccer players in a region.
"As soccer in the United States continues to evolve, we as an organization continue to look to increase our value proposition to our players and families," said Girls VP Nick Cucuk.
"Through this partnership we look forward to aligning the top talent in the county and providing a real pathway for all of our players to compete at the college and professional level," added Mike Lane Boys VP.
"At Surf Cup Sports, we believe that competitive youth soccer will continue its trajectory of consolidation and overall professionalization of club services. We look forward to welcoming West Coast Futbol Club to our Surf family and providing access to our extensive coaching education and administrative resources," said Jeremy McDonald, VP Business Development for Surf Cup Sports.
"A partnership with Surf Cup Sports is a natural alliance that will benefit both organizations and all of our members," said Rick Hough, President of West Coast Futbol Club. "Our Board of Directors' number one priority is to provide great opportunities for our youth soccer players and take advantage of the changes in the current and future competitive marketplace."
Founded in 1997, West Coast Futbol Club has consistently ranked highly among youth soccer clubs in IMG Academy Rankings. West Coast FC is known for a club culture that values superior technical skills, tactical awareness and a possession style of play that is highly prized by college coaches and U.S. Soccer. Orange County Surf Soccer Club participates in the US Soccer Development Academy (USSDA) and in the Elite Clubs National League (ECNL).
Surf Cup Sports was formed in 2012 to manage the iconic summer Surf Cup and winter College Cup and has since won a long-term lease for the 112-acre soccer complex in Del Mar known as Surf Cup Sports Park and now manages the SoCal Sports Park in Oceanside. Surf Cup Sports also manages the Surf brand and provides operational support to Surf clubs as well as the benefits of broader relationships with partners that include Nike, Manchester City FC, Soccer.com and many others.