Top college recruits shine in Disney Girls Showcase championships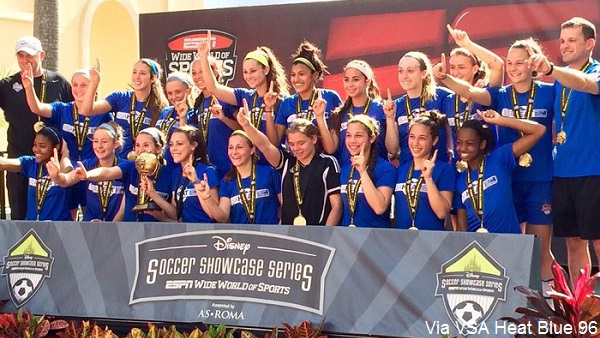 Club teams from around the United States and Canada rang in the new year at the Disney Girls Showcase in Orlando, Fla. from Dec. 31-Jan 3, with US Youth Soccer National League bracket leaders competing with showcase division winners for championships. More importantly, the Disney Showcase featured a group of over 300 college coaches representing many of the nation's elite programs.
The Disney Boys Showcase ran from December 27-30 at the ESPN Wide World of Sports as well, with premier pro and college prospects featured in USSF Academy divisions and other top brackets. Between the two events, nine teams clinched spots in the 2015 US Youth Soccer National Championships.
Disney Boys Coverage:
+Champions decided at Disney Boys Showcase
+National League Recaps: Day 1 | Day 2 | Day 3
At the girls event, Tampa Bay United had two teams capture showcase divisions, with the Premier 97s winning the U-17 Showcase Black division and the 98s taking U-16 Showcase Gray. See below for a look at how the rest of the girls showcase divisions were decided.
+Read: Four girls teams clinch spots to 2015 US Youth Soccer Nationals
U-15 Showcase Red
Champion: NEFC Elite | Finalist: FC Virginia United Premier 99
After battling CUP Gold 99/00 to a 2-2 draw on New Year's Eve, the opening day of the Disney Girls Showcase, defending US Youth Soccer National Champion NEFC Elite won its next three matches to capture the U-15 Showcase Red division. NEFC Elite outscored its opponents 16-1 in the three wins, taking down Yardley Makefield SC Premier 99 Pride 4-0, Las Vegas Neon 00 Academy 9-1 and National League side FC Virginia United Premier 99 in the title match 3-0.
Mary Kate McGuire continues to cement herself as one of the top goal scorers in the class of 2018, netting 11 of NEFC's 18 total in Orlando. Center midfielder Taylor Kofton, goalkeeper Holly Stam and center back Jenna Tivnan were also instrumental for NEFC.
U-15 Showcase Black
Champion: Tophat SC Gold | Finalist: Eclipse Select Elite ECNL
Tophat SC Gold scraped by Eclipse Select Elite ECNL on penalty kicks to claim the trophy following a tough defensive battle ending in a 1-1 draw. Tophat reached the final after holding three National League opponents without a goal in group play, beating Cleveland FC 2-0, Grand Rapids Crew Juniors 00 Gold 4-0 and United FA 00 Premier 3-0. They were also one of four girls teams to qualify early for the 2015 US Youth Soccer National Championships in Tulsa, Okla.
Tophat's duo of Rachel Jones and Charlotte Teeter were sparkplugs up top, with Jones adding three goals and Teeter scoring two at the Showcase. Jones now leads the National League U-15 age group with 12 goals which is six more than any other player, and Teeter is third with five.
U-16 Showcase Red
Champion: Jacksonville FC Storm 98/99 | Finalist: Cincinnati United Premier Gold 98/99
JFC Storm won three one-goal games and had a 2-0 defeat of Braddock Road YC Elite to secure a Disney division title and a trip to the 2015 US Youth Soccer National Championships. The Florida side took a 3-2 thriller over Futura FC Academy Forte Elite on Day 1, then blanked BRYC and edged North Atlanta SA 17 Elite 1-0 on Day 3 to close out group play in the National League bracket. JFC Storm then took a tightly-contested match 2-1 over Ohio South State Cup champion CUP Gold in the final.
Leila Azari's hat trick against Futura FC on New Year's Eve and second half insurance goal against BRYC put her tied for third in the National League U-16 age group with five goals on the season.
U-16 Showcase Black
Champion: Lou Fusz SC – Wipke | Finalist: Loudoun 98 Red
Lou Fusz SC outscored opponents 10-2 at Disney, going 4-0-0 at the Showcase and defeating reigning Virginia State Cup champion Loudoun 98 Red 1-0 in the final. A valiant effort by the back line and good possession in the midfield allowed LFSC to notch three straight clean sheets after allowing two goals to Buffalo 98 Crusaders in their opening match.
LFSC held the 2014 Region I finalist Loudoun side, which is currently second in the National League Blue Division, to just two shots on goal. Holly Jones scored the game's lone goal on a header to put away a free kick sent in by Kelsey Lanham.
U-16 Showcase Gray
Champion: Tampa Bay United Premier 98 | Finalist: Sunrise Elite Sting 98/99
The Gray Division's only two Florida sides met in the final after winning their respective brackets with Tampa Bay United upending Sunrise Elite 2-0. Tampa Bay reached the final after tying Canadian side Unionville Milliken with six points each in Bracket A, but a 3-2 win for Tampa over Unionville on Jan. 1 gave them the edge.
Sabrina Wagner and Angelica Stege were major contributors up top for Tampa Bay United, while defender Kendra Hoffman played a key role winning balls and starting runs with passes out of the back.
U-17 Showcase Red
Champion: NJ Stallions Dynamite NPL | Finalist: Tophat SC 16 Gold
NJ Stallions reeled off three straight wins to capture a Disney Showcase title following a 1-1 draw against Ohio powerhouse Ambassadors FC 97 Blue in their opening match. Stallions went on to beat Davis SC Legacy 98 3-2 on New Years Day, overpowered Georgia's Southern SA Chelsea 98 Elite 5-0 in their last group match and blanked fellow National League side Top Hat SC 16 Gold (Georgia) 2-0 in the final.
Along with a balanced scoring attack, the Stallions' back line led by class of 2016 standout Amalya Johnson (Columbia commit) clamped down to finish the event with back-to-back shutouts. Kristen Vinciguerra (UConn), Samantha Rosette (UVA) and Jessie Himel found goals for themselves and for their teammates throughout the event.
U-17 Showcase Black
Champion: Tampa Bay United Premier 97 | Finalist: WAZA FC East 98 Juniors
Brianne Folds ignited the Tampa Bay offense with a brace in the team's 3-0 win on the last day of group play to get them into the Disney Showcase final and secure them a spot in the 2015 US Youth Soccer National Championships. Tampa cruised to a 4-1 win in the Disney title match against WAZA. Goalkeeper Kaylan Marckese and her back line allowed just two goals in the four Showcase matches.
U-17 Showcase Gray
Champion: Maryland Rush Montgomery Coyotes | Finalist: Carolina Rapids 97 Burgundy
Reigning Maryland State Cup champion and Region I finalist MRM Coyotes edged Carolina Rapids 1-0 for the Gray Division title on Saturday. MRM Coyotes received a goal from Dana Reed and held on to win in part because of a strong effort defensively by the back four and controlling possession through Drew Kesterman and the rest of the midfielders.
MRM is currently fifth in the National League U-17 Red Division but did not compete in league play at Disney. They return to National League play at the Las Vegas event in March.
U-19 Showcase Red
Champion: Virginia SA Heat Blue | Finalist: Lou Fusz SC Wipke
2014 US Youth Soccer National finalist VSA Heat Blue ripped through the competition at Disney, allowing only one goal in four games. VSA beat LFSC comfortably 3-0 in the final after taking over the National League Red Division lead during group play. It is VSA's second straight Disney title.
Zoe Foxhall was solid in net throughout the event for VSA, culminating with a game-clinching save on a penalty kick in the second half of the title match to preserve a 2-0 lead. Jacksonville University 2016 commit Lauren Short was a force in the back while also contributing offensively. Eastern Carolina commit Maddie Watson scored VSA's first two goals in the championship and had a brace against SSA Chelsea Elite 97 on the final day of group play. North Carolina State freshman Karina Lacey scored two goals at the event and High Point freshman Michele Micciche made plays distributing to teammates and scored a highlight reel bicycle kick on Jan. 1 against NSA Jaguars.
U-19 Showcase Black
Champion: Kings Hammer Academy Red | Finalist: Brevard SA 96/97 Select
KHA went 2-0-1 in group play at Disney, winning two one-goal games in a heavily-contested bracket among top of the table National League sides. KHA is now one point ahead of Louisiana Fire Navy and Maitland 96/97 Florida Krush Black for the National League Blue Division lead with 14. After a dogfight in group play, KHA was able to roll 6-1 over Brevard SA 96/97 Select in the final.
Bayley Feist and Patrice Dipasquale paced the KHA attack throughout the Showcase where goals were hard to come by during group play. Feist has three goals in National League play and is now third in the U-18 age group with six. Dipasquale's brace in KHA's 3-2 win over 97 Louisiana Fire Navy in the Showcase opener proved crucial in getting them through to the final.
U-19 Showcase Gray
Champion: Boca United 96/97 | Finalist: Triangle FC 96
Boca United 96/97 cruised to a perfect 4-0-0 record at Disney, scoring 16 goals and conceding only one. Boca opened the event with a 5-0 win over reigning State Cup champion Ohio Galaxies FC 96 Elite, blanked California North powerhouse Ajax United Elite 96 and closed group play with a 4-1 win over New York Rush Patriots 97. They capped the event with a 4-0 rout of North Carolina State Cup champion Triangle FC.