UFA NJ Strikers break through with Disney Showcase title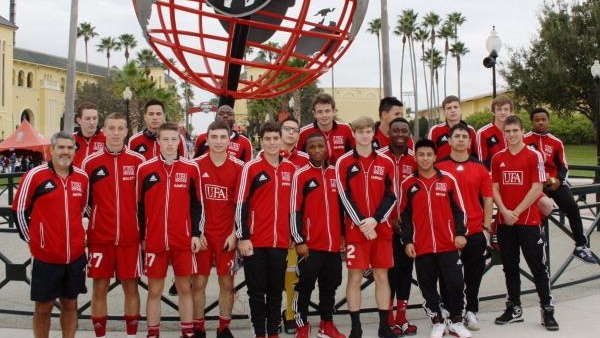 After coming up just short of winning a championship in their previous three trips to the Disney Boys Showcase, the Upper Freehold/Allentown NJ Strikers were determined to get it done in their final trip to the event with their full roster.
NJ Strikers head coach Amaro Pereira said his team didn't want to be like the Buffalo Bills, who notoriously lost four straight Super Bowls from 1990-1993. More importantly, they wanted to show themselves well in front of the some 300 college coaches in attendance at Disney from Dec. 27-30.
The Strikers were able to do just that, emerging from a tough Bracket B and defeating national powerhouse Jacksonville FC Elite 96/97 in the U-19 Gray Division final 7-6 in penalties after a hard fought 1-1 draw through regulation and two overtime periods. After JFC equalized early in the second half, UFA goalkeeper Josh Samuels made several key save down the stretch in regulation and overtime before making the game-winning stop in the seventh round of PKs.
+Read: Champions decided at Disney Boys Showcase
+Read: Five teams earn berths to 2015 US Youth Soccer Nationals
Samuels, along with his steady back line clamped down to hold JFC Elite to the one lone goal and shut out reigning Florida State Cup champion Space Coast United Storm 96/97 2-0 in their final group game which they needed to win to advance. The four core defenders for NJ Strikers – Randy Gonzalez, William Sjaastad, Nicolas Zolofra and Robert Ellerson – along with Tobias Tweh coming in off the bench, once again proved crucial for the defensive-minded team.
"They do a good job playing together because they're so comfortable with each other," Pereira said of his defensive unit which he has rarely tinkered with since they began playing together as U-8s and U-9s.
+Read: Breakout year for East Islip U-15s shows Tri-State talent wealth
Despite coming from a small town and a relatively unknown club in Upper Freehold/Allentown, NJ Strikers have come up as one the dominant teams in the 96/97 age group nationally. The coveted Disney championship capped off a year in which they won the EDP Spring League 1st Division Central and were finalists in the US Club Soccer National Cup. They were semifinalists in the 2014 Jefferson Cup top U-17 division and were also admitted to the top Dr. Pepper Dallas Cup U-17 division.
The Strikers' rise to national prominence has come without ever adding players from other teams or relying on one or two superstars.
"I'm happy for the boys and how far they've come, we're a unique team because we're a small team," Pereira told SoccerWire.com. "We just mesh well, we have players from Mexico, Portugal and the U.S. It's a good group."
As the team enters its final year before most of the roster moves on to play college soccer, the players who have yet to commit to a school continue to receive exposure at some of the nation's top showcases. After breaking through at Disney, several of those uncommitted players have had more options open up.
"We got a lot of great response already since Disney because we played a lot of the guys who are still looking for schools," Pereira said. "At this point our game is not about wins and losses, it's about getting kids seen at showcases, and even the players who are committed, it's great experience for the high pressure situations they'll face at the next level."
As for the players already set on their college destinations, Ellerson has committed to Division III Hood College in Maryland, while Sjaastad, midfielders Peter Hall and Kevin Pereira, and forward Derick Carpio have all committed to Rowan University, with other teammates considering it and other in-state schools as well.