Thirty-five players honored as 2022 NCAA Division I Men's Soccer All-Americans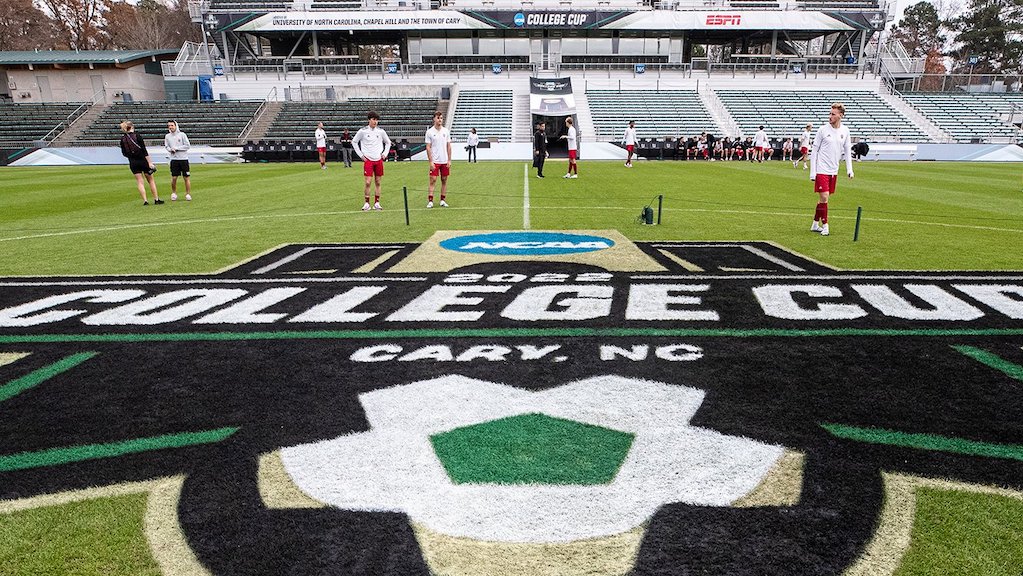 KANSAS CITY, Mo. — United Soccer Coaches announced the 2022 NCAA Division I Men's All-Americans.
Among the 35 men's soccer players receiving All-American recognition, five student-athletes are earning the second All-America honors of their careers: Duke junior midfielder Peter Stroud; University of Tulsa senior defender Mariano Fazio; University of New Hampshire junior midfielder Yannick Bright; Indiana GR-5 defender Daniel Munie and University of Pittsburgh senior forward Valentin Noel.
This year's All-Americans will be recognized for their accomplishments at the United Soccer Coaches All-America Ceremony & Reception on Saturday, Jan. 14, 2023, at the Pennsylvania Convention Center in Philadelphia in conjunction with the United Soccer Coaches Convention.
2022 United Soccer Coaches NCAA Division I Men's All-America Teams
* – Denotes previous selection
First Team
Pos
Name
Class
School
Hometown
K
Casper Mols
Fr.
University of Kentucky
Aabenraa, Denmark
D
Luis Grassow
Sr.
University of Kentucky
Munich, Germany
D
Noah Gulden
GR-5
Lipscomb University
Drammen, Norway
D
Keegan Hughes
Sr.
Stanford University
Heath, Ohio
M
Knut Ahlander
GR-5
Southern Methodist University
Notteroy, Norway
M
Alex Nagy
GR-5
University of Vermont
Bow, N.H.
M
JC Ngando
So.
University of North Carolina-Greensboro
Paris, France
M
Peter Stroud*
Jr.
Duke University
Chester, N.J.
F
Eythor Bjorgolfsson
Sr.
University of Kentucky
Jessheinm, Norway
F
Levonte Johnson
Sr.
Syracuse University
Brampton, Ont.
F
Shakur Mohammed
So.
Duke University
Kumasi, Ghana
F
Ilijah Paul
So.
University of Washington
Gilbert, Ariz.
Second Team
Pos
Name
Class
School
Hometown
K
Eliot Hamill
GR-5
Duke University
Scarsdale, N.Y.
D
Moise Bombito
Jr.
University of New Hampshire
Montreal, Que.
D
Leo Burney
So.
University of Pennsylvania
Seattle, Wash.
D
Daniel Nimick
Sr.
Western Michigan University
Harrogate, England
D
Daniel Wu
Sr.
Georgetown University
Cary, N.C.
M
Emeka Eneli
GR-5
Cornell University
Dublin, Ohio
M
Eliot Goldthorp
So.
Hofstra University
Leeds, United Kingdom
M
Milo Yosef
Sr.
Marshall University
Aachen, Germany
F
Stephen Afrifa
Sr.
Florida International University
Toronto, Ont.
F
Stas Korzeniowski
So.
University of Pennsylvania
Stillman, N.J.
F
Duncan McGuire
Jr.
Creighton University
Omaha, Neb.
Third Team
Pos
Name
Class
School
Hometown
K
Cole Jensen
Sr.
Xavier University
Council Bluffs, Iowa
D
Mariano Fazio*
Sr.
University of Tulsa
Sevilla, Spain
D
Daniel Munie*
GR-5
Indiana University
Maryland Heights, Mo.
D
Nick Richardson
Sr.
University of Maryland
Baltimore, Md.
M
Yannick Bright*
Jr.
University of New Hampshire
Milan, Italy
M
Dyson Clapier
So.
University of Akron
Layton, Utah
M
Lucas Meek
GR-5
University of Washington
Mercer Island, Wash.
M
Laurence Wootton
Jr.
Ohio State University
Stoke-on-Trent, England
F
Nicolo Mulatero
Sr.
Missouri State University
Givoletto, Italy
F
Valentin Noel*
Sr.
University of Pittsburgh
Niort, France
F
Nathan Opoku
So.
Syracuse University
Accra, Ghana
F
Tyrese Spicer
Jr.
Lipscomb University
Trincity, Trinidad & Tobago