Syracuse men's soccer program unveils 8-player recruiting class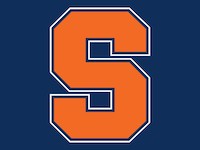 SYRACUSE, N.Y. – Syracuse head men's soccer coach Ian McIntyre has announced the addition of eight student-athletes to 2019 recruiting class. The Orange will welcome Luther Archimede, Quinton Becker, Logan McGraw, Christian Miesch,Merjan Ozisik, Andres Quevedo, Noah Singelmann and Abel Mickey Watson this fall.
"It is wonderful to be able to welcome this exciting group into our Syracuse soccer family," said Orange head coach Ian McIntyre. "It is a talented group of young men of the highest character, who have each succeeded on the soccer pitch and in the classroom. Each young man will take tremendous pride in representing Syracuse University, while fully embracing the challenges and demands that we place upon our student-athletes. I cannot wait to get to work with this group and quickly integrate them into our program."
Luther Archimede – Petit-Bourg, Guadeloupe – University of Belfort-Montbelliard
Archimede recently made his full national team debut for Guadeloupe against Martinique in CONCACAF Nations League Qualification. He also represented Guadeloupe in the CONCACAF U20 Championship, scoring six goals in five matches, and has played for FC Sochaux in France.
"Luther is a physical, mobile forward who has scored goals at every level that he has played," McIntyre said. "He possesses the athleticism and a relentless work rate that will transition well into the college game. I am looking forward to working with Luther this fall and having him complement our current attacking players."
Quinton Becker – Niskayuna, N.Y. – Christian Brothers Academy
Becker led CBA to a 2018 Sectional Championship and was recognized as a Section 2 First Team honoree as a center back. He plays for the successful Blackwatch Premier team under the guidance of coach Steve Freeman.
"Quinn is a versatile player who can comfortably play as a defender or a defensive midfielder," McIntyre said. "Quinn possesses the drive, application, and quality to be successful here at Syracuse. He has a wonderful attitude and work ethic to complement his talent. He follows Pat Castle, Brandon Albert and Noah Rhynhart from the Black Watch program, who enjoyed terrific careers here at Syracuse."
Logan McGraw – Brooklyn, N.Y. – Berkeley Carroll School
McGraw captains the USSDA BW Gottschee U18/19 team and plays as a central midfielder. He led the U16-17 BW Gottschee Academy squad on a successful playoff run during the 2017-18 season.
"Logan is a player initially seen through our ID camp program here on campus and he continues to impress us every time that we watch him play," McIntyre said. "He is a player that is able to breakup play and then he can quickly transition into attack. He is a good individual defender who makes those players around him better. He is a smart player that connects the game extremely well, and he has the tenacity and the force of personality to impose himself onto a game."
Christian Miesch – Ried-Brig, Switzerland – Stony Brook University
In 2018, Miesch started 16 games in goal for a Stony Brook team that was crowned America East Conference regular-season champions. Miesch picked up four shutouts during the season and was selected as the America East Rookie of the Year. He was named to both the All- America East Second Team and the America East All-Rookie Team. Prior to Stony Brook, he played for the FC Sion Academy in Switzerland.
"Christian is an experienced, confident goalkeeper who will provide immediate competition to our starting goalkeeper position," McIntyre said. "Christian has the technical tools and the necessary work ethic and mentality required to make a quick transition to the ACC."
Merjan Ozisik – Niskayuna, N.Y. – Niskayuna High School
Ozisik was recognized as the Section 2 Class AA Co-Player of the Year, registering 14 goals and eight assists for his Niskayuna High School team. Ozisik is a member of the successful Black Watch Premier program and joins teammate Quinn Becker at Syracuse.
"Merjan is an exciting, technical player with excellent balance who excelled during our ID camp program," McIntyre said. "He is a player that we have been following for some considerable time, and he continues to impress us with his maturity, confidence and calmness on the pitch. He can glide past defenders when isolated against an opponent, and he has the ability to select and execute the correct pass at the right time."
Andres Quevedo – Dallas, Texas – Frisco Lone Star High School
Quevedo plays for the FC Dallas program that has enjoyed National League, Regional League and North Texas League success. A team captain, he has led his high school team to two state championships.
"Andres is an excellent shot stopper and has a wonderful calmness and presence for a goalkeeper of his age," McIntyre said. "Andres continues to impress every time that we see him play, and he possesses the necessary drive and commitment to succeed here at Syracuse. I am looking forward to seeing Andres further grow as a goalkeeper within our competitive training environment."
Noah Singelmann – Noah Singelmann – Rheinstetten, Germany – Heisenberg Gymnasium
Singelmann is a product of the famous Karlsruher SC Academy. He has been the captain of the U17 and U19 Bundesliga teams during which he has been selected to represent the regional team.
"Noah is a technical player with a great understanding and feeling for the game," McIntyre said. "Noah's versatility and mobility will help his transition to the college game. He is very comfortable as either a defender or a midfield player, and he will fit in extremely well to the way that we play."
Abel Mickey Watson – Berwyn, Pa. – Loyola University (Md.)
Watson transfers from Loyola where he started in 42 games before a season-ending injury sidelined him during his senior year. As a central defender, Watson scored five goals and provided an assist during his time at Loyola and was recognized as a 2017 All-Patriot League First Team member. Prior to Loyola, Watson was selected as the 2014 Connecticut Gatorade Player of the Year and was a high school All-American for South Kent and Coach Finberg. Watson will be a graduate student at Syracuse with one year of eligibility remaining.
"Mickey is a terrific addition to our program who will immediately add personality and leadership to our team," McIntyre said. "He is a warrior, a true competitor, and the kind of player that every coach wants in his locker room. I am looking forward to watching Mickey compete in our Orange uniform this fall."
These recruits join Nyal Higgins, Matt Orr and Amferny Sinclair, who enrolled for the 2019 spring semester.