SW Q&A: Georgetown men's coach Brian Wiese on recruiting, psychology…and PKs
Georgetown University's mens soccer program has vaulted from regional contender to national powerhouse in recent years, and on Friday the Hoyas – ranked No. 9 in the country in the NSCAA and TopDrawerSoccer.com polls – host Harvard for their 2014 home opener at 4 p.m. ET at Shaw Field on GU's Washington, D.C. campus.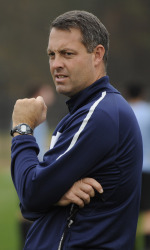 A year and a half removed from their first-ever trip to the NCAA College Cup in 2012, GU, who kicked off the season with draws vs. Indiana and Notre Dame, enter the new season with real hopes of making another deep run in search of mens college soccer's top trophy.
SoccerWire.com caught up with Hoyas head coach Brian Wiese at the US Youth National Championships in July as he eyed potential recruits ahead of his ninth season on the Hilltop. Wiese kindly shared his thoughts on a range of topics related to both the current season and those further down the road.
SoccerWire: The Hoyas were in the National Championship game in 2012, and then the third round of the NCAA tournament in 2013. Was that expected or a disappointment?
Brian Wiese: The postseason's always a tricky thing as you could go out at any time or you could sneak your way through based on game to game scenarios. The 2012 team that we had was a really mature, senior-laden team. I think that group was going into day one of preseason in a very good place and knew what they were doing. They had a good identity as a team, roles were in place. And then last year's team had a few more question marks.
We started out that preseason with a lot more of, "Well, I think we'll be OK." But we didn't know the full picture yet. But that team grew over the season. And by the time the playoffs came around, we actually thought we could have been better than the year before. So in a way it wasn't expected if you look at the beginning of the season and by the end of the season it was a disappointment that we didn't get further.
+ READ: Georgetown men's soccer releases 2014 schedule
SW: During this offseason, what have you been doing in terms of recruiting?
BW: There's never an offseason in our sport now. You recruit all the time. It's a 12-month thing. Like it or not, it's just the way it's gone, and you're recruiting further and further out which you don't really like either, but that's the way it's going. We have to replace two terrific players in Steve Neumann and Joey Dillon who were both drafted in the MLS.
And those are big holes, but I think that we have a very good freshmen group that should plug those holes well. You don't know until everyone is in at camp, and by then it's just about putting all the pieces together and keeping everybody healthy.
SW: What specific positions or skill sets are you looking for?
BW: The thing is, when you're looking at any position, be it a forward or center back or full back it doesn't really matter. They all have to be good soccer players. You're looking for traits. Are they strong? Are they athletic? Are they good 1v 1 guys? Are they good in the air? At the end of the day, everyone has to be able to handle the ball.
And whether you're the center back or the attacking center mid, the capacity to handle pressure and the capacity to be calm and connect and make good decisions is the same. You're always looking for an athletic component, but if that soccer component is missing, then it's a non-starter.
SW: Speaking of calmness, you just saw a penalty shootout [Baltimore Celtic vs. Ohio Premier Eagles in the U-16 USYS National Championship]. Georgetown was in a penalty shootout in the 2012 College Cup Semifinal, so were you looking at how they take penalties?
BW: No, not really. What you're looking at when you get to that stuff you're just looking for disposition, who are guys who can handle pressure or not. Whether you make or miss a penalty or you save it or you don't it's not really something that we're going to make me say, "Oh, we have to add that guy to our list," or "we have to take that guy off our list." It's a little deeper than that. Penalties are almost their own sport, their own thing.
+ READ: Baltimore Celtic gets tactical for PKs, wins U16 boys US Youth Soccer National Championship
SW: What are your expectations going into this year?
BW: We have high hopes. I think this team will be as good as any team we have had on paper. We put together a strong out-of-conference schedule, which will test [the players]. I don't expect to win all of those games, but I hope we win our share of them. The Big East is going to be a bear again, and you hope that you can navigate through the league well and stay healthy. But I think all the parts are there to be good.
We have, in my opinion, the best 'keeper and back four in the country, so that's a nice foundation to start from. And we'll be deeper in the midfield and up front than we've ever been in my time at Georegetown.