After long USSDA season, Bethesda-Olney U-18s look back with pride
Way back in August 2013, Bethesda-Olney's Boys' Under-18 side started to prepare for their first season in the U.S. Soccer Development Academy (USSDA). Taking their place in the East Conference, the team would face a number of Major League Soccer academy sides and other highly-regarded clubs in league play, and would need to be consistent to secure a playoff berth.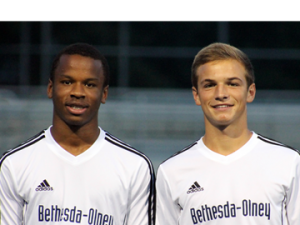 But with a 23-2-0 regular-season record, Bethesda-Olney did much more than that. Head coach Matthew Pilkington's side earned the top seed for the USSDA playoffs and made it all the way to the final, where they fell  2-0 to the Players Development Academy (PDA) at the StubHub Center in Carson, California on Saturday.
[ +READ: So close, so far: Bethesda-Olney fall to PDA in U-17/18 DA final ]
Now, with the players looking forward to what they hope will be similarly fruitful college careers at some of the best institutions in the country, the outgoing Pilkington praised his side for their application in what was a very long season.
"The effort and commitment to the team dynamic and the vision we had, the players bought into it early on," Pilkington told SoccerWire.com. "We started back in August, so it's really been close to 12 months of sacrifice and commitment and really with a small squad. We had the original 18 or so players that started with the group were the ones that ended with the group, so we really didn't add many players.
"They sacrificed a lot of things to train four or five times a week with games on the weekends on a year-round basis. That was something we were impressed with. And as a result our style of play and our systems and our player development — that was one of our goals — it's about developing players and having a winning team with that. How we wanted the style and the team dynamic, and we removed any individual tendencies it was effective in how we wanted to play.
"Although we didn't quite finish it off, we gained a lot of plaudits and a lot of recognition of how we play and we won the style of play. We're very aggressive and technically-oriented and we want to control the ball as much as possible."
One aspect that was particularly heartening for Bethesda-Olney was their ability to achieve results over MLS academy sides in their division and during the playoffs. The team finished above D.C. United and the Philadelphia Union's U-18 sides, then were victorious over Vancouver Whitecaps FC, Chivas USA and the Montreal Impact during their playoff run. For Pilkington and his players, those results were particularly encouraging.
"It was very pleasing, and it motivated the players to play against MLS clubs," he said. "A lot of these players have played together over the years so know each other very well and obviously we don't have the resources of some of these big MLS clubs, but we focused more on the important stuff, on training well, on working hard and then as a result when we played an MLS team, we go in with a lot of self-confidence but we're a very humble group, we just keep doing our jobs and working hard and try to play the right way and the results come.
[ +READ: Pilkington to depart Bethesda-Olney SC for new role with Downtown United SC ]
"We've had some very close games, some very exciting games along the way, so the boys should cherish those memories. We competed with a number of MLS teams and managed to defeat them over the course of the year. We've not just won games, we've won with a really attractive style."
Over the course of the season, several Bethesda-Olney players received plaudits for their efforts from the USSDA. Chase Gasper (a UCLA commit), Carter Manley (a Duke University commit) and Jake Rozhansky (University of Virginia) were all named to the league's East Conference Team of the Year, while Pilkington took the conference's Coach of the Year honors. Another Duke commit, forward Jeremy Ebobisse Ebolo, led the offense with 38 goals while he was supported well by Georgetown-bound Matthew Ledder with 20.
Unfortunately, the final at the StubHub Center would prove to be a game too far for Bethesda-Olney as they were defeated 2-0 by PDA. Goals from Brian White and Ryan Peterson would make the difference for the New Jersey side, and Pilkington felt that perhaps it was one step too far for his team after a long season.
"Obviously it was a little bit disappointing, I don't think we performed as well as we could have and should have," he said. "Maybe the occasion got to some of the players, but I think in essence we lacked a little bit of depth and this was a game that really caught us out. We were getting some injuries, we were maybe not as fresh as we'd have liked to have been and people were just in the last game were trying to carry on as we were.
"As a result, we couldn't quite get going, some mistakes cost us and in the end we lost. We had chances, I thought the game was fairly even for the first hour or so. They're a good team, they're very effective in their style of play and they have some excellent players. They were very dangerous on the counter-attack. We knew how they play, we'd played them before. But we were a little bit leggy and it was perhaps one game too many over the course of a long season with a small squad. Maybe we were just carrying too many niggling injuries."
[ +READ: Bethesda SC reaching new heights with innovative coaching philosophies ]
After a successful first year, Bethesda-Olney are sending a legion of players to some of the top colleges around the country and have seen a number selected for national team duty. Rozhansky and Gasper spent time with the United States Under-20 Men's National Team at their camp in May, with others in younger age groups also gaining international recognition.
As such, a number of players have experience of the demands traveling and playing in unfamiliar surroundings requires, and Pilkington believes this national team exposure combined with their trip to Carson, Calif. will stand his players in good stead for the future.
"We've traveled internationally to Europe, some of the players have traveled further afield," he said. "Some of them on national teams have gone on international trips, so they're probably very experienced with travel and what it takes to find down-time and what it takes to relax, recover and keep hydrated and well fed.
"They're OK in that respect, but that will continue to better them as they develop further in their separate careers, into college and beyond. The focus required, as there's a lot of down time, spending time away, taking care of yourselves will be something that they're fairly familiar with but is always something they can improve on and this experience will definitely help them further down the line as they have opportunities similar.
"It's been a very good year, but it all goes back to the players who dedicated themselves to the process and to the long-term vision and commitment to the year back in August when we started. They reaped the rewards, they're all going to fantastic colleges and a lot of them have bright futures in the game."
Pilkington's view is echoed by Bethesda-Olney's Director of Coaching and Player Development, Jonathan Colton. The club entered three teams into the USSDA this season and have seen all three compete well. In addition to the Under-18s, Bethesda-Olney's Under-16s came fourth in the East Conference Atlantic Division and earned a wildcard spot to the playoffs, while the Under-13s won 17 games and lost just seven.
[ +READ: Bethesda SC brings home five championships over Memorial Day Weekend ]
"I think we were confident coming into the DA with all of our teams and especially the U-18s core of them having been together for a few years now and having some success prior," Colton told SoccerWire.com. "We're really pleased at how they finished, and with the club overall. The U-14s had a very solid season, then the U-16s making playoffs as well.
"All round it was a great first year and something we'll be looking to build off. We feel pretty confident about what we have coming from the bottom. Our younger teams and the partnership with OBGC is going really well."
Colton also praised Pilkington, who is leaving his role with Bethesda-Olney to take up the position of Boys' U-8 to U-18 Technical Director at Downtown United Soccer Club, as revealed by SoccerWire earlier this week.
"[Pilkington] has been great," Colton added. "Obviously he's a real successful coach and he's been great to work with and we're sad to see him go. He's got a new challenge ahead of him and he's looking forward to that."