Bethesda Soccer Club reaching new heights with innovative coaching philosophies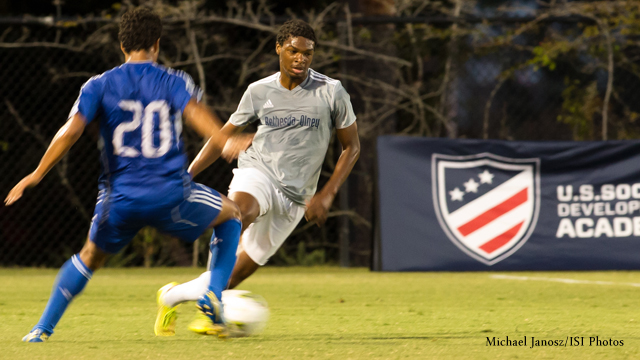 When Bethesda Soccer Club began in 1979 as a three-team organization known as the Bethesda Boys Club, there was no indication that it would evolve into one of the D.C. area's premier clubs, producing U.S. National Team and even English Premier League players.
Since the club's humble beginnings 35 years ago, it has expanded to over 40 boys and girls' teams from ages U-8 through U-19 competing in various leagues in Maryland and Region I, including Washington Area Girls Soccer League, National Capital Soccer League and Olney Bethesda Soccer League. It also has a thriving U.S. Soccer Development Academy and Elite Clubs National League program.
Bethesda SC has produced its share of youth and senior national team players, college players, and even professional players over the years including former U.S. National Team player Bruce Murray, former MLS player A.J. Wood, former U.S. National Team player/current NWSL player Joanna Lohman and current professional players Joseph Gyau and Freddy Adu.
The club's Bethesda-Olney Academy has had seven National Team call-ups this year alone, and 17-year-old alumnus Gedion Zelalem was recently called up to Arsenal's first team in the English Premier League. Along with a continually growing list of notable players, such as current U.S. U-20 Women's National Team player Andi Sullivan, the club itself has undergone extensive growth in recent years thanks to its Directors of Coaching and Player Development, Jonathon Colton (boys) and Ellis Pierre (girls).
Colton, a former standout midfielder at Virginia Tech and American University, joined Bethesda SC as a youth coach 12 years ago with the goal of changing the program for the better. In his first years as the club's top director on the boys' side, his main order of business was to create more uniformity and harmony among the coaches.
[ +READ: Loudoun Soccer sends two teams to US Youth Nationals]
"At first, the club had very little structure and cohesion amongst coaches and teams," Colton said in an interview with Soccer Wire. "I tried to change the structure with the emphasis of coaches really working together, which I pushed in terms of getting licenses and taking group trips to look at youth academies in places like South America. Emphasizing that that would lead to player development."
"For the past 10 years we have had a core group of coaches that have been together and helped the club improve and believe in the same soccer development concepts," Colton continued.
He also went on to credit the club's Board of Directors for their contributions to Bethesda's overall progress, and for their support of the 'soccer ideas' that he and Pierre have instituted.
After traveling all over the world to places like Brazil, Holland and France to learn about how to build a successful youth academy, Colton and his staff developed the current model for how all Bethesda SC boys teams operate. The club follows a specific curriculum starting with players only 8 years old, all the way up the ladder to the 18 year-olds. Rather than having the same coaches moving up in age groups with their own players, they developed a coaching staff that worked together by specializing in certain age groups to maximize the kids' development.
"This was probably my biggest challenge, but in the end it's worked out very well in changing the culture of the club," Colton said.
Colton and his coaching staff re-invented their strategy for player development by integrating the philosophies of some of the world's best European and South American soccer academies. They paired what they learned in Holland and France with the almost completely contradictory methods they found in Brazil to come up with a new, innovate model for coaching and development.
Colton earned a Fluminese Futball Club Coaching Diploma from Rio De Janeiro in Brazil, which emphasizes  an individualistic approach to player development. The South American approach to the game focuses on letting players be creative with their techniques and allows a great deal of freedom in order to get the most out of individual talent. What Colton and his staff found in Holland at PSV and Ajax, France and other parts of Europe is a much more structured coaching philosophy.
"We tried to blend the interplay model from Europe and the individualistic play from Brazil," Colton said.
Another major component of Bethesda SC boys' coaching philosophy is the 'Total Football Method', which Colton drew from his time in France with Bordeaux FC's former Technical Director, Pierrot Labat. The method focuses on the importance of helping players become multi-talented on the soccer field, being able to play any position when needed. Colton and the Bethesda SC coaching staff try to make sure players are as comfortable as possible playing all over the field at a young age, which allows them to be much more versatile when they reach the college or professional level.
"Total Football helps kids be able to adapt to different situations when they get older," Colton said. "If they go to a national team or a Division I college, they'll be able to rise to that higher level. It helps on our teams as well because we all play a similar system, so if a coach gets a new team, those players are already used to their roles and have no problem fitting in to new ones."
In addition to Colton, the rest of the Bethesda SC coaching staff consists of six USSF 'A' Licensed coaches and former and current college coaches at the Division I, II, & III levels.
The evolution of Bethesda SC over the years eventually caught the eye of U.S. Soccer, which announced a new partnership with the club early this spring to form a U.S. Development Academy. U.S. Soccer had been in talks and observing training session throughout the club for about three-and-a-half years prior to the official deal. Colton and OBGC Soccer Club's Pete Wood have been named Technical Directors of the program, and they have high expectations for the future of the academy.
"Our goal is to be the premier club in the area for elite players," Colton said. "We've already got the model set up, and we think we're in a very good position for that for the future. The key is to continue developing youth national team players, and getting kids ready for college and the pro level."
On the girls side, Pierre and his coaching staff have paralleled the Bethesda SC boys teams to create arguably the most well-rounded soccer club in the region. With stars like Sullivan, who will play for Stanford in the fall, making names for themselves, he believes the future couldn't be brighter.
"I think (Sullivan) chose Bethesda because of the quality of our coaches and our teams," Pierre said. "She is part of the track of players that is allowing us to get used to putting players on national teams and at the highest level of college soccer."
Sullivan routinely made the long commute from her home in Lorton, Va. to Montgomery County, Md. to train and play for Bethesda, SC in addition to her commitment to the U.S. U-20 National Team. She has also committed to play at Stanford University starting in fall 2014. In addition to Sullivan, younger U.S. Youth National Team members like Mia Gyau and others within the organization have shown that there are few clubs in the region that can stack up to Bethesda SC top-to-bottom.
Pierre has been with Bethesda SC for 14 years. Like Colton has done on the boys side, he has made quite a few fundamental changes to the daily operations of the girls side. When Pierre first took over in 2002, most of the girl players came over from other clubs at all different ages. Now, the vast majority of Bethesda SC girls are 'home grown', having been in the program for six to eight years.
"We're doing a great job of maintaining and retaining the players we start with," Pierre said.
Pierre has also made changes in the way the girls game is coached, modelling his philosophy to the U.S. Soccer approach. Almost all of Pierre's coaches have college experience, and are able to show kids how to be recruited and what they need to work on in order to do so. He also chooses not to worry about winning at the younger ages, instead focusing on the process, and making sure kids are getting multiple touches each game.
"At 8 and 9 we're not necessarily going with the biggest, strongest and fastest kids," Pierre said. "Results-wise, we don't have as much success as the boys or some of the other clubs, but once we get to 12, 13 and 14 you see that our teams really start to show quality."
"The quality of our results really starts to catch up with the quality of our play," he continued. "At younger age groups we teach kids how to play, and how to be comfortable with the ball at their feet."
With an ECNL program and a U.S. Development Academy now in place, Bethesda has to be considered one of the fastest growing clubs in the region. Both Pierre and Colton have plans for that to continue at every level on both sides of the program.
"When you look at our teams, we have girls going to places like Yale, Princeton, Stanford, Dartmouth, Brown, Virginia Tech, Miami, and other really top level academic and soccer schools," Pierre said. "I think the future of Bethesda is incredible when you look at the youngsters we have coming up."
"We've just begun our developmental philosophy for the elite player," Colton said. "Our goal is going to be geared toward getting Bethesda Soccer Club to develop the elite player, and help everyone reach their potential. Whether its going to college, getting to a youth national team, or going to play professional soccer, we think we're going to be the leaders in the Washington D.C. area for that purpose."