Summers to come: How U.S. Soccer could make their mark on the 2016 Olympics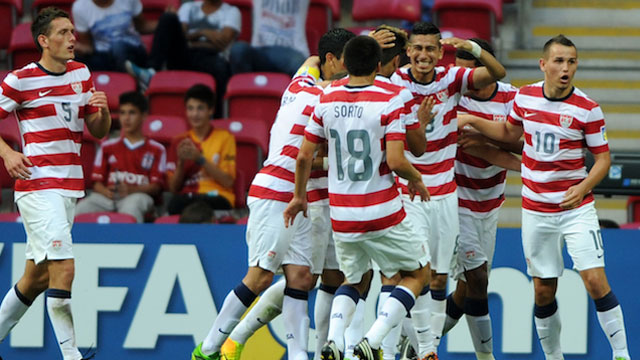 On March 21, rumblings on Twitter suggested that U.S. Soccer were set to open up a men's Under-21 side for the first time in their history in order to prepare for the 2016 Olympics in Rio de Janeiro.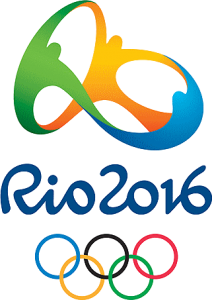 On April 18, that leak was made official, as U.S. U-20 head coach Tab Ramos named a 21-man squad for a U-21 national team camp that begin two days later.
The aim is for the current U-21 team to form the basis for the Olympic U-23 side which hopes to be kicking off in Rio in 2016.
Provided they qualify, of course.
The last Olympics cycle (2012) was nothing short of a disaster for the U.S. men. Led by current Portland Timbers manager Caleb Porter, who was the country's top college coach at the time, a U-23 side thought to be one of the most talented in program history failed to get out of the group stages of CONCACAF qualifying – on home soil, no less – succumbing to a shock 2-0 loss to Canada and a pulsating 3-3 draw with minnows El Salvador that eventually sealed their fate.
In the build-up to the 2012 Olympic qualifying, the squad was missing vital pieces as the likes of Jozy Altidore, Timothy Chandler, Alfredo Morales, Josh Gatt and Danny Williams were not released by their clubs to take part in qualifying.
The final squad was therefore compiled with players lacking real first-team experience, as the clubs which held these five Americans' contracts seemingly disregarded Olympic qualifying as a serious reason for absence.
Olympic U-23 soccer is not generally considered important worldwide. Yet how can it not be for Americans in particular, when the 2012 London Olympics were recorded as the most-watched television event in U.S. history, with over 219 million people tuning in? Even grabbing less than 1 percent of that audience for soccer matches can be deemed a success for the U.S. Soccer Federation.
The fact that Ramos and the rest of the USMNT leadership are already be preparing for a tournament taking place in two years' time suggests they are eager to remove the stigma attached to Olympic soccer and turn it into their favor, at least domestically.
The current provisional squad is also setting up to be very strong. MLS regulars Luis Gil, Shane O'Neill, Benji Joya and Wil Trapp are all included in the provisional squad that set off for Ramos' five-day camp in Carson, Calif.
[ +READ: SoccerWire Q&A: NYCFC's Claudio Reyna on youth national teams, technical development, Tab Ramos ]
With the expectation that they will prosper in their roles at their clubs for a number of years to come, being a part of the U-23 squad in 2016 – and then, potentially, the World Cup in 2018 – could help greatly in accelerating their development for club and country.
And it only gets more exciting from there. Players on the fringes of European clubs, including Southampton backup goalkeeper Cody Cropper and Caleb Stanko of SC Freiburg are currently not included in the squad, but that may potentially be due to club commitments back in Germany and England.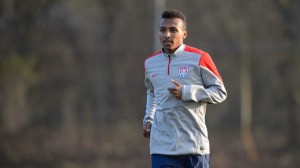 Even if their time in Europe does not work out, there's still a lot of time at this early stage to stake a claim in a team elsewhere before 2016.
Then there are the potential stars of the team who are currently not with the side: DeAndre Yedlin, the Seattle Sounders fullback who hopes to make a late run onto the 2014 World Cup squad. Liverpool U-21 prospect Marc Pelosi, who will hopefully gain consistent minutes at a top European club and remain injury-free. Highly touted winger Julian Green of Bayern Munich, the latest starlet to prompt soaring expectations among USMNT fans. Hertha Berlin's John Anthony Brooks, the talented young defender who is also in much the same boat as Green.
USMNT coach Jurgen Klinsmann may yet judge that the 18-year-old Green is too raw to go to Brazil this summer. But two years of additional development at arguably one of the best clubs in the world would certainly not hurt his chances of setting the Olympic 2016 campaign alight for the USA.
There are many other names in the US talent pool who could also be called up: Junior Flores of Borussia Dortmund, Joel Sonora of Argentine powerhouse Boca Juniors and Kellyn Acosta of FC Dallas, the young fullback who has edged his way into the first team.
Then of course there are the Mexican-Americans such as Alejandro Guido, Esteban Rodriguez of Club Tijuana, Jose Villarreal of Cruz Azul (on loan from LA Galaxy) and Daniel Cuevas of Lobos BUAP who all add substantial amounts of flair.
The blend of all kinds of different, young players plying their trade around the world places the United States in a very unique position not seen elsewhere.
Take for example in Europe, where research from the CIES Football Observatory discovered that English U-21s made up 2.28 percent of the total minutes played in the English Premier League during the 2012-13 season – less than Italy (2.38%), Spain (3.40%), Germany (6.22%) and France (7.32%)
[ +READ: Should MLS try loaning youngsters to England's lower divisions?]
Yet none of the figures make good reading, with all of them expected to remain on a decline (with the exception of Italy, but that may be due to more foreign players looking to play in the 'Big Three' of England, Spain or Germany instead).
Although the figure would probably have to be taken up to U-23 due to so many entering the league from college aged 21 or 22, MLS tends to present a more youth-friendly picture.
There is a limit of 152 international players (split up among the teams and not including those who've gained Green Card or citizenship status) who can enter MLS, limitations which force the promotion and participation of U.S. players not seen in Europe.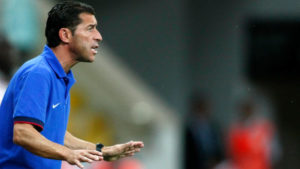 Granted, the Olympics are global, meaning that usual suspects like Brazil, Argentina and Mexico would all most likely qualify, presenting a stern test for any USMNT side.
Yet the future looks promising for the next Olympic U-23 campaign, with the combination of young talent already obtaining regular minutes domestically, complimented by the extremely early preparation for the tournament under the tutelage of Ramos. The USMNT should have no excuse for being more prepared than ever for an Olympics cycle.
That first-ever U.S. U-21 training camp concluded last week, with the USMNT recording a scrimmage victory over Club Tijuana 2-1 thanks to a brace from Joya.
Hopefully it is a sign of good things to come for a U.S. side already preparing for their first real opportunity to showcase an abundance of young talent on an unparalleled global scale.