U.S. U-15 Boys' National Team defeats China PR to finish Torneo delle Nazioni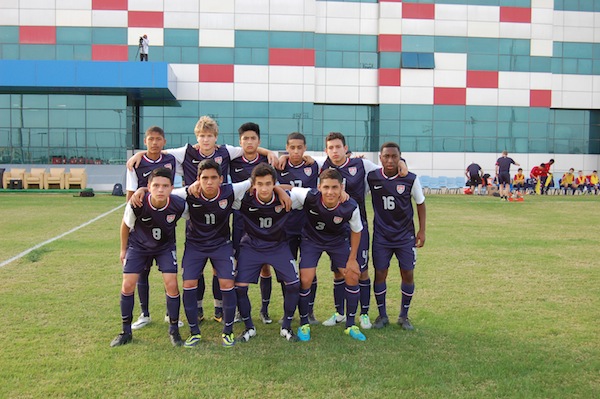 MIREN, Slovenia – The U.S. Under-15 Boys' National Team finished the Torneo delle Nazioni on a high note, defeating the China PR Under-16 Men's National Team 3-2 thanks to Lucas Del Rosario's match-winning goal in the 56th minute.
The U-15 BNT (1-2-0; 3pts) also received goals from Hanif Wright and Marty Raygoza in the winning effort.
Playing against older competition throughout the first international tournament for this current crop of U-15s, the U.S. finished in third place of Group C behind U-16 Men's teams from Slovenia and Mexico and ahead of China.
The team will next gather for a domestic training camp in July at U.S. Soccer's National Training Center in Carson, California.
– U.S. Under-15 Boys' National Team Match Report –
Match: U.S. U-15 BNT v. China PR U-16 MNT
Date: Saturday, April 27, 2014
Competition: Torneo delle Nazioni
Venue: Field Municipal Miren – Miren, Slovenia
Kickoff: 5:30 p.m. CEST (11:30 a.m. EST)
Attendance: 40
Weather: 59 degrees; Rainy, overcast
Scoring Summary: 1 2 F
USA 1 2 3
CHN 0 2 2
USA – Hanif Wright 3rd minute
USA – Marty Raygoza 45
CHN – Liu Yu Duan 51
USA – Lucas Del Rosario 56
CHN – Liu Yu Duan 61
Lineups:
USA: 1-Carlos Avilez; 2-Gabe Kash, 4-Kyle Gruno (capt.), 5-McKay Eves, 16-Sam Vines; 17-Raul Aguilera Jr., 8-Jonathan Gonzalez (10-Jose Carranza, 30), 11-Leo Marquez (7-Juan Torres, 40), 6-Adolfo Trujillo (20-Jeanpaul Marin, 30); 21-Hanif Wright (3-Jose Alfaro Jr., 61), 25-Marty Raygoza (9-Lucas Del Rosario, 47)
Subs not used: 12-Eric Lopez, 15-Angel Uribe
Head Coach: Hugo Perez
CHN: 1-Zi Rong Chen; 3-Xiao Fan Xie, 5-Jian Fei Zhao, 8-Chun Jie Gong, 17-Ze Yu Zhao (16-Yu Miao Qian, 30); 19-Ze Feng Lin, 11-Meng Nie (18-Chang Qi Liu, 43), 7-Hua Chen Zhang, 4-Zi Ran Yan (6-Xin He, 30); 10-Ruo Fan Liu, 20-Liu Yu Duan (capt.)
Subs not used: 2-Hao Chen Zhang, 12-Zi Xiang Wang, 9-Sheng Zhi Zhou, 15-Li Ming Zang
Head Coach: Su Maozhen
Stats Summary: USA / CHN
Shots: 4 / 7
Shots on Goal: 3 / 2
Saves: 1 / 1
Corner Kicks: 1 / 3
Fouls: 9 / 3
Offside: 8 / 1
Misconduct Summary:
None
Officials:
n/a