Stanford continues NWSL Draft legacy with two players selected in first round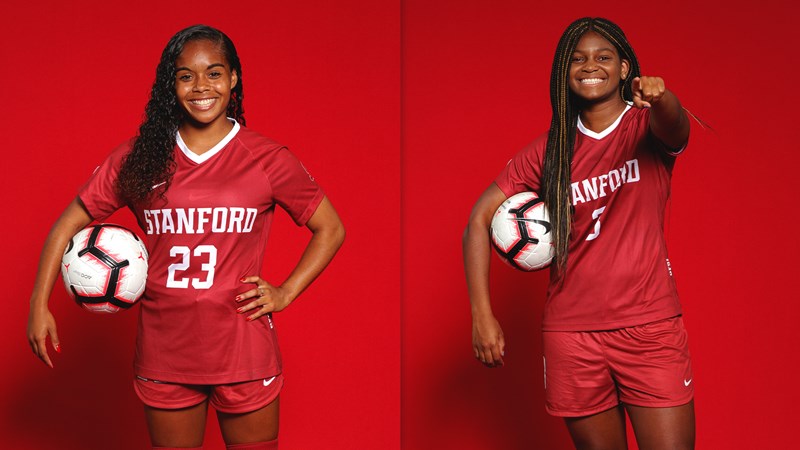 STANFORD, Calif. – Stanford women's soccer saw two players drafted in the 2021 NWSL Draft – both in the first round – on Wednesday night. Kiki Pickett was drafted fourth overall by Kansas City, while Madison Haley was drafted seventh overall by the Chicago Red Stars.
The NWSL received a waiver from the NCAA to allow drafted players to retain their eligibility with the NCAA season moving to the spring due to the COVID-19 pandemic. Drafted players have until Friday, Jan. 22, to announce whether they will join their professional clubs immediately, or after the collegiate season.
Stanford is joined by North Carolina as the only schools to have multiple first round picks in this year's draft. The Cardinal have had a player drafted in the top five each of the last four years – the only school which has accomplished the feat in that time span.
[+READ: Racing Louisville FC makes NWSL Draft debut, picking UNC's Emily Fox No. 1 overall]
Kansas City traded into the first round to select Pickett, sending $175k in allocation money to Sky Blue FC for the fourth overall pick. Pickett will join former Cardinal players Lo'eau LaBonta (2011-14) and Nicole Barnhart (2000-04) in the City of Fountains. Kansas City NWSL is in its first season as an expansion franchise after receiving all player-related assets from the former Utah Royals FC.
Pickett, a native of Santa Barbara and communication major, announced on Wednesday she plans to remain at Stanford for the spring season before joining Kansas City. A former member of the USWNT U-20 team, she has started all but two games in her career. Best known for scoring the game-winning penalty kick to net the Cardinal the 2019 College Cup title, Pickett has won two NCAA titles and three Pac-12 titles in her career.
A defender/midfielder who has spent most of her career on the backline, Pickett has four goals and 16 assists entering her senior season. Named to the College Cup all-tournament team during Stanford's 2019 title run, she was also named a third-team All-American, as well as first team all-conference and first-team all-region.
The Red Stars traded from the sixth pick down to the seventh before drafting Haley. Haley will join former Stanford all-American, and 2018 No. 1 overall pick, Tierna Davidson, in Chicago.
A second-team All-American in 2019, Haley joins Chicago as a two-time NCAA champion and three-time Pac-12 champion. The forward, from Dallas, Texas, has scored 18 goals through her junior season while adding 23 assists for 59 points. Haley's 11 goals in 2019 earned her All-America honors, as well as landing on the all-conference and all-region teams.
While pursuing her degree in science, technology and society, Haley has earned academic honors from the Pac-12, the United Soccer Coaches, and was named a CoSIDA third-team Academic All-American in 2019.
Stanford has had 17 players drafted in the NWSL since 2013 – nine in the first round, including an unprecedented three-straight, No. 1 overall picks from 2018-20.