Racing Louisville FC makes NWSL Draft debut, picking UNC's Emily Fox No. 1 overall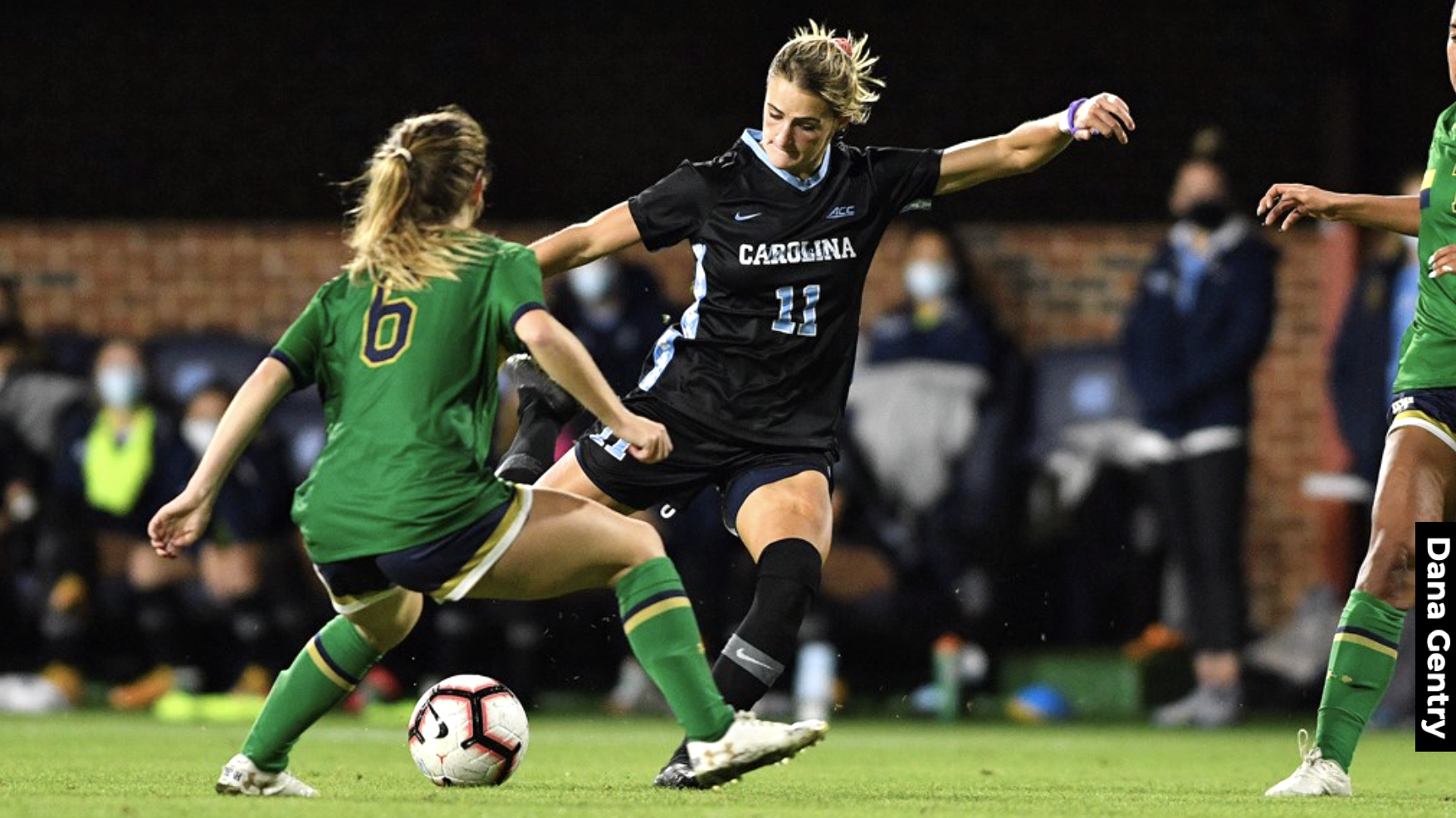 Expansion franchise Racing Louisville FC bolstered its roster during Wednesday night's NWSL Draft by making six additions, highlighted by University of North Carolina defender Emily Fox's selection at No. 1 overall and University of Louisville forward Emina Ekic at No. 5.
Coach Christy Holly was flanked by club chairman John Neace and James O'Connor, executive vice president of development, while sending Racing Louisville's choices to the league in a socially distant, virtual format. This process added to last November's expansion draft and a handful of other signings in recent months.
The club's other selections led off the second round at No. 11 (midfielder Taylor Otto, UNC), the third round at No. 21 (forward Parker Goins, Arkansas) and the fourth round at No. 31 (defender Emily Smith, California). Additionally, Racing Louisville traded midfielder Jennifer Cudjoe in exchange for the 13th overall pick and $35,000 in allocation money. Texas Tech forward Kirsten Davis was taken with the extra selection.
The woman of the hour! 👏
Congrats @___emilyfox! pic.twitter.com/ZLzJgvtOfn

— U.S. Soccer WNT (@USWNT) January 14, 2021
"We had a very clear set of plans that we wanted, and we're delighted with the players we've acquired," Holly said. "I think our situation is a little bit unique compared to the other nine teams in the sense that we need players immediately. That's the approach that we took. We were looking for the best possible players immediately available for preseason as opposed to planning down the line for those that may come out in the spring or this time next year."
A University of North Carolina standout, Fox played in two College Cups while working herself into the United States Women's National Team player pool. She's currently with the USWNT at camp in Orlando as it prepares for a pair of games next week.
"I'm super excited," Fox said. "I know Christy from when he was on the national team as an assistant. So talking to him and him telling me about the culture and everything that they have in store — the facilities, the girls on the team. Especially since it's a new club, I feel like it's a very unique opportunity for me to be able to go in there and try to do as best as I can and work my way up and do anything I can for the team."
Ekic, the first former Cardinals player ever taken in the NWSL Draft, was named the Atlantic Coast Conference's Offensive Player of the Year in 2020. She had a hand in all but one of UofL's 11 goals last season, scoring seven goals to go with three assists.
"It's a fairytale ending as they say," Ekic said. "This is exactly perfect. I'm at home. I'm with the professional team here. I'm so excited to be playing for Racing Louisville and Christy Holly as head coach and the staff and I'm really excited."
Wednesday night's picks add to a growing group of players set to report to Louisville on Feb. 1 ahead its inaugural season. The NWSL is planning for a mid-April Challenge Cup, which will take place in multiple bubbles in various team markets. A 24-game season will then begin in mid-May with the schedules to be released later.
Exiting the NWSL Draft, Racing Louisville holds rights to 24 players. Here's a closer look at who's newly coming to Louisville…
First Overall: Emily Fox (Defender, North Carolina)
Fox enjoyed a decorated career as Tar Heel, leading her team to College Cup appearances 2018 and 2019. As a four-year starter for her school, Fox paced UNC with 11 assists in 2019, earned three-straight First Team All-ACC honors and was named a Hermann Trophy semifinalist, all while overcoming two ACL tears in three years. Internationally, the Ashburn, Va., native helped the U-20 U.S. National Team to its fifth straight CONCACAF Women's U-20 Championship in 2015 and competed with them in both the 2016 and 2018 U-20 FIFA World Cups. The defender earned her first senior team call up in 2018, making two starts in friendlies against Portugal and Scotland before earning a spot on the 2019 SheBelievesCup roster. Fox is currently in training with the USWNT in Orlando ahead of games against Colombia both at 7 p.m. Monday on FS1 and 7 p.m. Jan. 22 on ESPN2.
Fifth Overall: Emina Ekic (Forward, Louisville)
The 2020 ACC Offensive Player of the Year, Ekic is the first Cardinals player ever taken in the NWSL Draft. She left UofL having tallied the fourth-most goals in program history with 29 and second-most assists with 19. The Louisville native, who attended duPont Manual High School, played a part in 10 of the Cardinals' 11 goals last year with seven goals and three assists. Ekic also led UofL in scoring in 2017 and 2019, with seven of her goals game winners. She quickly established herself at the college level, named ACC Co-Freshman of the Year after claiming numerous high school accolades, including Kentucky Gatorade Player of the Year in 2015 and 2016.
Second Round, No. 11: Taylor Otto (Midfielder, North Carolina)
Named to the first, second or third All-ACC teams in each of her four collegiate seasons, Otto, as with Fox, comes from a championship-caliber background. Otto started all 12 of the Tar Heels' games in 2020 — they went 10-0 in the regular season and won the league title — plus made her lone goal a game winner. The central midfielder played for the U.S. youth national teams from the U-14 through U-20 levels, including the 2016 U20 National Team's trip to the World Cup in Papua, New Guinea. An Apex, N.C., native, Otto was a three-time All-American selection before her college days while coming up through the Elite Clubs National League ranks.
Second Round, No. 13: Kirsten Davis (Forward, Texas Tech)
Voted to the All-Big 12 First Team and All-Academic in 2020, Davis played nearly every minute of a campaign shortened to nine games due to the COVID-19 pandemic. In 2019, Davis was the league's Offensive Player of the Year having tallied 16 goals and 7 assists during a traditional full campaign. The St. Louis native was often called up to the U-18, U-19 and U-20 teams as a high schooler who went on to play immediately at the Division 1 level.
Third Round, No. 21: Parker Goins (Forward, Arkansas)
A First Team All-SEC performer in both 2019 and 2020, Goins tallied 25 collegiate goals. As a senior, her team rose to No. 6 on its way to challenging Vanderbilt for the SEC Tournament Final — marking the Razorbacks' fifth straight appearance in the game. Goins played a part in each of that runs, as going back to 2017 she made the SEC All-Freshman Team after leaving high school as a four-star recruit. Goins, one  of three high school athletes selected to participate in the U.S. team camp prior to the 2018 FIFA U-20 World Cup, is from Broken Arrow, Okla.
Fourth Round, No. 31: Emily Smith (Defender, California)
Smith, co-captain for her team during its most recent season in 2019, appeared in 21 games on a defense that posted a 0.692 goals against average, good for second in the Pac-12 and 25th in the nation. Offensively, she also contributed the first five points of her career totaling three assists and a goal. In a standout campaign, she became the first player in league history to be named Pac-12 Defensive Player of the Week three times in a single season and received First Team All-Pac-12 and All-Region honors for it. Smith, from Los Gatos, Calif., has spent time with both the U-18 and U-19 USWNT.