USWNT to hold January training camp featuring 27-player roster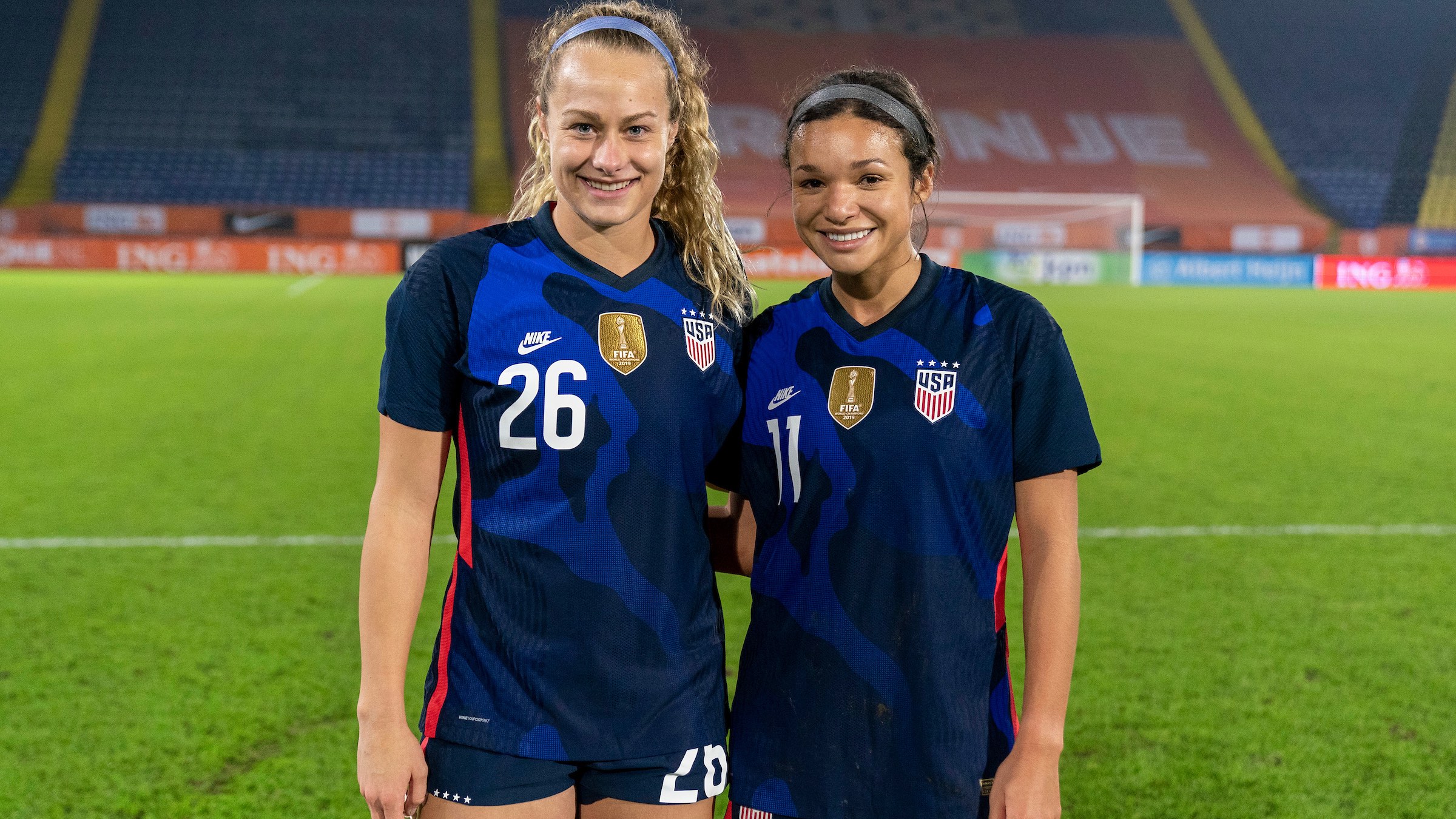 CHICAGO – The U.S. Women's National Team will hold its January training camp from Jan. 9-22 in Orlando, Fla.
The camp will conclude with two games against Colombia, on Jan. 18 (7 p.m. ET on FS1) and Jan. 22 (7 p.m. ET on ESPN2). Both matches will be played at Exploria Stadium, home to the Orlando Pride of the NWSL and Orlando City of MLS.
U.S. Women's National Team head coach Vlatko Andonovski has named a 27-player training camp roster that will train in Orlando before he names 18-player rosters for each of the two matches.
U.S. WOMEN'S NATIONAL TEAM – JANUARY TRAINING CAMP ROSTER BY POSITION:
GOALKEEPERS (4): Aubrey Bledsoe (Washington Spirit), Jane Campbell (Houston Dash), Ashlyn Harris (Orlando Pride), Alyssa Naeher (Chicago Red Stars)
DEFENDERS (10): Alana Cook (Paris Saint-Germain, FRA), Abby Dahlkemper (North Carolina Courage), Tierna Davidson (Chicago Red Stars), Crystal Dunn (Portland Thorns FC), Emily Fox (UNC), Ali Krieger (Orlando Pride), Kelley O'Hara (Washington Spirit), Margaret Purce (Sky Blue FC), Becky Sauerbrunn (Portland Thorns FC), Emily Sonnett (Washington Spirit)
MIDFIELDERS (8): Julie Ertz (Chicago Red Stars), Lindsey Horan (Portland Thorns FC), Jaelin Howell (Florida State), Rose Lavelle (Manchester City, ENG), Catarina Macario (Stanford), Kristie Mewis (Houston Dash), Samantha Mewis (Manchester City, ENG), Andi Sullivan (Washington Spirit)
FORWARDS (5): Carli Lloyd (Sky Blue FC), Mallory Pugh (Chicago Red Stars), Megan Rapinoe (OL Reign), Sophia Smith (Portland Thorns FC), Lynn Williams (North Carolina Courage)
The matches against Colombia will be the first domestic games for the U.S. Women since the 2020 SheBelieves Cup last March and will mark the first meeting with Colombia since 2016, a 2-2 tie during the Olympics in Manaus, Brazil. Of the six previous games the USA has played against Colombia, two have been in World Cup play (2011, 2015) and two came during the Olympics (2012 and 2016), which means the teams met in four consecutive world championships. The USA won three of those games and tied one.
The USWNT is coming off a successful return to the field in the form of an 11-day training camp at the end of October in Commerce City, Colorado that marked the first event for the team since the 2020 SheBelieves Cup, and a productive trip to the Netherlands in November that ended with a 2-0 victory against the Dutch in Breda. That match was the first for the USA in 261 days. The first match against Colombia will make it 313 days between domestic games for the American women.
"A big credit goes to our players, team staff and overall medical staff for the tremendous work to make sure we have secure and healthy environments for our camps and games," said U.S. WNT head coach Vlatko Andonovski. "And a special thanks also goes to our game operations staff for enabling us to host two matches against a talented opponent. It's extremely valuable to play a team we don't see that often and it's important for our Olympic preparation."
As they did in Colorado and the Netherlands, the U.S. players and staff will operate inside a highly controlled environment at the team hotel. The staging of the camp and the match will fall under the comprehensive U.S. Soccer Return to Play Protocols and Guidelines and in accordance with the Concacaf Return to Play Protocols. Once the Colombian team and staff arrive in the USA, they will operate inside the same controlled environment with the same testing protocols. Everyone entering the environment will be tested for COVID-19 before traveling, upon arrival and every two days thereafter. The teams will not begin full team training until the results of all arrival tests are confirmed.
Additional Notes:
The camp marks the return of several World Cup veterans – forwards Megan Rapinoe, Carli Lloyd and Mallory Pugh — who were not in the USA's previous two camps and saw limited or no action for their NWSL clubs in 2020.
Nineteen players on the training camp roster were with the USA in the Netherlands for its final action of 2020.
Of the eight who were not in Holland, four players – Lloyd, Pugh, Andi Sullivan and Lindsey Horan – return from injury or illness.
Lloyd is just six caps away from becoming the third player in U.S. and world history to play 300 times for their country. She would join world record holder Kristine Lilly (354) and Christie Rampone (311) in the exclusive 300-cap club.
Lloyd, Rapinoe, Sullivan and Pugh will be in their first USWNT events since the 2020 SheBelieves Cup last March. In the SBC, Rapinoe scored against Japan in the final match while Pugh provided an assist.
World Cup veterans and Orlando Pride players Ashlyn Harris and Ali Krieger have been recalled after not being named for the trip to Holland and will be looking to earn playing time in their club's home stadium.
University of North Carolina senior Emily Fox gets her first call-up since January of 2019 when she earned her third cap in a match against France in Le Havre.
Sixteen members of the 2019 FIFA Women's World Cup champions are on this training camp roster.
Forward Alex Morgan, who made her return to the U.S. team for the first time since the 2019 FIFA Women's World Cup Final when she played the second half in the 2-0 victory against the Netherlands on Nov. 27, was ruled out of attending training camp after testing positive for COVID-19. She is observing the prescribed quarantine protocols and doing well.
Forward Christen Press, who is currently playing for Manchester United in England and missed her final three FA Women's Super League matches before the holiday break due to non-COVID illness, will remain in England as she works to regain her fitness.
Forward Tobin Heath, who is also currently playing for Manchester United, was invited to training camp, but will remain in Manchester to compete in her January FA Women's Super League fixtures.
The camp marks the third consecutive call-up for forward Catarina Macario. She is not yet eligible to play in an international match for the USA but is in the final stages of the process to become eligible to represent the United States.
The matches in Orlando will mark the first domestic games since the USA beat Japan, 3-1, on March 11, 2020, to conclude the SheBelieves Cup. The U.S. opened the 2020 SheBelieves Cup with a 2-0 win over England at Orlando's Exploria Stadium.
U.S. head coach Vlatko Andonovski is 11-0-0 in his first 11 games (two at the end of 2019 and nine in 2020), which has set a record for best start for a head coach in USWNT history.
Midfielder Jaelin Howell (21) and forward Sophia Smith (20) are the two youngest players on the roster. Both earned their first senior team caps on Nov. 27 against the Netherlands, becoming the first players born after the historic 1999 Women's World Cup to be capped by the USA. Smith became the first player born in the 00s to earn a cap.
The USA is ranked #1 in the world. Colombia is ranked 26th in the world and second in South America behind Brazil.
Colombia finished fourth at the 2018 Copa America and thus did not qualify for the 2019 FIFA Women's World Cup or for the 2020 Olympics. That broke a highly successful run of four straight qualifications for world championships for the Colombia women, who played in both the 2011 and 2015 FIFA Women's World Cups and 2012 and 2016 Olympic Games.
In the 2015 FIFA Women's World Cup, Colombia qualified for the Round of 16, where it fell to the USA, 2-0.
Colombia did not advance out of its group in either of its Olympic Games appearances while failing to win a game, but it did draw the USA, 2-2, in 2016.
Colombia did win the 2019 Pan American Games which also featured Mexico, Jamaica, Panama and Costa Rica from Concacaf and host Peru, Argentina and Paraguay from South America.