Standing Tall: D.C. Gatorade Player of the Year Nick Jackson's remarkable career re-visited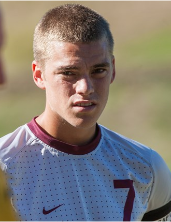 The end of Sidwell Friends School's fall soccer season back in November came down to two separate penalty kicks to help the school to a conference and state title. 
Nick Jackson, who was a regular holding midfielder found himself between the goalposts during the shootouts. It wasn't an unfamiliar territory for the D.C. Gatorade Player of the Year, but one he didn't venture into for years.
Jackson's freshman year of high school was spent in England, playing with West Ham's Academy team. Jackson was there to play goalkeeper, but the move on a more permanent basis stalled.
[ + READ: Richmond Kickers, U.S. U-18 star Katie Cousins named National Player of the Year]
"I was recruited there to play goalie so basically when I didn't grow during that whole year and they saw my parents were shorter than me, they were saying they just weren't a team that takes risks because they have so much money they can go get a player from wherever that's 6-foot-5 and the same skill level," he said.
Jackson then went to train with Arsenal for a brief spell, having a friend at the club, to just keep his fitness after being let go by West Ham. However, on his return to the United States, he planned on turning his back on the position and focusing as an outfield player.
[ + READ: Doing the Double: Maryland's George Campbell wins second Gatorade State Player of the Year award]
After not playing the position for almost three years, Jackson again found himself back with the keeper's jersey and gloves on. However, it was stepping into a high pressure situation in a penalty shootout. He only had a few days of training to prepare.
"Before the first tournament started, if we go into penalty kicks I was going in so I stood in when we did penalty kicks in practice. That was all my experience in the past three years just those penalty kicks in practice," he recalled.
In the Mid-Atlantic Athletic Conference semifinal, Sidwell found themselves heading into a penalty shootout against Georgetown Day School, who they recently had beaten 6-1.
[ + READ: Virginia Gatorade Player of the Year Pearson take the stage]
"During the first [shootout] I hadn't saved one and I stepped up to take my kick and I missed," said Jackson.  "I was very, very stressed out during that one and making the save at the end to win it was very relieving."
Jackson noted he was more stressed due to the fact Sidwell Friends were heavy favorites to win. However, when he stepped in the goal against St. Albans for the District of Columbia State Athletic Association final, he was much more relaxed.
After a teammate missed their kick, Jackson stepped up with a big save.
"After one of our players missed I turned to him and said, 'I'm going to save the next one,' and luckily I did," he said.
He then saved another shot and unlike the first shootout, found the back of the net on his own kick to lift Sidwell to the state title.
Playing in his usual position of holding midfield during the season, Jackson tallied 13 times, adding nine assists en route to winning the Gatorade Player of the Year.
"Those were from a deep-lying role. Four came from penalties, one header, like four were 30-40 yard shots and the rest were from linking up and getting forward," he said of how he got his goals this past season.
Sidwell Friends School have had several winners in the past with Jackson being the fifth. It was a great honor for Jackson, especially since the previous winners from Sidwell were involved with national teams or going to great Division I schools.
For his Bethesda Soccer club team, Jackson has been used as a central defender, according to coach Peter Mehlert.
"Nick is a very athletic kid, he's strong," said Mehlert. "Personality is right to play the game at the next level. He's very technical."
Despite not being the tallest, Mehlert acknowledged Jackson's strong ability in the air to win headers either as a center back or in the middle of midfield. As Jackson heads to Wesleyan College in Connecticut in the fall, Mehlert projects Jackson to play in the holding midfield role.
Although Jackson has the ability to play at the Division I level, he will play Division III at Wesleyan. He cited several factors for playing at that collegiate level.
"I decided there because of the academics and athletics mix. Studying abroad is really important to me so going Division I wasn't a realistic option because the coaches don't want you to go abroad because they want you year–round training," he said.
After being seen at a Georgetown soccer camp and the Connecticut school showed interest, Jackson knew it was the right fit. He's expecting to make an impact right away, hoping to secure a starting place in his freshman year.
On and off the field, Mehlert lauded Jackson's leadership ability.
"He's a leader, he says the right things. He commands respect from his teammates," said Mehlert.
Jackson also took a trip to Africa after his sophomore year to help build homes with a program called Rustic Pathways. The program is similar to Habitat For Humanity.
"I took a trip to Africa and went to a village in Tanzania and built bathrooms and a house for three more teachers to live in," Jackson recounted. "They had teachers they could hire to give the kids a better education, but they didn't have enough houses. So we went over there and built a decent size house."
Jackson hopes to go back some time in the future. His experience his sophomore year was a life-changing one.
For now, Jackson will focus on entering college in the fall. Will it come with more time as a goalkeeper after his performances for Sidwell?
"The Wesleyan coach has already been joking with me that if we go into any shootouts while I'm there he's sticking me in," Jackson said laughing.