2014 World Cup and Everton contract both likely last for Tim Howard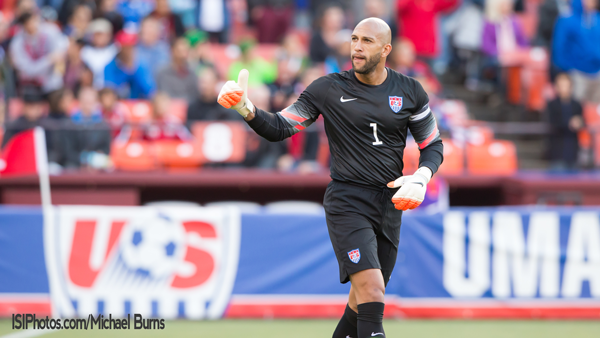 NEW YORK, N.Y. — Entering his third World Cup, Tim Howard continues to be a steady back-stop for the United States Men's National Team. He continues to put in man of the match performance for country and his club team, Everton.
His strong goalkeeping ability and longevity are highlighted as he nears 100 caps. That mark is a milestone any national team caliber player hopes they can reach.
[ +Follow SoccerWire.com's 2014 FIFA World Cup coverage all summer ]
"It's a huge milestone for any player. It's certainly not lost on me. I'll enjoy the moment if it comes, hopefully when it comes I'll enjoy it with the kids and put it behind me," he explained during a media event Friday.
"It's something that's special that every player who gets to 100 will tell you it's probably the biggest moment in our career."
Baring injury before then, Howard will surpass that number when he plays in the group stages at this summer's tournament in Brazil. He can also surpass Kasey Keller's career win total, either in the Send-Off Series or at the World Cup. The Everton Captain moved into a tie with the US legend at 53 after the U.S.' 2-0 win over Azerbaijan.
"He [Keller] was a guy I looked up to, he taught me so many things. He's been critical in my learning curve both in the Premier League and with the national team. I know how talented he is, I know how great he's been for our country so the fact I'm even in touching distance has exceeded my own expectations," said Howard.
However, his career may very well have an exit date. He intimated as much at the USMNT media day.
"I've got a four year contract at Everton now, I'll be finished playing when that contract runs out so we'll see. It's so hard to think about what's going to happen next week so I honestly don't know," he said.
When asked if a potential return to Major League Soccer, where he first made his name with the then named New York/New Jersey MetroStars, Howard seemed to all, but rule it out. Howard cited his age, which would be 39 by the time his Everton deal runs out for the reason not to play once more in America's top soccer league.
"At this point yeah. I'll be 39 when the contract finished so I can't see it," he said.
For now, Howard is focused on getting through the remaining preparations for the World Cup and getting down to Brazil. He's excited to get to the team hotel in Sao Paulo and begin taking in the environment, where the U.S. will play three tough opponents in Ghana, Portugal and Germany.
Despite being a member of the Group of Death, Howard believes the U.S. can have success. Positive results in other tough matches are the tipping point of confidence.
"I think we've played tough games the last four years, some tough games we've won. France and Italy stand out. Obviously we didn't win the France game, but I'll tell you what we played really well, we won away in Italy so different moments like that," he recalled. "We won at Azteca for the first time so we've been challenged in big environments and big moments granted we have to do it in a week and a half, but those results give us confidence."
The third World Cup for Howard, could also be his last. However, that isn't something he is putting too much emphasis on heading into the matches in Brazil.
"It could be my last World Cup, but when it comes to games and big moments I don't get caught up in them. I had a coach a couple of years ago and he was brilliant when it came to big games he just said 'Don't focus on the game, the magnitude of the game isn't important, it's still 90 minutes, you still have to play it'," he said.
Howard, who has 35 career shutouts, noted that this World Cup isn't more or less important than any of the previous he's played. He'd feel the same way if he had another three World Cups following the 2014 edition.
In Brazil, he will again need big performances if the U.S. is able to make it into the knockout rounds. Portugal will have Cristiano Ronaldo bearing down on Howard's goal, while Germany has a host of attacking talents including Mesut Ozil, Mario Gotze and Thomas Muller to name a few.
However, when Howard does decide to take his goalkeeping jersey and gloves off for the final time, he envisions a much easier time than what he'll face in the Group of Death.
"I'll be going home to Memphis to watch football on TV, drink beer and enjoy some down time," he said.