Julian Green listened to his heart when making one-time switch to USMNT
HARRISON, N.J. — Julian Green is something of an enigma in American soccer. Most have only seen him play in one brief cameo against Mexico in a friendly back on April 2nd.
Although Green's father lives in the United States and he was born here, he has lived in Germany almost his whole life, as his family moved there when he was two years old. The young starlet, who is getting set to appear in his first World Cup, represented both the U.S. and Germany at youth levels.
[ +Follow SoccerWire.com's 2014 FIFA World Cup coverage all summer ]
Despite living and playing in Germany, Green ultimately chose to represent the United States, being picked by Jurgen Klinsmann in the roster of 23 players that will represent the U.S. in Brazil.
Although many believe Klinsmann may have promised Green a roster spot in order to get him to pledge his allegiance to the red, white and blue flag, the teenager told reporters at the U.S. Men's National Team media day that he would have chosen the U.S. either way.
"It was the right decision and didn't matter if I'm here on the World Cup squad or not," he said. "I'm born in this country, my dad lives here. The team is very good, the team is very good to me."
[ +READ: USMNT to play Turkey in front of sellout crowd in New Jersey ]
With his father living in the United States, the decision to choose which nation ultimately came down to himself. He looked inward.
"I have to hear my heart's decision," said Green.
What tipped the balance for the USMNT in Green choosing to represent the U.S. was his time in the Frankfurt training camp. It was then that he got to begin his assimilation into the U.S. squad.
"After the two days in Frankfurt, the first camp. I knew yes it would be the U.S. National Team because the conversation with the coach was very good, all the players were very nice to me. Clint Dempsey gave me a jersey with my name on it," he said.
Having several other German-Americans alongside him like Fabian Johnson and Jermaine Jones, among others, is a big help to Green. They try to speak as much English to each other, but Green noted some times the German words slip out.
"Of course it's important to have these guys on this team. The most important thing is we are one team, not just the German-Americans, but we are one team with everybody," said Green.
However, in who will get the best grasp of the English language has become somewhat of a competition. Green remained coy on who has made the most progress.
"My English isn't so bad. We're on the same level," he said, laughing.
[ +READ: Jurgen Klinsmann reveals insight into USMNT World Cup preparation ]
Green is a member of Bayern Munich, mostly playing in their fourth division side. However, he is involved with the first team often, training with them every day.
While training with the top players at the club, it also provides a chance for Green to play under Pep Guardiola's watchful eyes. Guardiola is considered one of the best young managers in all of world soccer.
"I've learned very much from him, he talks very much with the players. He wants to help you every day, he's a very god coach," said Green of the Bayern head coach.
The biggest adjustment for Green is the physical nature of the game. He said, "American soccer is very physical and the team is compact." While the tackles may come in harder, the rest of the game is the same as it's always been for the once-capped player.
In his first appearance for the USMNT, Green picked up a shoulder injury. While it worried him at first in the initial aftermath, once he went back to Germany and joined up with Bayern, he knew he could get fit in time for a potential World Cup berth.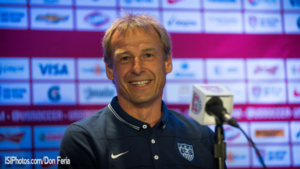 "First time I was thinking it's not good. I had a special program with Bayern and after one week I knew I could do it," he said.
Even though Green isn't often in the United States, it still is a special place for him. While noting he was experiencing New York for the first time and thought it was an awesome city, it is another stop on the Send-Off Series that is even better for him.
Green's father currently resides in Tampa and playing against Nigeria in Jacksonville allows his father to come watch him play.
"It's very special. I'm born in Florida, I love Florida and my dad will come to the game," said Green, who travels back to the Sunshine State once a year if time allows it.
While his father is a big Tampa Bay Lightning fan, Green may have gotten his first taste of the physical nature of sport from hockey. He noted he played from about five or six years old to the age of 10. He still skates every now and then.
In the end, Green is still an enigma on the pitch for the U.S. It is still unknown how much playing time or impact the young player will have in Brazil. Like all players, he just wants to contribute if his number is called.
"I'm looking forward to the World Cup. I want to help the team as much as I can, if I get the chance."