Springfield Youth Club, Stafford Soccer to join Virginia NPL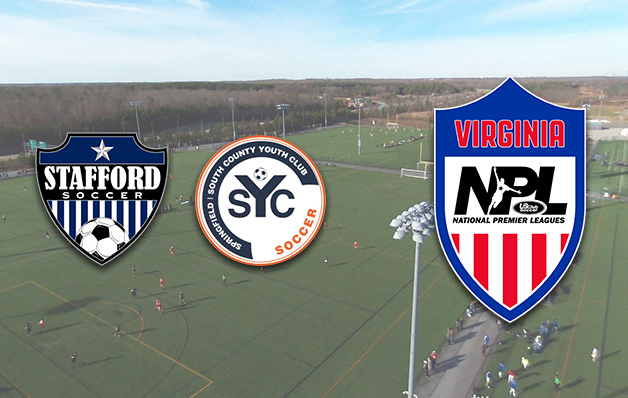 Charleston, S.C. (Via US Club Soccer) – The Virginia NPL – a member league of US Club Soccer's National Premier Leagues (NPL) – will add two clubs beginning in the 2018-19 season. Springfield Youth Club and Stafford Soccer have been approved for entry by the Virginia NPL and US Club Soccer.
"The Virginia NPL welcomes Stafford and SYC," said league administrator Oliver Weiss. "These clubs are great youth organizations with expert leadership and a superb infrastructure for players, coaches and volunteers to enjoy this sport. Both club directors' vision to grow the game in Virginia matches our league's mission perfectly. We are very happy these two clubs are part of our league now."
SYC and Stafford will compete in 13-U through 19-U boys and girls age groups amongst 11 other Virginia NPL clubs in 2018-19: Annandale United FC, Chantilly Youth Association, FC Virginia, Great Falls SC, Gunston SC, Prince William Courage, Richmond Strikers, Richmond Kickers, Tidewater Sharks, Vienna Youth Soccer and Virginia Soccer Association.
+READ: US Club Soccer announces launch of East Coast NPL
"We are very excited about the jump into NPL," said Barry Bill, Stafford Soccer General Manager and Technical Director. "The league offers many benefits, which I believe will help our club development along with the player development. The ability to play in a nationally recognized league brings a lot of opportunities for our players."
"SYC is excited about joining the NPL," added Julian Chang, Springfield Youth Club Technical Director. "The club-to-club format, along with the opportunity to move to national-level competition, provides our members with both localized, appropriate-level competition, as well as the chance to compete against ECNL and ENPL teams at the national level at a fraction of the costs and travel. US Club Soccer's id2 player identification and scouting programs, provided through the league, give our players a pathway to the youth national teams and is aligned with our vision of allowing our players every opportunity for enhanced development and exposure."
As an ENPL qualifying league, Virginia NPL boys will have an opportunity to win national championships during ENPL playoff action, while the girls continue to aspire to the Girls NPL Finals.
The Virginia NPL has taken advantage of an array of US Club Soccer programming since the league's inception in 2014. The league hosted a LaLiga Formation Methodology course in 2016, a component of US Club Soccer's Players First initiative, and has brought numerous Player Development Programs (PDPs) to its members to be scouted into the id2 Program.