U.S. U-16 Girls National Team completes sweep at UEFA Tournament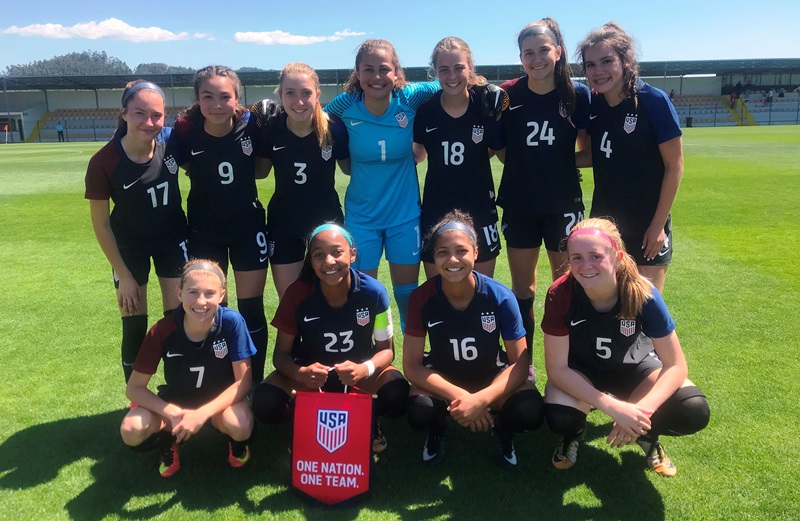 ARCOS DE VALDEVEZ, Portugal (Via U.S. Soccer) – The U.S. Under-16 Girls' National Team defeated its counterpart from Switzerland, 2-1, to sweep all three games at the UEFA Women's U-16 International Development Tournament in Portugal.
The USA also defeated Belgium 5-1 on May 12 and the hosts 2-1 on May 14.
The game-winner against Portugal came two-minutes into second half stoppage time, and while the USA didn't leave it that late against the Swiss, defender Abby Allen's 79th minute strike in the 80-minute match proved to be the difference.
+READ: Girls Development Academy East Conference Recap | May 12-13, 2018
The goal came off a free kick from about 30 yards out when midfielder Zoe Burns swung a low cross into the penalty box. The service was met by the sliding Allen, who stuck a foot out to redirect the ball past the goalkeeper.
The USA had taken the lead in the just the fifth minute when midfielder Devin Lynch scored from the top of the penalty area into the bottom left corner.
Switzerland equalized in the 44th minute through Eltine Bunjaku to set the stage for Allen's late-game heroics.
+READ: U.S. Soccer announces dates, locations for 2018 Tournament of Nations
For this development tournament, the USA brought a team that featured 10 players born in 2002 and 10 in 2003.
U-16 Girls' National Team Match Report
Match: U.S. Under-16 GNT vs Switzerland U-16 GNT
Date: May 16, 2018
Competition: 2018 UEFA Women's U-16 International Development Tournament
Venue: Estádio Municipal da Coutada; Arcos de Valdevez, Portugal
Weather: 82 degrees, sunny
Scoring Summary:    1          2          F
USA                             1          1          2
SUI                              0          1          1
USA – Devin Lynch (Margaret Graham)        3rd minute
SUI – Eltine Bunjaku                                       44
USA – Abby Allen (Zoe Burns)                       79
Lineups:
USA: 1-Mia Justus (Neeku Purcell, 41), 9-Andrea Kitahata, 4-Abby Allen, 3-Katie Groff (14-Aidan McConnell, 41), 18-Sally Menti, 5-Devin Lynch (Jillian Martinez, 41), 7-Emma Egizii (Tatiana Fung, 41, Ayo Oke, 60), 24-Maggie Graham (21-Zoe Burns, 41), 23-Arianna Manrique (11-Amber Nguyen, 68), 16-Amelia White (8-Abbie Kotter, 50), 17-Abigail Borchers (10-Simone Jackson, 50)
Subs not used: None
Head Coach: Tracey Kevins 
SUI: 12-Lourdes Romero (1-Janaina Figueiredo, 41), 20-Sina Schupbach (19-Michelle Reinschmidt, 41), 4-Sophie Bohner (2-Sophie Aberhard, 41), 11-Regina Hacker, 8-Jasmin Colombo, 16-Joelle Meister (5-Noemi Buhler, 41), 13-Yllka Kadriu (15-Ella Ljustina, 41), 7-Deborah Cavalieri (10-Eliane Graf, 61), 17-Maeva Muino (14-Ramona Kannady, 27), 9-Svenja Folmli, 3-Anna Arni (6-Eltine Bunjaku, 41)
Subs not used: 18-Alicia Ravaioli
Head Coach: Brigitte Steiner 
Stats Summary: USA / SUI
Shots: 10 / 3
Shots on Goal: 5 / 2
Saves: 1 / 3
Corner Kicks: 3 / 2
Fouls: 6 / 9
Offside: 1 / 1
Misconduct Summary:
USA – Aidan McConnell (caution)                  28th minute
Officials:
Referee: Barbara Domingues (POR)
Assistant Referee 1: Olga Almeida (POR)
Assistant Referee 2: Catia Leitao (POR)
4th Official: Mafalda Dias (POR)