Midwest Developmental League adds three clubs for 2018-2019 season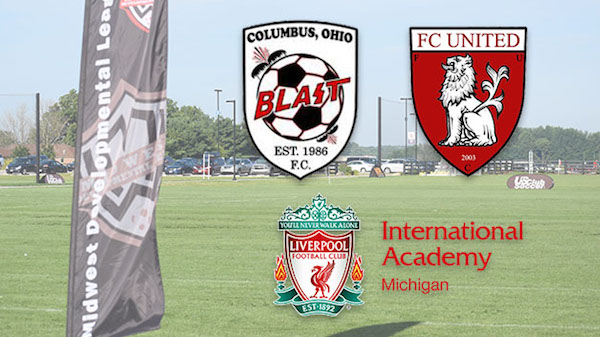 CHARLESTON, S.C. (Via US Club Soccer) – The Midwest Developmental League is expanding for the 2018-19 season, as it welcomes Blast FC Soccer Academy (Ohio), FC United (Ill.) and Liverpool FC (Mich.) to the league.
The Midwest Developmental League is made up of East and West divisions, and Blast FC and Liverpool FC will both join the East, while FC United is added to the West division. The league was one of the founding members of the National Premier Leagues (NPL) more than seven years ago.
Boys teams from the Midwest Developmental League are considered qualifiers to the Elite National Premier League (ENPL), as those teams are working towards national championships at US Club Soccer's highest league-based level. Girls teams aspire to the year-end Girls NPL Finals.
Outside of NPL programming, the Midwest Developmental League is well integrated into US Club Soccer programming, including: Players First, ENPL, showcases and more.
Players First is a branded, holistic club soccer experience for parents and players which emphasizes the development of each individual to his or her full potential, and helps parents make better choices about where their children should play. Players First is anchored by five pillars:
-Club Development
-Coaching Development
-Player Development
-Parent Engagement & Education
-Player Health & Safety
US Club Soccer is striving to provide the safest experience in youth sports for its members, noting that that Player Health & Safety is US Club Soccer's "first and most important responsibility." That commitment has been demonstrated through various initiatives and Players First partnerships, including 11+, Fit for 90, Player's Health and Sideline Sports Doc.
US Club Soccer has implemented best-in-class background checks, as part of its background screening process for all registered staff. The effort is in conjunction with a requirement for those registered staff to complete a Sideline Sports Doc online injury recognition course and SafeSport online training.
Quote from participating clubs:
Lesh Shkreli, Blast FC Soccer Academy (Ohio) Club Director: "Blast FC is excited to be offered the opportunity to join the NPL's Midwest Developmental League and have a chance to qualify for the ENPL Playoffs. The MDL will provide our players with the best developmental environment by allowing our club to compete against other top clubs in our region. The MDL will give our players every opportunity to showcase their skills for college coaches and to reach their full potential."
Baer Fisher, FC United (Ill.) FC United: "We are thrilled to be a part of the Midwest Development League for the 2018-19 season. Membership in this league will offer our boys' program a consist, highly-competitive league platform that will help further our mission of developing elite-level soccer players. We are grateful for this opportunity, and we look forward to working with like-minded clubs within the league to help contribute to the MDL culture of healthy competitive spirit."
Andy Wagstaff, Liverpool FC (Mich.) Owner and President: "We are very honored and extremely excited to join the NPL/Midwest Development League. To be selected and invited to participate in such a strong regional and national league is a great honor. We're confident that this move to be part of a top US Club Soccer league will provide our young athletes more playing opportunities and the ability to showcase their individual and collective talents. This is just one more important step toward expanding our offerings as a club."