Stephen Okai joins Riverhounds Development Academy coaching staff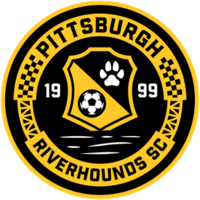 PITTSBURGH (Via Pittsburgh Riverhounds) – The Pittsburgh Riverhounds SC Development Academy (RDA) has announced the hiring of Stephen Okai to its full-time coaching staff for the 2018-19 season.
Okai, a central midfielder for the Pittsburgh Riverhounds SC professional team for three seasons from 2015-17, has been an instrumental member of the RDA staff since arriving in Pittsburgh, working as an assistant coach and lead technical trainer within the RDA and other programming.
The commitment of Okai to the RDA marks another significant step forward in the Academy's efforts to develop professional players into youth coaches.
+READ: Eastern Pennsylvania State Cup Finals Preview | U12-U17 brackets
"It is exciting to welcome another Riverhounds SC professional player into our coaching ranks," Sporting Director Jason Kutney said. "Stephen has been absolutely incredible in our community programming and will immediately integrate into three important RDA teams."
A charismatic and energetic coach with the ability to teach high-level technical competence and in-game effectiveness, Okai will take on the head coaching positions of both the 2008 Boys and 2007 Girls teams, representing a major commitment to these younger players in the RDA.
Additionally, he will work directly with Kutney and Director of Coaching Scott Gibson in managing players in the Under-15 and Under-16 ECNL platforms, taking on the head coaching role for the 03/04 RDA II side.
"Bringing Rob Vincent and now Stephen into the RDA is massive for us," Gibson said. "Assigning Stephen to our younger boys and girls teams, ones in critical years that strike the balance between technical ability and tactical awareness, should represent how serious we are at those ages."
A native of Ghana, Okai played five years of professional soccer in the United States with time in Charlotte, Los Angeles and Pittsburgh. Since 2015, Okai has been a constant in Riverhounds SC youth training, developing within the Academy structure while bringing his own flavor into all sessions.