Sporting KC Academy U-14s place fourth at Copa Rayados Internacional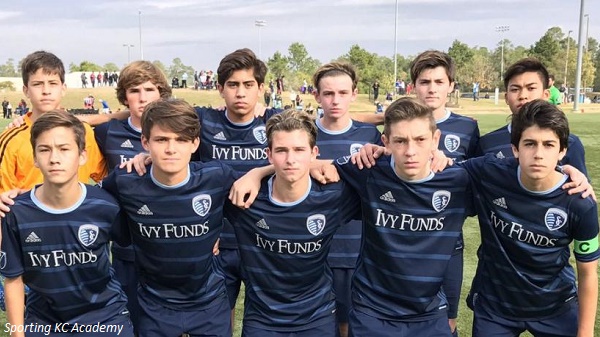 (Via SportingKC.com / Sam Kovzan) – The Sporting Kansas City Academy U-14s earned a fourth-place finish at the prestigious Copa Rayados Internacional tournament last week in The Woodlands, Texas, advancing further in the U-15 age group than any other American club at this year's competition.
Led by head coach Rumba Munthali, the Sporting KC U-14s played six games in five days between Wednesday and Sunday, finishing atop Group C with a 3-0-1 record before falling in the semifinal and third-place matches against Mexican opposition. The spirited performance included group stage victories over Santos Laguna, Houston Dynamo and Queretaro as well as a last-gasp draw against Inter Monterrey that proved decisive in Sporting KC's advancement to the Gold Division semifinals.
+Read: U.S. U-18, U-19 Men's National Teams conclude Florida camp
Game 1 (Nov. 23): Sporting KC 1-0 Santos Laguna
The U-14s kicked off the tournament with a 1-0 victory over Mexican side Santos Laguna, thanks in large part to a resolute defensive performance anchored by goalkeeper William Nicholson. Several first-half saves from Sporting KC's gloveman preserved a 0-0 scoreline until the dying embers of the match, when Danny Goddard picked out Brayden Barney for the winning goal just before the final whistle. The hard-earned result would set a positive tone for the remainder of the tournament.
Game 2 (Nov. 23): Sporting KC 1-0 Houston Dynamo
Sporting KC built on its momentum from earlier in the day with an evening win against the Houston Dynamo. The teams entered halftime in a scoreless stalemate, but a well-taken penalty kick from Ethan Armbruster decided the contest with just 10 minutes remaining to give Sporting KC a perfect record through matchday one.
Game 3 (Nov. 24): Sporting KC 2-2 Inter Monterrey
Thanksgiving morning served up a thrilling 2-2 draw between Sporting KC and Inter Monterrey. The Mexican outfit would strike in the 14th and 23rd minutes to take a 2-0 lead into the break, but Munthali's team remained unfazed. Sporting KC pulled one back with seven minutes left when Jackson Million's corner kick was prodded home by Mitch Eise. The valuable goal set the stage for a stunning equalizer on the last kick of the game, as forward Tyler Freeman buried an excellent free kick to salvage a point and keep Sporting KC atop Group C. Freeman had joined the U.S. U-14 Boys' National Team from Nov. 13-20 for a training camp in Carson, California.
Game 4 (Nov. 24): Sporting KC 1-0 Queretaro
Sporting KC ended Thanksgiving Day with a 1-0 triumph over Queretaro that clinched progression to the Gold Division semifinals. Freeman was the hero yet again, striking in the final minute of the match on an assist from Armbruster. Among the six American sides in the 12-team tournament, Sporting KC was the only club to reach the semifinals — joining Chivas Guadalajara, Santos Laguna and CF Monterrey Rayados.
Semifinal and Consolation Matches (Nov. 26 and 27)
After a deserved day of rest that included a visit to the NASA Space Center in Houston, Sporting KC returned to the pitch Saturday for a semifinal showdown with Chivas Guadalajara. After conceding twice in quick succession, Sporting KC halved the deficit just before the break when defender Parker Welch's effort deflected into the corner of the net. However, Chivas would go on to win 4-1 and condemn Sporting KC to Sunday's third-place match. The final day of action saw Sporting KC finish in fourth place after falling 7-0 to CF Monterrey Rayados.
Up Next: 2016 USSDA Winter Showcase
The Sporting KC U-18s and U-16s will take center stage this weekend, competing at the 2016 U.S. Soccer Development Academy Winter Showcase from Dec. 1-5 at Premier Sports Campus in Lakewood Ranch, Florida. The 2016 Winter Showcase includes 72 U-18 and 74 U-16 academy clubs from across the country, spanning 219 games over five days. The annual event will be held in conjunction with the 2016 Nike International Friendlies, a round-robin competition featuring the United States, Brazil Portugal and Turkey U-17 national teams.