US Youth Soccer ODP Boys Thanksgiving Interregional Day 2 Recap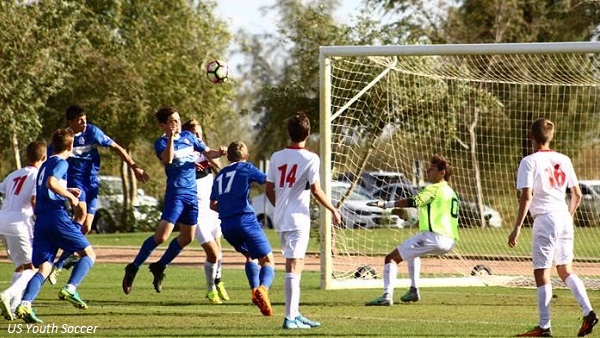 Day 2 of 3
Schedules, Scores and Standings 
Rosters: 2002 | 2003
CASA GRANDE, Ariz. (Via US Youth Soccer) — The annual US Youth Soccer ODP Boys Thanksgiving Interregional continued games Sunday at Grande Sports World in Casa Grande, Ariz. The three-day tournament will conclude Monday, Nov. 28.
Featuring teams in the 2002 and 2003 age groups, the event includes more than 140 of the nation's top players selected from US Youth Soccer State Association and Regional level evaluations. In each age group, players will attend scheduled training sessions and also compete in matches against each of the other regional teams.
+Read: US Youth Soccer ODP Boys Thanksgiving Interregional Day 1 Recap
Highlights from Day 2:
2002s | Region I 3, Region II 2
On the second day of the Thanksgiving Interregional, the 2002 Region I and Region II teams endured a high-scoring game as Region I took the 3-2 victory. Region I earned a 2-0 lead when Alexxio Gonzalez and Matthew Bilan each netted a goal. Region II cut into Region I's lead when Omar Fregoso received a ball from Jack Finnegan and Fregoso put the ball in the back of the net. Ubaldo Ayala Morales of Region I scored off of a header to gain some breathing room, and although Region II's Kirezi Freddy gained a goal back, Region I ultimately claimed the win.
2002s | Region IV 1, Region III 0
Region IV remains undefeated after they took their second win in a 1-0 decision over Region III. Kalani Kossa-Rienzi sent a ball for Nathan Ortiz to finish the goal, and that was all Region IV needed to gain the victory.
2003s | Region IV 2, Region III 0
In the 2003 age group, Region IV earned their second win after defeating Region III, 2-0. Region IV has not allowed any goals in their own net throughout the tournament, and even though Region III gained an opportunity to break that statistic today with a penalty kick, Region IV's goalkeeper came up big with the block. Region IV's first goal came from Felix Barajas, and Dante Silvestri made it a 2-0 game.
2003s | Region I 2, Region II 1
On the other side of the 2003 age group, Region I and Region II battled to a 2-1 decision in Region I's favor. Alejandro Baltazar of Region I finished an early goal, but Region II's Patrick Weah gained the equalizer with the assist coming from Caden Clark. It was then Malcolm Brickhouse who earned the game winning goal for Region I.