Final games complete at US Youth Soccer ODP Boys Interregional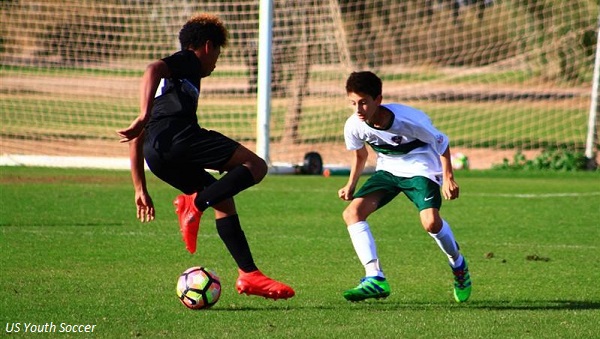 Day 3 of 3
Schedules, Scores and Standings 
Rosters: 2002 | 2003
CASA GRANDE, Ariz. (Via US Youth Soccer) – The US Youth Soccer ODP Boys Thanksgiving Interregional completed play on Monday at Grande Sports World in Casa Grande, Ariz.
Featuring teams in the 2002 and 2003 age groups, the three-day tournament included more than 140 of the nation's top players selected from US Youth Soccer State Association and Regional level evaluations. In each age group, players attended scheduled training sessions and also competed in matches against each of the other regional teams.
+Read: US Youth Soccer ODP Boys Thanksgiving Interregional Day 2 Recap
Highlights from Day 3:
2002s | Region I 1, Region III 1
Region I and Region III in the 2002 age group finished off the ODP Boys Thanksgiving Interregional with a 1-1 draw. Region I got on the board first after a goal from Matthew Bilan, and it was Region III's Vincente Garcia who gained the equalizer.
2002s | Region II 0, Region IV 1
Region IV went undefeated throughout the weekend, picking up their third win against Region II in a 1-0 decision. George Pineda's goal earned Region IV the game winner. Region IV was also able to keep a clean slate on the defensive side as they did not allow any goals in their three games.
2003s | Region I 1, Region III 0 
In the 2003 age group, Region I earned a 1-0 victory over Region III. It was a goal from Jonah Stoutenborough that gave Region I the lead. Overall, Region I went 2-1-0 in the three-day tournament.
2003s | Region II 1, Region IV 2
Region IV defeated Region II, 2-1, allowing Region IV to finish the weekend with a 3-0-0 record. Daniel Leyva's goal gave Region IV the initial lead, but Region II responded with a goal of their own after Matthew Roou found Caden Clark, who scored the equalizer. The match was headed for a 1-1 draw, but Region IV's Elijah Beverley found the back of the net in the final minute of the game to take the victory.