South Atlantic Premier League hosts 66 players at US Club Soccer PDP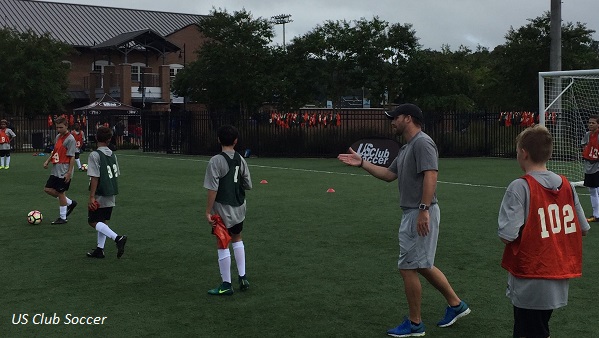 Rosters – Boys / Girls
Photo Album
ROCK HILL, S.C. (Via US Club Soccer) – A total of 66 players – 33 boys and 33 girls – participated in the US Club Soccer Player Development Program (PDP) on August 12 at Manchester Meadows Soccer Complex in South Carolina. Players competed in technical drills in the morning, emphasizing possession and transition, and then 11v11 matches were held in the afternoon.
The PDP was hosted by the NPL's South Atlantic Premier League, and the following clubs were represented:
AFC Lightning (Ga.)
Charlotte United (N.C.)
Chattanooga FC (Tenn.)
Discoveries SC (S.C.)
Lake Norman SC (N.C.)
South Carolina United FC (S.C.)
Triangle United (N.C.)
United Futbol Academy (Ga.)
USA Mount Pleasant (S.C.)
Wake FC (N.C.)
The PDP targeted 2004-05 boys and 2003-04 girls. Staff coaches were: Steve Chaconas (Lake Norman SC), Ralph Latchana (Discoveries SC), Caleb Norkus (Wake FC), Ricky Santibanez (Triangle United) and Jason Strange (Lake Norman SC). David Allred (Wake FC) served as a scout for next month's id2 Training Camp in Lancaster, Mass., of which top performers from this PDP will receive invitations to. Leo Garcia, NPL General Manager and US Club Soccer Vice President of Competitions, was on-site to oversee the program.
PDPs are focused around the NPL and other top leagues in specific geographic areas. PDP invitations are based on objective scouting of elite clubs and leagues, combined with recommendations from top Directors of Coaching.
The South Atlantic Premier League will host another PDP in the winter, with top performers being selected to the id2 Training Camp in Casa Grande, Ariz., Dec. 7-10.
The South Atlantic Premier League launched in the fall of 2012 and includes 13-U through 19-U boys and girls divisions. Earlier this year, the South Atlantic Premier League took the next step in its league offerings by being accepted as an Elite National Premier League (ENPL) qualifier. Now, its 14-U through 17-U boys champions will advance to the ENPL Playoffs, beginning in summer 2018.