Capital Fall Classic expands to include Recreational Weekend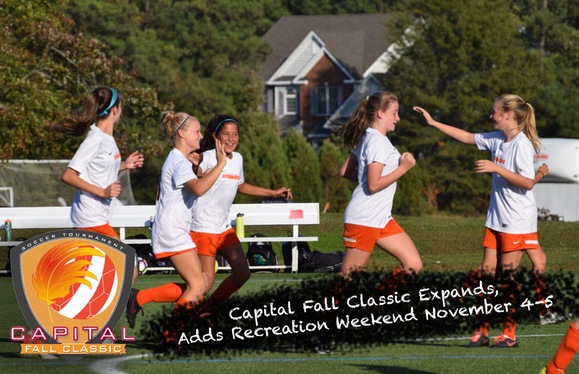 Apply for the 2017 Capital Fall Classic
Rec Weekend: November 4-5, 2017
Boys Weekend: November 11-12, 2017
Girls Weekend: November 18-19, 2017
(Via Richmond Strikers) – This November, the Capital Fall Classic will expand, yet again, to a third weekend – which will include a Recreational Weekend.
The additional weekend is scheduled for November 4-5, 2017 and will include all Richmond Strikers recreational teams starting at the U11 age groups.  Bev Carrey, Director of Recreation, said "For our recreational members to be included in our tournament series allows for an unparalleled experience that very few clubs can replicate."  The three games that all teams will be guaranteed, in a tournament format, will enhance the experience for our recreational members'.
The 37th edition of the Capital Fall Classic will also be held on November 11th-12th for the boys weekend and the 18th-19th for the girls weekend.
The inaugural recreational year will consist of only in-house teams from the Richmond Strikers as well as the Chesterfield Strikers organizations. "The opportunity for Chesterfield Strikers and Richmond Strikers to come together and compete in a single event can be very exciting for the families, players, community and club, says Director of Tournaments, Steve D'Adamo.
Chris Friant, Director of Operations also adds, "As you can imagine, the Richmond Strikers Tournament Series continues to be recognized nationally within the soccer community, but it is also important for us to stay grounded and provide opportunities for our own club members as well."