Q&A: Clemson coach Eddie Radwanski on recruiting, Girls DA
HENRICO, Va. — Ask nearly any player or parent at a major youth showcase event like the Jefferson Cup — boys and girls alike — about the Atlantic Coast Conference, and you're likely to elicit tones of awe and reverence.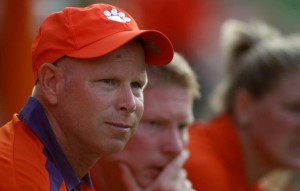 While the college game continues to thrive in many regions of the country from coast to coast, you could call ACC country its "heartland," the old cradle of deep talent and fierce competition fueled by the Eastern Seaboard's youth soccer hotbeds.
Clemson women's soccer coach Eddie Radwanski faces the stiff task of keeping the Tigers afloat in this stormy sea year after year. Surrounded by perennial national-championship contenders, he has nonetheless steered his team to back-to-back NCAA Tournament invitations, and at Jeff Cup 2016 he roamed the packed sidelines in search of future difference-makers for his squad.
SoccerWire.com caught up with Radwanski to hear his thoughts on several different topics, starting with his latest stop on the recruiting trail.
SoccerWire.com: Where does Jeff Cup fit into your scouting process? What makes this weekend trip to Richmond worthwhile?
Eddie Radwanski: This is in our region, it's in close striking range – and the [Strikers] have done typically a really good job with the Jefferson Cup for decades. So it's an event that we like to show up in, and for some of these teams and clubs it's kind of the first step of the spring, and to a lot of the ECNL groups, it's a warm-up weekend before going to [that league's national event in] San Diego. So it's a good opportunity to catch teams, and a good mixture because it's not just an ECNL event – you get ECNL teams, you have some from the [U.S. Youth Soccer] National League, you have some of the other clubs. So you get to see a little bit of a mix of everybody.
SW: At this time of year, many of the teams here from the Northern states have only just emerged from the long winter, and might meet Florida or Western teams who've been on a very different training routine. Does that affect your evaluation process?
ER: It's just like anything you're doing evaluation-wise: You have to realize, where are the teams in their chronological development. Some teams have been playing; some, like you just mentioned, are just getting outside for the first time. If you do your homework, you can figure that one out.
SW: Can you share your take on the recent news about U.S. Soccer's Girls Development Academy initiative?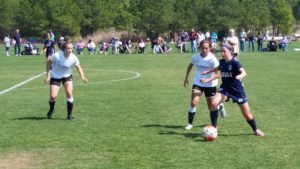 ER: Honestly, I don't really know a lot about it. The positives could be, if somebody's going to make an investment in the women's game, that's a good thing for women's soccer. And if there's something that could help us to be better, then that's great for women's soccer. But I would agree that the ECNL, the National League, those type of leagues and organizations have done a really good job so far – because they haven't really gotten a lot of help.
Now U.S. Soccer has as much financial clout as they've ever had in the history of our federation; it's nice to see that there's going to be a significant investment into the women's game. So anything we do that's investing for the good of the game, players are ultimately going to benefit.
SW: We've seen the U.S. Women's National Team show signs of evolution towards a more rhythmic, possession-oriented playing style of late. In that regard, do you see signs of change or evolution elsewhere on the pyramid as well? 
ER: I think each country has its own style, and one of the things about the Americans is, as much as we all admire a Barcelona type, you can't really play that – it just doesn't play into our culture. Now are there some things that we could learn from it? Absolutely. But we certainly don't want to get away from some of the strengths of the American female player. We're doing something right, we won the darn world championship, right? We've won it multiple times. We're one of the better countries in the world, so we're obviously doing something right.
There's different ways to get from one point to the other; some are pretty, some are dirty, some are indirect, some are just different. So how you do it, it's a matter of opinion. I like the fact of some of the strengths that our national teams have displayed, and it's made us successful on an international scale. Now I agree: I think technically we're getting better. I'd like to see even more on that … if we invest in trying to develop different styles of play – because you can't play one way, you have to play multiple ways, that's the only way you're going to be successful at the international level. So I think at the end of the day I think it'll make for a better soccer player.