ECNL announces new member clubs for 2016-17 season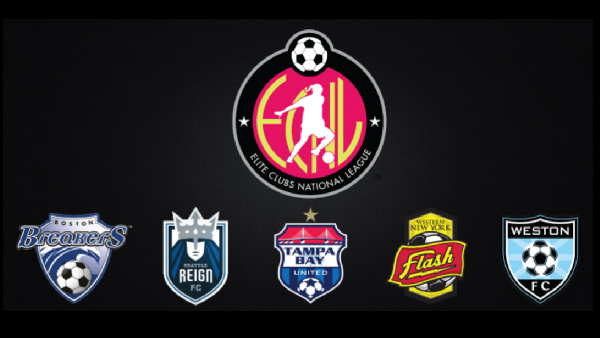 RICHMOND, VA (Via ECNL) – The Elite Clubs National League has announced the addition of five new member clubs beginning in the 2016-2017 season:
Boston Breakers Academy (MA)
Seattle Reign Academy (WA)
Tampa Bay United (FL)
Western New York Flash Academy (NY)
Weston FC (FL)
"We are incredibly excited to announce multiple-year commitments from each of the new clubs joining the ECNL this fall, and know that each one will be great members and supporters of the league," said ECNL President Christian Lavers. "Weston and Tampa Bay United will be great additions to the Southeast Conference, and there will be incredible synergies created through the collaboration between the ECNL and the NWSL clubs. Together we will all be able to grow and promote women's club soccer across the country at every level, and continue to be on the leading edge of development in the United States."
In the 2016-2017 season, each ECNL club will compete in five age groups (U14, U15, U16, U17, and U18/19) in regular season conference competition and ECNL National Events. In addition to the competition platform, the ECNL will continue to offer player identification and development opportunities for top players in every conference, coaching development seminars for coaches in every club, and player health and education resources.
+Read: Around the U.S. Soccer Development Academy: Week 19
"The ECNL mission to Raise the Game means that the league is constantly trying to raise standards in every aspect of the game, and to challenge standards in development and competition for our players." said ECNL Commissioner Jen Woodie. "Adding two great clubs in Florida, and building our relationships with the professional NWSL clubs over the next several years will provide great opportunities for the league and every member club, and great experiences for every player within the league."
"Weston FC is honored to accept membership in the Elite Clubs National League. Carlos Parra and I are incredibly excited to compete in the best female soccer league in the country, and to offer opportunities to girls throughout South Florida to showcase their talent against the best players and teams in the country."
– Tricia Taliaferro, Girls Director of Coaching, Weston FC
"The Western New York Flash strives to compete at the highest level with our professional team, now entering their fourth season in the NWSL. With the expansion of the Academy program, the goal has always been the ECNL. Having ECNL in the Western New York area is unparalleled, and we look forward to having players compete in the best youth soccer league in the United States."
– Aaran Lines, Academy Director of Operations, Western New York Flash
"Tampa Bay United is excited to become a new member of the Elite Clubs National League. The ECNL will provide our female athletes with a level of competition that will improve every aspect of their game. Thanks for this opportunity!"
– Charlie Slagle, Chief Executive Officer, Tampa Bay United
+Read: Jen Woodie announced as new ECNL Commissioner
"The mission for the Seattle Reign Academy is to provide the best possible development opportunities and standard of play for the players involved in our academy. The ECNL has developed the strongest program in the country to support our mission. We are really excited about joining the ECNL, and believe it will be a massive opportunity for our club and its players."
– Laura Harvey, Head Coach and General Manager, Seattle Reign
"We are very excited to be part of the ECNL. The development of youth players in our program is very important to us. The ability to provide a league boasting the highest competitive level of youth female soccer in the country to our development pyramid leading up to our professional team is an incredible step forward in our commitment to youth, developing the next generation of Boston Breakers professional players."
– Lee Billiard, General Manager, Boston Breakers