Q&A: Atlanta United U-15/16 coach, Academy Director Tony Annan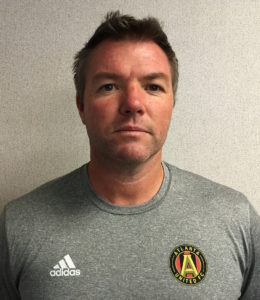 One season, one semi-final playoff appearance. Not a bad start for Atlanta United's U-15/U-16 academy side.
Ahead of their semifinal matchup against the Vancouver Whitecaps (6pm EST, Facebook Live) SoccerWire reporter Sean Maslin spoke with Atlanta United FC Academy Director and U-15/U-16 coach Tony Annan about his side's run through the U.S. Soccer Development Academy playoffs and the progression that his side has made in their inaugural season. Annan is the founder of the Georgia United DA soccer program and has previously worked in scouting and coaching with the U.S. Soccer Federation.
Sean Maslin: It has been quite an eventful couple of weeks for Atlanta. If you could sum it up in a couple of words how would you describe your run during the playoffs?
Tony Annan: It has been good. It has been exciting. It has been great for the players to experience it. It has been a good little end to the year to be successful at a good level. I think the guys have really enjoyed it so far, they are locked in and focused. I have seen some really good performances and some good attitudes and a lot of guys have developed from the beginning of the year. For me, it is progress and it has been really good.
SM: You have had a few days now to prepare for the Vancouver Whitecaps. What do you know about their side and how do you feel that your team matches up with them?
TA: They are a good side. They have a really style and some real weapons. We have watched a lot of video of their games over the last six months just to try and get a feel for who they are over a regular basis. But they are a good side. I respect them, I respect their program. They have a great program so it is going to be a tough, tough game for us. Matching up I think we have got some special pieces as well and I think it could be a really good game of football because both teams like to play.
SM: This your U-15/U-16 sides first-ever semifinal appearance. For many of your players I would imagine tomorrow's match is probably one of the biggest games that they have ever played in. As a coach, how much of a challenge is to manage those nerves and getting them prepared for a high stakes environment?
TA: I mean listen: this is our first year, never mind our first playoff so for many of these guys it is their first time in the DA [Development Academy]. A lot of these guys came from clubs in Atlanta who did a great job with them but now are in a different realm of football. Managing sixteen year olds some of them can't handle the nerves and some can handle it very well. But over the past twelve months we have put them in situations where they have had to handle to pressure situations. They have had to play in the DA Cup where they did really well and have had to play some awesome teams through this competition.
So we have made sure that they have been under pressure throughout the year at certain times so that when it comes to these big games it is nothing new and they can handle it. That is the message: you have been here before as far as handling pressure. Some will handle it and some won't and that is just part of the development process in terms of finding out who can do it and who cannot at this level. With this group it is a mix bag. Some are okay and some are nervous and it is okay to be nervous. We just have to make sure those nerves turn into a positive performance.
SM: Does it help to have players like Andrew Carlton and Zyen Jones who have experience in matches and tournaments of equal scale?
TA: Zyen has come back in and given us a different look. [U.S. U-17 Youth International and Clemson  defender] Charlie Asensio has come back in and Andrew Carlton is back in. These guys needed minutes and are hopefully preparing for the [U-17] World Cup so which is another echelon of pressure altogether. But they are leaders and Andrew has come in and carried the ball bag, he has been carrying the tactics board, and that is a true leader. He could swan around, he has a first team contract, and he has been on the pitch with the first team, he is one of the top players in the United States but you would never know. I mean that is a leader that people can look up to and say, 'You know what? There is no need to be arrogant. Look at Andrew.' Has he helped our squad? Absolutely. He has given us another level of professionalism and the lads are following suit. I am really happy to have all three of those guys in with us for the competition.
SM: On the professional level you will see a lot of teams go to venues early to get players acclimated. On a youth level is it even more important to get players adjusted and ready to play an environment they might not be used to?
TA: We were the first team here. We are trying to do things the right way, we are trying to do things as professional as we can and treat our guys so that they are ready for that next level. I am not sure that it makes a massive difference early on at the youth level. I think at the professional level there are those little margins of the game that you are trying to get. We are trying to put them in that same environment where are giving them everything that they need and at the end of the day the performance is on them once they step on the pitch. All we can do is prepare them. Coming out early and getting adjusted to the West Coast time I think was important to us since we are the only team coming from the East Coast. I think it was important.
SM: Where do you believe that your side has improved upon as this tournament has progressed?
TA: I am not sure that they have improved over the two weeks, three weeks of the tournament. I think that they have improved since last August. They play a good brand of soccer now with a little bit of influence from the first team and Tata [Atlanta United FC head coach Gerardo 'Tata' Martino] and his staff. We try to do some similar things to them. I think our football has evolved and gotten better. Our style of play is starting to look like an Atlanta team that we want. Again, going back to the first comment, first time club in the DA program and we really did not have a style of play. So over the past ten months I think we have evolved our style of play and they have really come together. We had guys coming in from maybe ten different clubs on this team with ten different coaching styles that have come together over the last ten months. So I wouldn't say that the last three weeks that we have changed I would say that over the last ten months we have really developed and evolved.
SM: You have quite a bit of experience coaching youth soccer in Atlanta and Georgia in general. Why do you believe that Atlanta United have succeeded so quickly in terms of developing your youth academy program?
TA: I would say this first: we haven't succeeded yet. I don't we people to think that we think that we have succeeded. We have had a good year. One good year, one good season with all of our squads. But I wouldn't say that we have succeeded. But part of the reason is that a lot of the clubs in Atlanta have prepared our lads for the next level. We need to give them credit. Atlanta has a really organized infrastructure for football and some really good people working in the city. That has helped get these players ready to roll into the DA and to be able to be successful as individuals and as a team.  
The other part of it is the organization from the top to the bottom. From the owner [Arthur Blank] all the way down our organization has backed the academy and said that we want the academy to be successful so we are going to give you the resources that we feel you need. So that is helpful when you have the backing of the ownership all the way down to the kit guys who want a successful academy. Those two reasons I would say have prepared Atlanta to do well. But again I would say that we have succeeded. I would say that we have had a good start.