Sharp names 14-man roster for Parapan American Games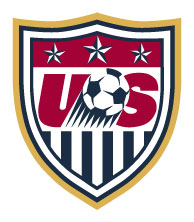 CHICAGO (Via U.S. Soccer) – U.S. Paralympic National Team head coach Stuart Sharp has named 14 players to represent the United States at the 2015 Parapan American Games in Toronto, Canada.
Preliminary matches begin Sunday, Aug. 9, for the USA when it faces Canada. It will then face Venezuela, Argentina and Brazil on the following consecutive days. Elimination games will take place on Friday, Aug. 14, before the placement games and closing ceremony on Saturday, Aug. 15.
"The players and staff are looking forward to getting on the plane to Toronto to join up with the rest of Team USA at the Parapan American Games next month," said Sharp. "It has been a busy and successful year for the USPNT program and all the U.S. Soccer National Teams in general, therefore we are keen to continue this momentum.
"We will be taking a squad with only two changes to the group that recently made the quarterfinals of the World Championships, therefore we will have a nice blend of youth and experience in Canada."
Daniel Hoffman and Jackson McCabe join the team as the only two members who did not participate with the U.S. at the 2015 C.P. World Championships in England. The U.S. finished in 7th place at the World Championships to qualify for the 2016 Paralympic Games in Rio de Janeiro, Brazil.
"In 2015 so far, with squad qualifying for the 2016 Paralympic Games in Rio, we have managed to achieve a number of our objectives but this season is not yet over," said Sharp. "I am sure there will be teams in Toronto going out prove themselves against us, however we are firmly focused on finishing the competition in a podium place and representing the USA to our best."
U.S. Paralympic National Team Roster by Position:
GOALKEEPERS (1): Keith Johnson (Houston, Texas)
DEFENDERS (2): Bryce Boarman (Colorado Springs, Colo.), Kevin Hensley (Memphis, Tenn.)
MIDFIELDERS (9): Mason Abbiate (San Diego, Calif.), Adam Ballou (Virginia Beach, Va.), Tyler Bennett (Wadsworth, Ohio), David Garza (Chula Vista, Calif.), Daniel Hoffman (Reisterstown, Md.), Seth Jahn (Tampa, Fla.), Gavin Sibayan (Colorado Spring, Colo.), Marthell Vazquez (Long Beach, Calif.), Jordan Weise (Jacksonville, Fla.)
FORWARDS (2): Jackson McCabe (Boulder, Colo.), Michael Moore (Plano, Texas)