Earthquakes Academy hires Holocher, Moreira to manage youth clubs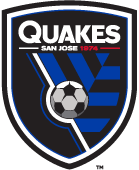 SAN JOSE, Calif. (Via San Jose Earthquakes) – After a banner year for the San Jose Earthquakes Academy, the club has announced that it has hired Paul Holocher and Andre Luiz Moreira to manage its youth clubs.
Holocher will coach the U-18 and U-16 squads with the help of an experienced staff, while Luiz takes over the U-14s. Both head coaches have a wealth of soccer knowledge and have previously competed for San Jose's first team. The Earthquakes and former academy coaches Marquis White and Stephen Wondolowski parted ways at the conclusion of the 2015 academy season.
"The San Jose Earthquakes are extremely exciting to announce the hiring of Paul Holocher and Andre Luiz," said Earthquakes technical director Chris Leitch. "They have both played professionally and coached at top-level clubs around the world and bring exceptional résumés with them that are among the best of any academy coaches in the United States. We would like to thank former academy coaches Marquis White and Stephen Wondolowski for all the work they have put into the program throughout the last six years. They have really built this program to be one of the premier academies in the country and they will always be a part of the academy family even as they purse different endeavors.  We wish them the best of luck in their new undertakings."
Holocher most recently served as the head coach for the Cal Poly Mustangs from 2006-13. Holocher helped turn a struggling Cal Poly program into one known for its success both on and off the field. In his final season with the Mustangs, Holocher's club scored a school-record 43 goals, 7th among the 200+ Division I programs, defeated UCLA 3-0, who was ranked No. 6 in the nation at the time, and had two players selected in the MLS SuperDraft.
Prior to joining Cal Poly, Holocher was the head coach at UC Santa Cruz for seven seasons from 1999-2005. Holocher took over a team that finished 4-13 the year prior to his arrival and compiled a phenomenal 109-24-12 record over his seven seasons, which includes a National Championship Game appearance in 2004. Despite the Banana Slugs being a non-scholarship D-III program, Holocher helped five of his former student-athletes make MLS rosters.
While at UC Santa Cruz, he was also the Director of Coaching for the Santa Cruz County Youth Soccer League (SCCYSL), which possessed more than 5,000 youth players. Holocher also began the Catalyst Soccer Club, a program designed to identify and develop players at numerous youth levels throughout Santa Cruz County.
Before coaching, Holocher was a member of several professional teams throughout his career, including the-then San Jose Clash during the inaugural MLS season in 1996. He had also previously competed for FC Admira Wacker in Austria (1993-94) and the San Francisco Bay Blackhawks (1991-92).
A major part of Santa Clara University's National Championship run in 1989, Holocher led the Broncos to a 20-0-3 record, and was later selected to the NSCAA All-America Team. His 28 goals and 32 total collegiate assists both stand as the second most in school history.
"Chris Leitch has done a super good job of building up the programs from their beginnings only a few years ago to where it is today," said Paul Holocher. "The goals are to continue improving in all areas and work towards a comprehensive Academy program that is vertically integrated, which means developing a clear vision and pathway for all the young players' advancement and development within the program and towards the top team. The young men on the U16 and U18 teams are both talented and highly motivated and we want to help each one reach their highest potentials. It will be our goal to help some develop into future Earthquakes home-grown players and professionals and also prepare players for top college programs to continue their education and development. Ultimately we want to provide more than just a great soccer experience and opportunity for these young men, but also a great life experience with many great memories."
Andre Luiz is a decorated Brazilian player with 22 appearances and two goals for the Brazilian National Team, winning a Bronze medal at the 1996 Summer Olympics. After an extensive professional career that included stints with clubs such as Sao Paulo FC, Marseille, Ajaccio and Paris Saint-Germain, Andre Luiz joined the Earthquakes in 2009 and made 16 appearances with the club over the next three years.
Since retiring, Andre Luiz has attained a B coaching license from the U.S. and an A coaching license from Brazil. He has held several coaching internships, including Monterrey (Mexico), Tigres (Mexico), Cruz Azul (Mexico), Sao Paulo (Brazil), Figueirense (Brazil) and Santos (Brazil). Andre Luiz has also worked with the boys' U-11 and U-13 Palo Alto Soccer Club teams and was most recently with the Earthquakes pre-academy in 2015.
"I'm very excited to be working with the San Jose Earthquakes youth academy team," said Andre Luiz. "I have been fortunate to have played and coached with top-level clubs around the world and my aim is to take those experiences and help integrate them into the Earthquakes development pathway."