Seton Hall University women's soccer adds Alex Mendolia to coaching staff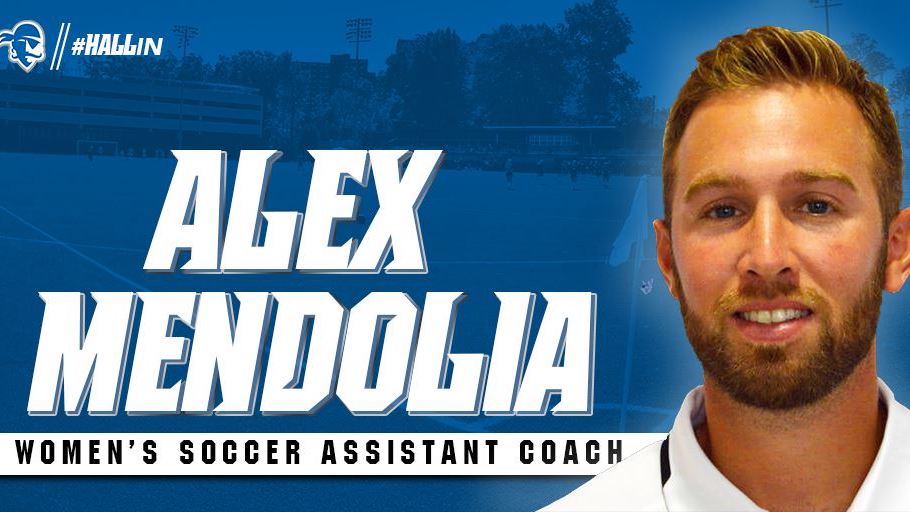 SOUTH ORANGE, N.J. – Seton Hall University women's soccer head coach Ciara Crinion announced that Alex Mendolia, an experienced and well-travelled teacher of the game, has been added to the Pirates' coaching staff.
Mendolia joins the Hall after spending the 2019 season as the top assistant for Sky Blue FC of the National Women's Soccer League.
"We are thrilled to add Alex to our Pirate family," Crinion said. "He has had extensive experiences and expertise in the game that will no doubt contribute to the elevation of our program. His passion, commitment and enthusiasm are second to none and we are excited for this great addition."
With Sky Blue, Mendolia helped develop, organize and execute sessions for team and individual training designed for athletes competing in the top domestic women's soccer league in the United States. He also provided matchday analysis and opponent scouting reports for coaches and players including U.S. Women's National Team co-captain Carli Lloyd, Canadian goalkeeper Kailen Sheridan, Costa Rican midfielder Raquel Rock Rodriguez and Cameroon defender Estelle Johnson.
"I am very excited to the join the women's soccer coaching staff here at Seton Hall," Mendolia said. "I'd like to thank Coach Ciara for the opportunity and her belief in my ability. I'm looking forward to begin working with such a talented group of coaches and student-athletes and I know with my hard work and dedication we will collectively make an impact as a program."
Mendolia spent 2018 and 2019 in Spain where he was an assistant coach for Union Deportivo San Lorenzo del Flumen in La Liga's third division and a youth academy soccer coach for EF Huesca's professional youth academy team. With UD, Mendolia had control over training sessions for field players and goalkeepers while also assisting and designing individual recuperation sessions for injured players.
Prior to coaching overseas, Mendolia was a head men's soccer coach at the Division III level at St. Joseph's College. In just his second season, he led the Golden Eagles to a 7-1-1 record in conference play and an appearance in the Skyline Conference championship game. Mendolia's first experience with the women's game at the Division I level also came on Long Island at Stony Brook, where he was an assistant from 2015-16.
Prior to his time at Stony Brook, Mendolia worked as an assistant coach for LIU Post's nationally ranked men's soccer program during the 2012, 2013 and 2014 seasons. With the help of Mendolia, the Pioneers won three East Coast Conference (ECC) regular season championships, two ECC postseason championships (2012, 2013) and made three NCAA Division II Tournament appearances, claiming an East Regional championship in 2014. During the 2014 season, Mendolia also served as an assistant for Post's women's team, who posted a 15-3-1 record and earned an NCAA Tournament bid.
Mendolia had a standout playing career at Farmingdale State. A four-year letterwinner for the Rams, Mendolia tallied nine goals and 32 points in 69 games as a midfielder from 2007 to 2011. Upon graduation, Mendolia's 14 career assists was tied for the most in school history, and his tally of eight assists in 2008 set a school record. He cut his teeth in collegiate coaching at his alma mater where he was an assistant in 2011.
In addition to his primary coaching duties, Mendolia has worked as coaching director/travel coach at New York Rush: Stony Brook Soccer Club since 2011 and served as assistant director at Future Stars Soccer Camp from 2008 to 2012. Mendolia has also coached in Cameroon with the Cameroon Rush Exchange in 2013 and received coaching education in Spain, where he visited with FC Barcelona, Real Madrid C.F. and Rayo Vallecano in 2013 and 2014.
After earning his Bachelor's degree in business management technology from Farmingdale State in 2011, Mendolia received a Master's in soccer coaching education from Ohio University in 2015. He also holds several USSF licenses, NSCAA Advanced National and Goalkeeping diplomas and the Tecnico Deportivo en Futbol (UEFA B) Coaching Degree in Spain.