Seattle University brings in 10 new women's soccer student-athletes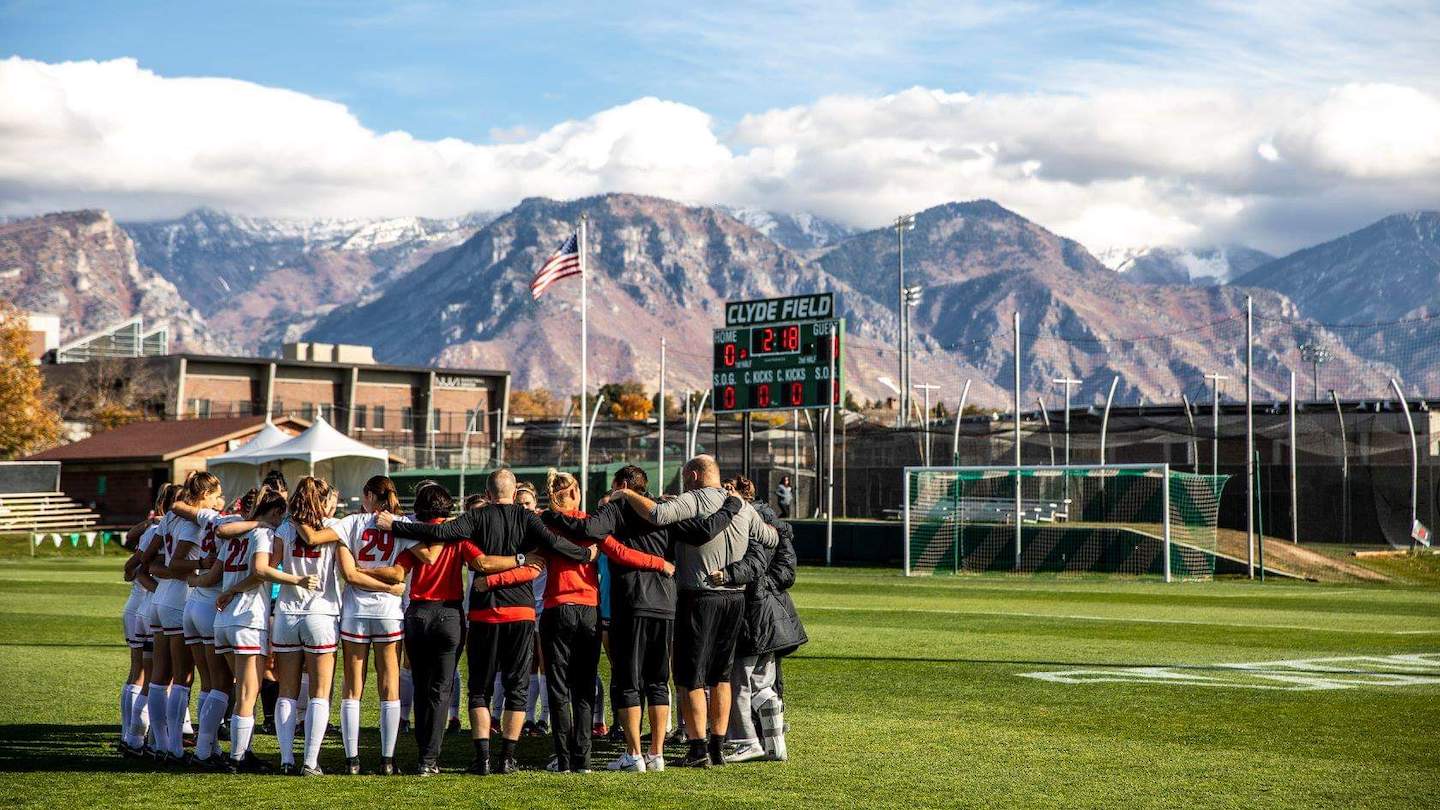 SEATTLE – Seattle University has announced the addition of 10 student-athletes for the class of 2021. Coach Julie Woodward will bring in the group ahead of the 2021 Fall season.
Jourdyn Curran, Reyna Dismukes, Olivia Isakson, Morgan Lewis, Julieta Peralta, Nina Prusa, Kait Raffensperger, Savannah Singleton, Daniella Smathers and Jolie St. Louis have signed with Seattle U for next year.
"This class is full of character," said Woodward. "Character is one of our team principles and probably the biggest predictor of success at the college level. Athletically, this group takes our team to another level. Who they are as people tells me that each young woman in this class will achieve their dreams here at Seattle U. Chris has done a tremendous job expanding our recruiting base and that is clearly reflected in the diversity of this group. These young women love Seattle U, and wanted to be here from the start. That is a huge thing for me and something that will make our team and our community stronger over the next four years."
5-5 | Midfielder | Ewa Beach, Hawai'i | James Campbell HS/Leahi SC
With Leahi Soccer Club, she has helped her team win five straight state titles. At James Campbell High, she has been chosen first team all-state twice. Curran was selected Top 12 at the ODP (Olympic Development Program) Interregional National event in 2018.
Head Coach Woodward on Curran: "Jourdyn is going to be tough to keep off the field. She has the rare combination of being a playmaker and a physical presence in the central midfield. Her range of passing will turn heads. If you drop off, she'll take space on the dribble as well. We are very excited to welcome Jourdyn to Seattle U."
Curran on why she chose Seattle U: "I chose Seattle U because they are a competitive women's soccer team that has the mentality to be the best they can be. Also, because the environment the coaches have created by caring about their players and forming relationships with them."
5-9 | Defender | Fair Oaks, Calif. | Bella Vista HS/Folsom Lake Surf
She has played at Bella Vista High, earning all-conference honors in 2019 and 2020. She will also be a member of SU's track and field program.
Head Coach Woodward on Dismukes: "The sky is the limit for Reyna. Her attitude and ability to transition from defending to attacking is incredible. She's a one-woman counter attack. Reyna also is impossible to run by, though it will be fun to watch people try. When you consider that she also scores goals with her head on set pieces, you start to see the makings of a big-time future centerback for our program."
Dismukes on why she chose Seattle U: "I chose Seattle U because of the location and the soccer program. It also was a fit for my educational goals. It was everything I looked for in a school."
5-7 | Midfielder | Sedro-Woolley, Wash. | Sedro-Woolley HS/Crossfire Premier
She won two state titles on the club circuit. At Sedro-Woolley High, Isakson was a Northwest Conference First Team pick in 2018 and 2019, as she scored 20 goals last year.
Head Coach Woodward on Isakson: "Olivia has so many of the qualities we want for our team. Her work ethic and fitness allow her to play box-to-box, something every successful team needs. She loves to put her teammates in on goal and has really improved as a connector this past year. We can't wait to see her compete on Championship Field."
Isakson on why she chose Seattle U: "I chose Seattle U because I loved the competitive but fun environment. The team is like a family, which is something I really wanted. Plus, the school itself is great."
5-3 | Forward | Queen Creek, Ariz. | Casteel HS/Arizona SC
She was a member of Arizona Soccer Club for the last five years. Lewis plays at Casteel High, where she helped her team win the 5A state championship in 2020. She will also be a member of SU's track and field program.
Head Coach Woodward on Lewis: "We are really excited to have Morgan a part of the program and to be part of her development as a player. Morgan may be one of the fastest players in all of college soccer, but it's her growth in her technical ability and tactical awareness over the last two years is what has us the most excited about her and her future."
Lewis on why she chose Seattle U: "After communicating with the coaches and attending camps, I went on a visit to the campus and immediately felt at home. I became excited about how the coaches could take me to new heights and further develop me. More importantly, I loved how every single coach cared about me as an individual. After meeting with a few professors and academic advisors, I knew that SU was the place for me to grow both academically and athletically. I can't wait to call Seattle my home for the next four years.
5-5 | Defender | Mexico City, Mexico | Tecnológico de Monterrey/Club Pachuca
She has been a member of the Mexican National Team, helping her U20 team claim silver at the 2020 CONCACAF World Cup Qualifier. She won the 2018 national title with Club América. Peralta has made 23 starts in the Liga MX Femenil since 2018 and appeared in the 2018 U17 Women's World Cup.
Head Coach Woodward on Peralta: "This was a surprise for us. We felt like our class was complete, but Julieta popped on our radar late and we knew we may not be quite done. She brings such a wealth of experience at high levels in Mexico and internationally. We fully expect Julieta to make an immediate impact on the team with her level of professionalism."
Peralta on why she chose Seattle U: "I chose Seattle U because I know that although being away from Mexico, I will feel extremely at home in Seattle. I'm very excited to be a part of the amazing family and for the opportunity to continue growing as a player, but most importantly as a person. This is truly a dream come true."

5-9 | Defender | Cupertino, Calif. | Saint Francis HS/California Thorns/De Anza Force
For the last four years, she has started for California Thorns/De Anza Force in the U.S. Soccer Development Academy.
Head Coach Woodward on Prusa: "Nina was our first commit of the class, and we knew right away this was going to be a strong class. She is very consistent and can play multiple positions. But maybe our favorite piece is how competitive she gets on the field. We are excited to see the impact she will have on our program over the next four years."
Prusa on why she chose Seattle U: "To visit Seattle is to fall in love with a great American city. To visit Seattle University is to confirm your love. During my search for the best college fit for me, I found Seattle U checked all the boxes. It has a top-ranked private education with a highly-ranked soccer program. It is located in the heart of Seattle, yet feels like walking through a park while on campus. For a Cali girl, the Pacific Northwest climate will also save me money on sunscreen."
5-10 | Defender | Redmond, Wash. | Redmond HS/Crossfire Premier
A longtime member of Crossfire Premier, Raffensperger helped her squad win the state title twice and the 2020 Surf Cup. She was named First Team All-KingCo at Redmond High last season.
Head Coach Woodward on Raffensperger: "Kait is everything you want from a central defender. She's is such a tremendous athlete, while being extremely technical, incredibly smart and a competitor. She is a natural leader and will be a great addition to our team and the university. I've always wanted Kait to be a Redhawk and am so thankful that she chose SU."
Raffensperger on why she chose Seattle U: "After considering other universities, I found that the smaller class sizes, variety of degree options and urban setting of SU really appealed to me. The style of soccer was something I was familiar with since my club team plays that way and the coaching staff made me feel like I could make a difference for the team."
5-5 | Midfielder | Dacula, Ga. | Mill Creek HS/GSA
As a member of GSA, she helped her team win the conference title in 2019.
Head Coach Woodward on Singleton: "It was easy to fall in love with how Savannah plays the game. She is an extremely hard worker and has a unique willingness to defend as an attacking player that is hard to find. It always seems she has a direct impact on her team's success every time she is on the field. Adding in, she is a rather good attacking player."
Singleton on why she chose Seattle U: "The reason why I chose Seattle U was because I felt the most from Julie and the other coaches. I also love the city. It reminded me of Chicago, and I love going to see my sister there. I just love the west coast, too."
5-2 | Midfielder | Prosper, Texas | Prosper HS/Solar SC
She helped Solar Soccer Club win the conference title in 2016. Smathers has been chosen first team all-district at Prosper High.
Head Coach Woodward on Smathers: "When I talk to other coaches about Dani, it's always 'she would be fun to play with'. I'm sure her teammates at SU will agree. Dani is super-technical, can dribble out of trouble and has a fantastic final pass. Dani will score some goals, but she'll get a ton of assists."
Smathers on why she chose Seattle U: "I picked Seattle U because the coaches and teammates I've met made me feel at home. I love the area and they have a highly-ranked psychology program."
5-9 | Forward | Atlanta, Ga. | Dunwoody HS/Tophat
She played for Tophat for the last two years. Prior to that, she helped UFA win the Georgia state title in 2017. St. Louis scored 26 goals while in the U.S. Soccer Development Academy.
Head Coach Woodward on St. Louis: "It was 23 months from the first conversation we had with Jolie to when she committed, but we would have never wanted it any other way. We always knew the special ability she had on the field to change a game, but we got to know her and her family very well over the process and we are really confident she will bring so much more to the program than just results on the field."
St. Louis on why she chose Seattle U: "One of the reasons I chose Seattle University is because of the coaching staff. I love their vision and support that they give their student-athletes. They made me feel like family. Another reason is the location. The environment at Seattle U was uncommonly versatile. I am very adventurous and love the outdoors. I am excited to continue my academic and athletic career at Seattle University."