Schedule set for Nike International Friendlies, USSDA Winter Showcase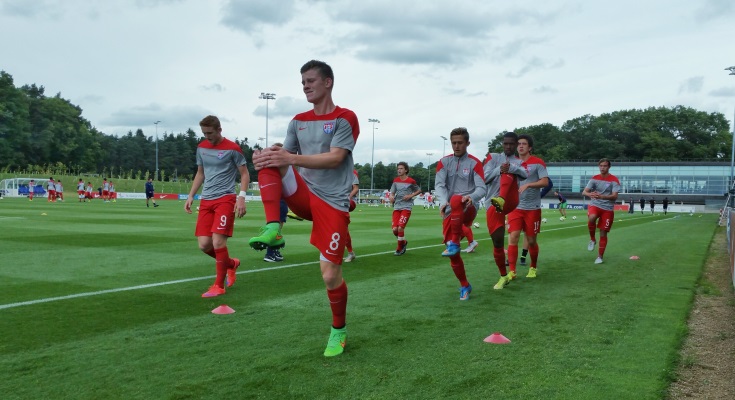 CHICAGO (Via U.S. Soccer) – The 2015 Nike International Friendlies and U.S. Soccer Development Academy Winter Showcase will take place at Premier Sports Campus in Lakewood Ranch, Florida, from Dec. 2-6 and Dec. 3-7, respectively.
During the competition, the U.S. Under-15 Boys' National Team will take on Under-17 teams from Brazil, England and the Netherlands. The U-15 BNT consists of players born in the year 2000 or after. Led by head coach John Hackworth, the team's roster for the tournament will be released in the coming days.
The tournament will feature three doubleheaders, with the USA playing in the later game of each match day. The U.S. is set to play England on Dec. 2, the Netherlands on Dec. 4 and will round out the competition against Brazil on Dec. 6.
+Read: Thanksgiving tradition: Bethesda Premier Cup keeps growing in year 32
All matches will be streamed on ussoccer.com and U.S. Soccer's YouTube page with Mike Pepper providing commentary for a third consecutive year. The first game of each match day will kick-off at 3 p.m. ET with the USA game following at 6 p.m. ET.
The Academy Winter Showcase will again simultaneously take place alongside the Nike Friendlies. The U-17/18 teams of BW Gottschee and Chargers Soccer Club will compete on Dec. 3 at 3 p.m. ET, and the Philadelphia Union U-15/16 will play against LA Galaxy U-15/16 on Dec. 5 at 3 p.m. ET.
The Nike Friendlies began in 2001 to provide top-level competition for men's Youth National Teams, and has become a premier annual event for youth soccer. In 2008, U.S. Soccer's Development Academy joined for the Winter Showcase, allowing the U.S. Scouting Network to evaluate players from across the country at different age levels.
2015 Nike International Friendlies and DA Winter Showcase Viewing Schedule
Wednesday, Dec. 2
Netherlands vs. Brazil, 3 p.m. ET
USA vs. England, 6 p.m. ET
Thursday, Dec. 3
BW Gottschee U-17/18 vs. Chargers Soccer Club U-17/18, 3 p.m. ET
Friday, Dec. 4
Brazil vs. England, 3 p.m. ET
USA s. Netherlands, 6 p.m. ET
Saturday, Dec. 5
Philadelphia Union U-15/16 vs. LA Galaxy U-15/16, 3 p.m. ET
Sunday, Dec. 6
England vs. Netherlands, 3 p.m. ET
USA vs. Brazil, 6 p.m. ET