Roster named for U.S. U-14 Girls National Team training camp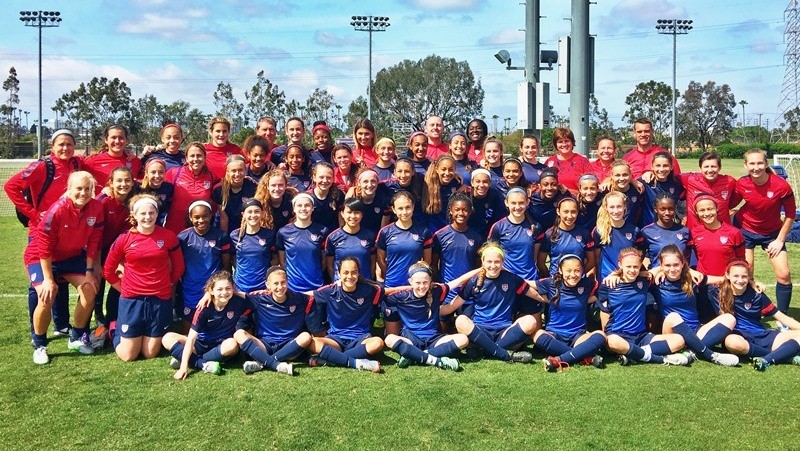 CHICAGO (Via U.S. Soccer) – U.S. Under-14 Girls' National Team will come together from Oct. 1-8 at the U.S. Soccer National Training Center in Carson, Calif., as head coach April Kater has called up 26 players, almost all born in 2002 with three players born in 2003.
The camp will be held concurrently with a U.S. U-15 GNT event. There will be more one last U-14 GNT training camp during this calendar year in November in Florida.
+NCAA Women's Soccer Commitment Announcements: September 2016               
U.S. Under-14 Girls' National Team Roster by Position
GOALKEEPERS (3): Ryan Campbell (So Cal Blues; Dana Point, Calif.), Mia Justus (PDA; North Brunswick, N.J.), Alia Skinner (Jacksonville FC; Fleming Island, Fla.)
DEFENDERS (8): Baleigh Bruster (Tophat SC; Smyma, Ga.), Kayla Colbert (Arsenal FC; Rancho Cucamonga, Calif.), Devi Dudley (Utah Celtic FC; American Fork, Utah), Samar Guidry (FC Dallas; McKinney, Texas), Emily Mason (PDA; Flemington, N.J.), Jaiden McClellan (Crossfire United; Wilsonville, Ore.), Laney Rouse (CASL; Cary, N.C.), Dasia Torbert (Tophat SC; Dacula, Ga.)
MIDFIELDERS (7): Erin Carleton (Concorde Fire; Powder Springs, Ga.), Talia DellaPeruta (Tophat SC; Cumming, Ga.), Emma Egizii (Beach FC; Downey, Calif.), Isabel Loza (Fullerton Rangers; La Mirada, Calif.), Jillian Martinez (Lonestar SC; San Antonio, Texas), Alexis Missimo (Solar Chelsea; Southlake, Texas), Avery Patterson (Florida Elite Soccer; Jacksonville, Fla.)
FORWARDS (8): Kailyn Dudukovich (Cincinnati United; West Chester, Ohio), Brooklyn Harris (Cincinnati United; New Albany, Ohio), Dilay Heredia-Beltran (Sporting Blue Valley; Overland Park, Kans.), Samantha Kroeger (Matchfit Academy; West Milford, N.J.), Aryssa Mahrt (FC Wisconsin Eclipse; Wauwatosa, Wisc.), Raigen Powell (Solar SC; Rowlett, Texas), Trinity Rodman (So Cal Blues; Newport Beach, Calif.), Michaela Rosenbaum (Santa Rosa United; Rohnert Park, Calif.)