Richmond United Boys program announces full-time coaching staff ahead of ECNL debut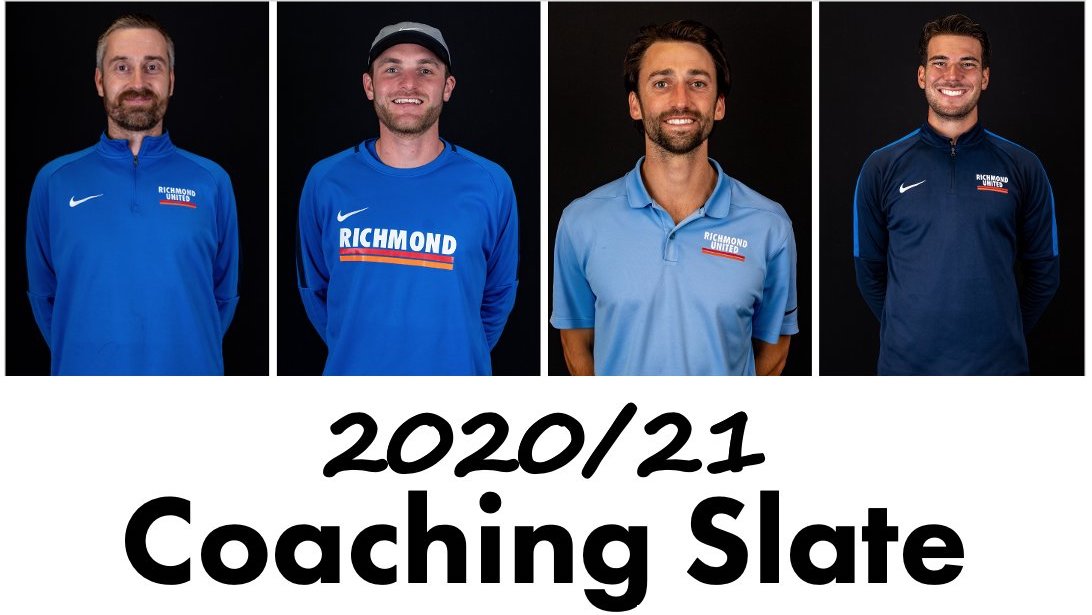 The Richmond United Boys program has announced its coaching staff ahead of the 2020-2021 season.
Richmond United Boys teams are set to begin their first season in the Elite Clubs National League (ECNL), as part of the Mid-Atlantic Conference.
"We bring back a strong group of driven coaches, all of whom have taken significant steps forward in their own development over the last year," said Richmond United Boys Director Sascha Görres. "The familiarity with the players will help us provide an even better environment for our players."
Richmond United full-time staff will also be supported by a talented group of assistant coaches, who will be announced at a later date.
Sascha Görres, Boys Director, U13 & U14 Head Coach
Will Bates, U15 & U16 Head Coach
Michael Callahan, U17 & U19 Head Coach
Joseph DeMartino, Goalkeeping Director
Staff Spotlight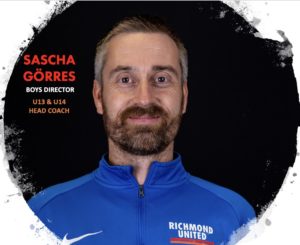 Sascha Görres: Richmond United is led by Boys Director Sascha Görres, who is entering his 3rd full season as Boys Director. Originally from Flensburg, Germany, Görres came to the US to play college soccer and established a professional career with the Richmond Kickers following his collegiate career. After his playing career, Görres transitioned to coaching where he has worked with the Richmond Kickers Youth Club and Richmond Kickers Pro team, prior to joining Richmond United as a coach in 2014. Görres currently holds his A-Youth License and will serve as the Head Coach of the U13 & U14 teams.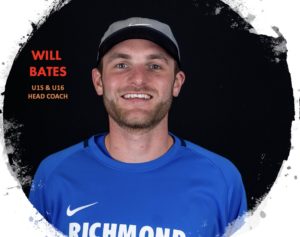 Will Bates: Returning for his 2nd season with RU is Richmond native Will Bates. Bates previously held the position of U8-U12 Director of Coaching with the Richmond Strikers, before joining Richmond United full-time last year. Bates grew up playing youth soccer with the Richmond Strikers & attended Thomas Dale High School. Following his collegiate career at the University of Virginia, Bates played for the Seattle Sounders FC of the MLS. Bates currently holds his C License and is on track to earn his B License in August of 2020.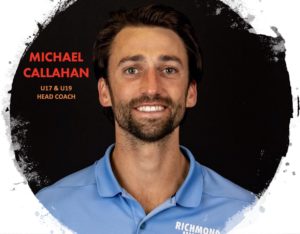 Michael Callahan: Entering his 4th season, Michael Callahan will again be working with our oldest players. Callahan grew up in Cary, North Carolina playing for CASL Youth Soccer Club and Carolina Railhawks PDL. From 2005-08, he attend and played soccer for the University of Norther Carolina at Chapel Hill. He then went on to play eight years professionally in the USL for the Austin Aztex and the Richmond Kickers. Callahan recently earned his A-Youth license. He will serve as Head Coach of the U17 & U19 teams.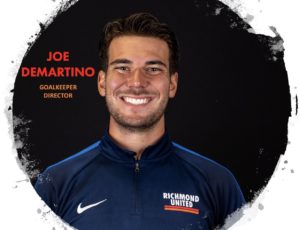 Joe DeMartino: A Virginia Beach native, DeMartino grew up playing for Beach FC. After a successful youth club career, he attend the Richmond International Academic and Soccer Academy (RIASA) based in Leeds, England, where he studied and played soccer for four years. After graduating from RIASA in 2018, he joined Fredericksburg FC as the Goalkeeper Director. DeMartino holds a Level 3 Goalkeeper License and plans to take the Advanced National Goalkeeping Diploma this year.