Report: U.S. Soccer's new girls Development Academy to bar high-school soccer participation
The U.S. Soccer Federation's new girls Development Academy initiative will adopt the same policy barring players from taking part in high-school soccer as the boys version, according to a new report by New Jersey-based soccer journalist and youth coach Glenn Crooks.
Citing confidential sources with knowledge of the federation's behind-the-scene plans for this yet-to-be-announced league, Crooks took to Twitter this week to echo what some – but not all – of SoccerWire.com's sources have reported on this subject.
I've learned that Girls DA will follow Boys DA model-members will NOT be permitted to play high school soccer @NSCAAhs @USYouthSoccer

— Glenn Crooks (@GlennCrooks) January 29, 2016
It seems that the boys DA model will be implemented in as many aspects as possible on the new girls venture, including the highly contentious decision to cut high-school soccer participation as part of the 10-month season schedule adopted across the DA in 2012.
"It is the sort of mandate that will be heavily debated in the soccer community and may lead to strong objections from the top clubs in the country who may choose to maintain their current development structures," writes Crooks in his latest column for CBS New York. He has also discussed the issue on "The Coaching Academy," his weekly satellite-radio broadcast on SiriusXM FC on Wednesdays from 1-2 p.m. ET.
+READ: High-school dropouts: Will U.S. Soccer's new girls Development Academy bar school play?
Crooks, a former head coach of the Rutgers University women's program who currently coaches in the Players Development Academy youth club and New Jersey's state ODP program, also noted that the federation's official announcement of the new league was set for this past Monday but has been delayed (again).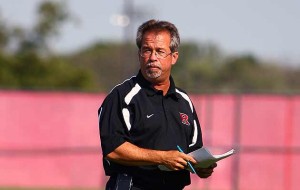 SoccerWire was originally informed that the girls DA initiative would be rolled out in late December, only to be pushed back due to what a federation official described as administrative and procedural reasons.
Crooks posits that this latest delay is due to a belated desire to communicate the federation's vision and plans for the project to leaders of the Elite Clubs National League, the independent league which has grown into the de facto girls DA – and the dominant source of U.S. youth national team players – since its founding in 2009.
+READ: Sources: U.S. Soccer set to launch girls' Development Academy in 2017, likely relegating ECNL to second tier
Up until SoccerWire broke the news in December, ECNL officials had received no advance notice of the new initiative, despite their regular communication with U.S. Soccer coaches and scouts regarding player development and talent identification.