New Jersey Youth Soccer hires Red Bulls legend Mike Petke as director of coaching for ODP, player dev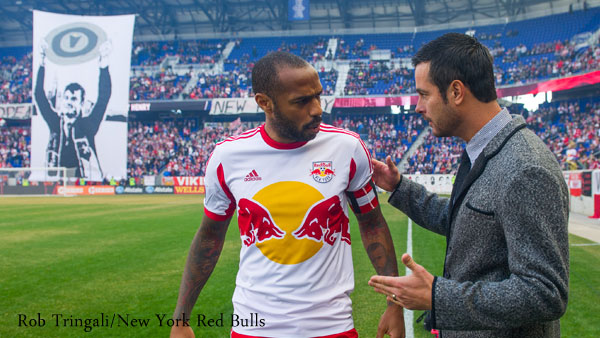 New Jersey Youth Soccer announced the hiring of local product and cult hero Mike Petke as the director of coaching for its Olympic Development Program and player development efforts on Thursday.
Petke's arrival is described as part of a restructuring of the NJYS coaching staff. Longtime DoC Rick Meana will remain with the organization as "Director of Coaching Education," with a focus on its recreational and TOPSoccer programs. NJYS is one of the largest youth soccer bodies in the Northeast, with some 150,000 members involved in a range of recreational and competitive activities.
+READ: New York Red Bulls and New Jersey Youth Soccer expand Young Olympians involvement
"I am extremely excited to join the NJ Youth Soccer family and contribute to the future development of players in our state," Petke, a Long Island native who now lives in Middletown, New Jersey with his wife Kim and their two sons, said in a statement from NJYS. "As a father of two young soccer players, I understand the importance of growth, on and off of the field, and am looking forward to working with the great staff at NJ Youth Soccer to build upon that strong foundation."
During his playing career, Petke lived out a rags-to-riches story as an unheralded MLS rookie from Southern Connecticut State University who worked his way into a 13-year professional career as a steady defender for the New York Red Bulls and their previous incarnation, the MetroStars, as well as D.C. United and the Colorado Rapids. He won the MLS Cup with D.C. in 2004 and later earned a brief stint with the U.S. Men's National Team.
+READ: Reports: Red Bulls defender Matt Miazga heading to Chelsea
Petke joined the Red Bulls front office after his retirement in 2010 and served as the club's head coach from 2013-14. But he was unceremoniously dismissed a little over a year ago when a new management regime settled on Jesse Marsch as their coach of choice, sparking outrage among the fanbase. Despite Petke's limited managerial experience when he took the helm, RBNY won the 2013 Supporters Shield (awarded to MLS' top regular-season finisher) and reached the 2014 Eastern Conference Championship under his guidance.
EmpireOfSoccer.com reports that Petke was in the mix for "several coaching jobs" over the past few months, including the Chicago Fire and the NASL's Jacksonville Armada. He has also served as a television commentator and pundit.