Red Bulls Academy product Tyler Adams ready to lead U.S. U-17s on rugged World Cup mission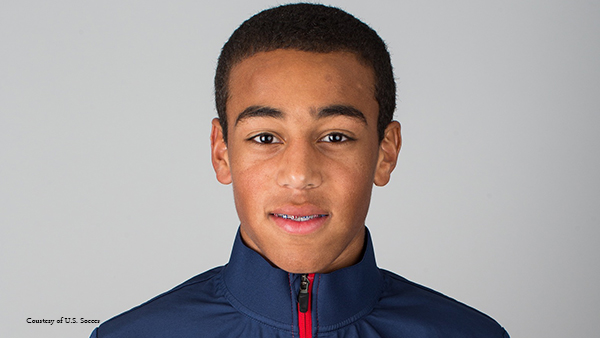 It wasn't the first time that Tyler Adams had walked out of the tunnel at Red Bull Arena, but this time felt different.
Adams looked over his shoulder. When he saw the Chelsea FC starting 11 – players like Oscar, Hazard, Remy, Ivanovic, Fabregas – he almost did a double-take.
"Wow, these guys just won a Barclay's Premier League championship, and I'm standing next to them about to be on the same field with them," Adams remembers thinking.
+READ: Red Bulls' Miazga, Lawrence named to MLS '24 Under 24′
He took a deep breath.
"OK, this is just another game," he told himself. "You go out there, be yourself and everything will work out."
Unexpectedly, Adams had found himself in the starting lineup when the New York Red Bulls took on English Premier League heavyweights Chelsea FC in a July friendly.
Adams, still only 16 years old, had signed his first professional contract just four months earlier.
"I was nervous and excited at the same time," Adams told SoccerWire.com in a recent conversation. "I'm usually watching highlights of these guys on YouTube, looking at things to learn about and things like that, and now I'm playing against them."
Not only did Adams play against Chelsea, he also scored on them.
In the 69th minute, Adams made a perfectly timed run and headed a Franklin Castellanos cross past Chelsea goalkeeper Asmir Begovic. The goal gave the Red Bulls a lead that they would not relinquish, going on to win the exhibition match by a stunning 4-2 scoreline.
+READ: New York Red Bulls Academy a factory for national-team defenders
"Honestly, it was an indescribable feeling," Adams said. "I can't believe I'm on the same field with these guys, let alone scoring against these guys. It was the most exciting feeling ever."
Adams' story is in many ways unique, but perhaps it is also indicative of the future of U.S. player development.
The Poughkeepsie, New York native doesn't come from a long line of soccer players or from an immigrant family with a history of playing and supporting the game. Yet Adams, who first remembers kicking a ball around when he was a toddler and whose first club team was coached by his mother, has quickly outgrown every level he has played at.
Before he was even a teenager, Adams had gotten involved in the Olympic Development Program and soon played his way onto the radars of club coaches throughout the Tri-state region.
+READ: New York Red Bulls academy coach Simon Nee talks DA dominance, player dev, NYCFC
By the time he was 11, Adams was playing in the Red Bulls' Regional Development System camps. By 13, he had jumped up to the Red Bulls' U-14s.
At 16 years of age and already a professional, Adams is ready to step into the limelight yet again.
Now he will travel to Chile with the rest of the U.S. U-17 Men's National Team for the 2015 U-17 World Cup. Adams, no stranger to being one of the youngest players on the field, is one of only two players on the U-17 roster born in 1999.
And the U.S. face yet another "Group of Death"-type situation, having been drawn into a fearsome quartet alongside Nigeria, Croatia and the host nation. The young Yanks kick off their tournament against Nigeria, the defending world champions, on Saturday (4 p.m. ET, broadcast live on Telemundo).
But talking to Adams, you get the impression that the seemingly unflappable youngster is ready for the challenge of the World Cup.
"Of course, you get a little nervous, a little butterflies in your stomach," he said about playing Chelsea in July. "But at the same time, I wasn't nervous. I was confident in that we put a team out there that could accomplish things."
His preternatural self-assurance and maturity haven't gone unrecognized by his Red Bulls coaches.
+READ: U.S. U-17 Men's National Team roster named for World Cup in Chile
"He's extremely mature," New York Red Bulls II head coach John Wolyniec told SoccerWire. "He's extremely driven. He is a confident kid, a hard-working kid. And all those things are what really separate him for me.
"He fits into our style of play very well," Wolyniec added. "He covers a ton of ground. He's a physical player. He's competitive. And he's not afraid to communicate and put his neck out there. He's not going to just hide on the field. He wants to be part of what we're doing. He wants to be on the ball. He wants to win the ball back.
"He's just a very determined kid and that works well for us, especially in pressing and then in transition, being able to cover ground and be high-tempo. He just checks all those boxes."
This season, Adams' first as a professional, he has started in nine USL games for Red Bulls II and was given the opportunity to play against European giants Chelsea and Benfica. Typically, a player of Adams' age and size would find the idea of going up against grown men and seasoned professionals intimidating, but not Adams.
"Once you're playing against older guys, obviously, it's more of a challenge," he said. "You come out of practice every single day, but you've gotten better at something. When you put your mind to it, it's just like, wow, I'm playing against guys that are almost 10 years older than me. Crazy. Each day, they teach me something new.
"Sometimes I can even teach them something," he added without a hint of overconfidence.
+READ: Sounders FC Academy coach Junior Gonzalez named U.S. U-17 MNT head scout
The biggest challenge, Adams says, hasn't been the physicality of the older players, but the speed of play at the pro level.
"Everything is 10 times faster than you could even imagine," he said. "It's really helped me to adjust my game, because once I go back down [from] the first team to Red Bulls II, you can even see a difference between those two teams. It's a huge difference."
All of Adams' experiences will surely help the 16 year-old when he has to lead from his position in defensive midfield.
"Even though you're one of the younger guys, I want you to be a leader there," Wolyniec remembers telling Adams before he left with the U-17s. "You play at a level that lends you to be more of a leader with our group, so don't shy away from that."
Adams, though, has so far proven his skill and character at every level he's played at, from those unkempt fields in Poughkeepsie to the manicured pitch at Red Bull Arena.
The U-17 World Cup merely presents another challenge for the accomplished Adams: the chance to prove to the entire world that he can ball.