Q&A: D.C. United academy's Nolan Sheldon on Homegrowns, much more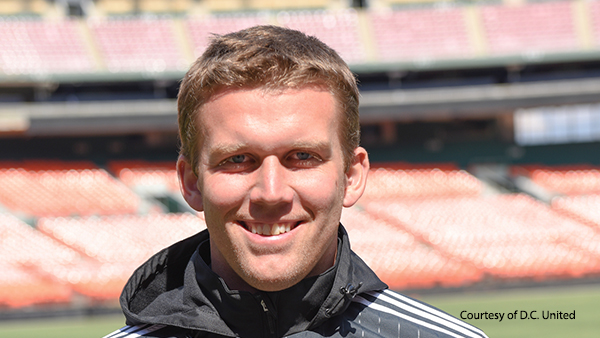 WASHINGTON — This month D.C. United's youth academy reconvened to begin preparations for the 2016/17 season, which kicks off with matches for the club's five U.S. Soccer Development Academy teams on Sept. 3.
This summer the Black-and-Red celebrated 16-year-old talent Chris Durkin's signing of an MLS Homegrown player contract, a welcome sign of progress for an academy program which has worked with tight budgets and limited facilities compared to their MLS and DA counterparts.
+READ: Why Chris Durkin picked D.C. United over Europe
Last week academy director Nolan Sheldon, who recently marked his sixth year at United, was kind enough to sit down for a detailed conversation with SoccerWire.com about D.C.'s mindset, methodology and expectations for the season ahead. Our far-ranging chat contained too much information for one piece, so we've broken it into two; the second part will run next week.
SoccerWire.com: Thanks for your time today, Nolan. First off, I don't think it's controversial to say that you're working with much more limited resources than many of the clubs you're competing with around the nation. Can you give us some insight into the highs and lows of your current realities in that regard?
Nolan Sheldon: We've never really looked at it in that way, and I think the reason being is that we have good kids that really enjoy playing for the club. I think if you asked anybody, they would say, 'man, I'd love to have another this or that,' but I dont think it prevents us from doing good work for the kids. And if you would ask our coaches and the players, I think their response would be similar. We've worked really hard to create a high-level environment with the resources that are available to us.
I'll take your comment as a compliment, that to some degree we've been able to do that. Has it been exactly where we want to be? No. We want to always try to do more for the players, because it's important and they're deserving. So whether that's in time, energy, resources, you always want to try to do more for these kids. They're working really, really hard to try to achieve a goal.
SW: That said, we've both been to facilities like the Toyota Soccer Center in Frisco[, Texas] and Dick's Sporting Goods Park in Colorado. You have access to some nice complexes out in Leesburg[, Virginia], but in some cases you're competing against or even outpacing clubs that are blessed with such amenities.
NS: But again, I don't think it changes the high-level, daily environment we can create … What happens for those 90 minutes to two hours on the training field, you can work really hard to create that environment. I'm good friends by now with almost every academy director throughout the league, and I know that they have resources that they feel are important to develop players.
But I also know that every club has their challenges … We also understand that there's a temporary period in terms of what currently exists at the academy. And we're looking forward to of course being able to do a little bit more for players in other areas, but we feel pretty good about where we are.
SW: Building off of that, what do you think this club's identity is, and is it distinct from the senior team, or is it one that you share? Who are you?
NS: We've worked really hard to identify coaches and players that are good people, that are passionate about this club. They have dreams of playing for this club, they want to commit to improving their abilities at this club. They have identified with teammates at this club, with Coach [Ben] Olsen, with the players and the first-team staff, with the academy staff that we have. If I had to say, I'd say that we're guys that are passionate about what we're doing … we have a real love for the club and I think we want to work really hard to represent this city, represent the fans and represent [general manager] Dave Kasper and Ben Olsen and the first-team staff.
So in terms of the type of player, its actually on the board behind you – can we take a model like Andy Najar, can we take a model like Bill Hamid, can we take a model like Chris Durkin? Those guys all have unique qualities, they have a determination about them, a competitiveness about them. They have natural talent that's been developed over a lot of years of hard work. So in many ways we work hard to have our players identify with certain first-team players, and say, 'what attributes does he have that you need to continue to work on? What makes him a pro? What are those characteristics?'
But there's different phases of development and for us a 9-year-old is in a certain period of his development that's very different from what a 14, 15-year-old is or what a 19, 20, 21-year-old is. We have to work hard to keep an understanding of what the overall objective is, which is to maximize these kids' opportunities and their capacity. There's different levels of that, and we talk often about each kid having an individual development plan. How do we create a program that's really, really good for him?
SW: Could you dive a little bit more into the nuts and bolts of D.C.'s tactics, formations and concepts of play? I think you probably get directives from left, right and center, with what the federation wants and how you try to mesh with the D.C. senior team.
NS: Our most senior academy team, the U-18s, we make sure they have an understanding of the way in which the first team plays. They use that way of playing and as Coach Olsen says, it's got to be adaptable depending on which players are available. So we try to keep that group quite adaptable as well. We think an important quality at those ages is a player having the ability, [for example] if he's a holding midfielder, to play next to somebody else or to play solo in that role. We think it's important that we develop wide players that can come inside and be comfortable in those moments. We want to develop [strikers] that can play with two up front.
Our younger teams play almost exclusively in a 4-3-3 because we think it's good for development, and as you've spoken to, U.S. Soccer believes that as well. So we align in that way. It gives players a lot of freedom, gives them the ability to be creative without losing positional discipline that's required to play the game at a really, really high level. So our younger age groups use that as their primary formation. Our U-18s use that as a secondary formation and try to align closely with the first team.
The reality is that we've had more players these last six months in first-team training than what we've been able to do previously. So it's important for them to understand exactly what Coach Olsen and the group is looking for, and they can fit in and perform well.
SW: So when Olsen tweaked his team's shape to what he calls a 4-1-4-1 a few weeks ago, did you make that adjustment, too?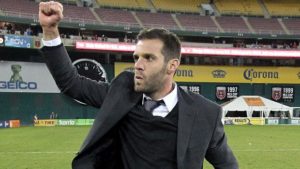 NS: I don't think it has to be as structured as that, in the sense that a lot of things are consistent. First and foremost, there's a back four and for me that's what provides a structure for a team – a back three is a very different look. But for me there's consistency there. The midfield configuration obviously can be adjusted but there's a lot of freedom in those movements.
So no, it's not a big curveball, it's another opportunity for us to educate our players on the way Coach Olsen is using his players, and give some insight to our guys on why he may have adjusted the formation – why personnel at the professional level is really important in how you choose to play. We look at it as a really good learning opportunity, for the coaches and also of course for the players.
SW: What's your framework for the 2016/17 season ahead, and what are your goals and outlooks for the program overall?
NS: I've had opportunity to attend and watch the [Development Academy] finals the last two years and get a sense of, what's FC Dallas doing? What's Vancouver doing? LA Galaxy, New York Red Bulls – what are those clubs doing that sets them apart? They've done such a nice job of creating such an environment of high-level development on a daily basis that is built on competition. It's built on trying to really, really push one another.
So we want to bring that to the [DCU] academy on a higher level than what we've done in past years. We want to make sure the boys understand that every game's another opportunity to earn your spot. And we have a number of national-team level players in our 14s, 6s and 18s, all the way up, and we feel really good about the strength of the player pools in each of those age groups. So we're optimistic that we'll be able to create a really high-level environment.
In terms of goals and objectives, any time we play against a good team in the academy, we want to perform well, whether that's an MLS or non-MLS. Our U-16 category will go the Generation adidas Cup, we want to perform well in that event. We want to showcase well and use matches for development at a really, really high level. If that means that we advance to the playoffs and beyond, that's great. Our goal is to maximize the developmental opportunities in each one of those matches and put our players in a stressful position where they're expected to play at a really high level – and see what their quality is.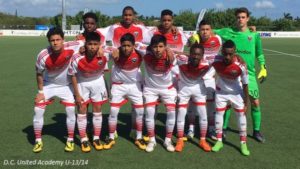 The best testing ground for that is against the top DA teams and the top MLS teams. We'll set the targets with the individual teams. The players are really active in that process. We'll start that over the course of the next three, four days and see what they want to achieve. Because the further we get in this, the more player-driven it is, the more beneficial it is for the players. We want to see what qualities they feel they have as individuals, and let's put targets out there for them. And my assumption is that the boys, just given the nature of them, will say, 'let's really compete. Let's try to win the GA Cup, let's try to advance first out of our group and go to that international group. Let's get into playoffs, let's advance out of our group and make a real run at this.'
SW: Those clubs you mentioned earlier, can you delve more into what sets them apart? Because I know it's not just money or size of player pool. What is happening in Vancouver or Dallas that is not in D.C. right now?
NS: Every club is different and I don't know those clubs intimately … but I know that Vancouver does a really good job of creating individual plans for the players, and taking time to work on those individual players. That's something we want to do a better job on here. I think FC Dallas does a really good job of getting really competitive players, creating a really competitive environment.
I don't think it's insurmountable. They have very, very competitive programs and it's good for U.S. soccer, good for Canadian soccer … Any time someone can set the bar a little bit higher, it's a good thing. And if we can be a club that starts to push that bar a little bit more actively, it'd be good for the league, good for U.S. Soccer and good for us.
SW: We hear often that the high level of talent in the D.C./Maryland/Virginia youth soccer scene doesn't get fully reflected in terms of major trophies on the national level – that it's a fractured youth scene that seems tough to navigate.
NS: It's competitive. There's a lot of good players. We've never assessed success as trophies – the players love winning trophies, that's important. Winning of course is important because you want that quality in players. For us it's a compliment to the quality of players and clubs in the area. I don't know if I'd agree that it's fractured. We have pretty good relationships with a lot of clubs in the area – including the clubs that won national championships – healthy relationships where we're talking about top players, and if it's time for them to transition to D.C. United.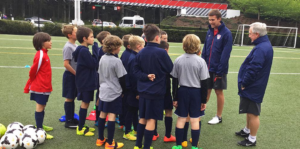 Do we feel that some of the top players in their programs are on the pathway to potentially being a pro, and can we give them that opportunity? The relationships are really important, I think any big DA club, any big MLS club would say that. The support from the local community is really important to identifying that player that maybe needs that challenge, or is put on the pathway to professional soccer, and that we collectively work in support of one another that way.
But any time teams are successful, I think it's good for our community, whether that's boys, girls, DA, non-DA, MLS, non-MLS. Any time a boy is invited to a national team camp, it's good. Because we have a lot of really good players in this area and it's good for them to be recognized.
SW: It was a little more fraught when you got here six years ago, though, no? I remember there being hurt feelings among some smaller clubs when D.C. United did what they're supposed to do and offered top players chances to compete at a higher level.
NS: It's something that we've worked really hard on over the course of the last few years, to have open conversations and open relationships and honest conversations about players. I think that's helped a lot. There's an understanding that we want each of the clubs to be successful and competitive. For instance, we want clubs like McLean and Loudoun and Celtic, guys that are competing for national championships, we want that to continue because it's good for soccer in our area. It elevates the development opportunities for players.
So I think the key is that there are special players, and if we can work collectively to bring those players into the pathway to professional soccer, it's good. It's good for soccer in our area, it's good for the kid if that's something that he wants to do. And there is a more open conversation and more support when it comes to that kind of stuff. And we had to take the lead on that.
SW: I know there are many elements to this – and I've spoken to Chris Durkin, who is a special kid – but there was a two-and-a-half year gap between him and the last D.C. United Homegrown signing, Jalen Robinson. What was that time period like for you? Was there frustration there?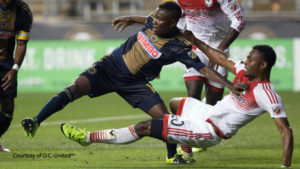 NS: No no, I felt motivated and I think our coaches and players felt motivated to get the next one. Development is cyclical; you don't know when players are going to be ready. Chris Durkin's ready at 16, but that's not the path for all players.
Of course we would love for our players to sign Homegrown contracts – because it's great for the kid, it's him achieving the first step in his professional career. And it's great for the academy, it's great for the club, it's great for the soccer community. But every player has an individual path, and you can't predict when kids are going to be ready for that. They may be ready as soccer players, but maybe they need to mature a little bit and have different experiences in life.
But there wasn't ever any frustration, nor is there an expectation that if there's a really special player, that he has to go and sign that contract as soon as possible. We have to look at this, we have to take our time and be really diligent about what's best for his life, because it's a big decision.
SW: During that time, were you and your staff advocating for players that didn't get contract offers? Or was there just no one ready during that time?
NS: We're always advocates for our players. We always want to try to get our kids in there and measure them with the pros… I think we've really done a nice job over the course of the last few years of getting players in that environment and seeing which players really have that quality. And I think every day we want to be advocates for our kids and get them in an environment where it's going to really challenge them. And that's what's unique about working for an MLS club, and why it's a benefit for the players that compete in our academy, is they have those opportunities.
So yeah, we want to advocate, we want to push, we want to say, 'hey, can we get him into training consistently, is this kid ready for this?' And the question was answered with Durkin – he did really well, and there will be more players like that in the future. We would love to see more players sign contracts, but I think that's the response you would get from everybody in this club and this community.
Next week: Our conversation with Nolan continues on topics like United academy product Eryk Williamson's pro prospects, the club's long-term search for a training facility and the annual fees that D.C. charge most of their Development Academy players.