Pipeline repair: Why Chris Durkin picked D.C. United over Europe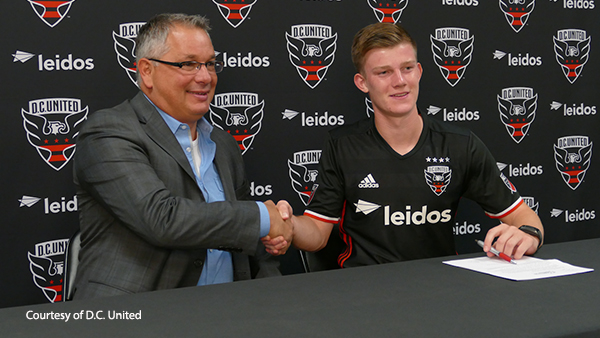 WASHINGTON – Looks can be deceiving in soccer, especially when it comes to player evaluation.
Chris Durkin's baby face matches his tender age of 16, but his 6-foot frame, calm demeanor and cultured passing range give the impression of a much older talent. (Not to mention the shoe deal he signed with Nike months ago.) He already speaks of "work ethic" and "developing his craft."
Though he's only been a full professional for a few weeks now, Durkin has already blown up a few other shallow impressions, too.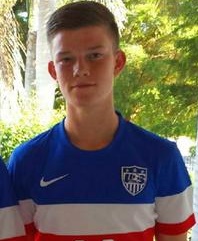 As the captain and heart of the U.S. U-17 Men's National Team heading into a World Cup cycle, Durkin had plenty of options as he and his parents contemplated the next step in his career. A holding midfielder at heart who can also excel at center back, he had interest from big clubs in Germany and Italy, where Inter Milan were receptive to his return after he impressed in a training stint there earlier this year, and "an open invitation" from Dutch powerhouse PSV Eindhoven.
But the Richmond, Virginia native elected to pass on all that, for now at least, and sign with his childhood club instead, becoming D.C. United's first Homegrown Player signing in two and a half years. Where others see a veteran-reliant, penny-pinching organization managing a tough transition away from decrepit RFK Stadium, Durkin saw faith, promise – and most of all, the team he's loved since he was a little boy.
"I just think this is a great club for me to develop in," Durkin told SoccerWire.com in an in-depth one-on-one conversation after his signing. "And there are obviously opportunities overseas, but we feel like right now – and myself [being] the person who was the big factor in this decision, I'm very comfortable here. The staff supports me a lot and I think it was the best place for me."
United's academy was one of the forerunners of Major League Soccer's pivot towards youth development, producing two of the league's earliest and most successful Homegrown signings in Bill Hamid and Andy Najar.
More recently, however, sharp budget cuts and limited facilities have hampered the academy, leading to a dip in its reputation in the treacherous shark tank that is the D.C./Maryland/Virginia youth soccer scene. Though scholarship aid is available to players in need, United's academy is the only one in MLS that charges significant fees to players on its top Development Academy teams.
But Durkin isn't too bothered by all that.
"I've been with D.C.'s academy or pre-academy since I was 11 years old," he said. "I've been with it for a while, I've seen different changes – obviously the old [RFK auxiliary field's] turf changing into a nice new field. So there is funding. I think they do the best they can with what they have."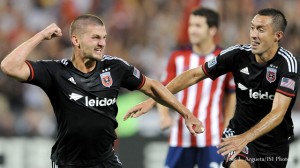 He also looked beyond the widespread perception in MLS circles that head coach Ben Olsen prefers MLS veterans over youngsters.
"We've played Perry Kitchen, Andy Najar, Bill Hamid," said Durkin. "Luciano Acosta is very young right now. All these young guys that are doing well. When people say that Ben doesn't believe in his youth, just look on the starting XI – there's young guys that have come up and they're playing well, too."
Durkin – who played in the Richmond Kickers and Strikers systems before joining D.C. – believes that his move to United's academy hardened him in a way that the Richmond scene could not, even though he's full of praise for his former coaches Mike Burke, Ihor Dotsenko and futsal guru Greg Simmonds.
"The level they ask for is why I came to D.C. United," said Durkin, "because in Richmond everything's taken a little too soft, or too light. Here, it's kind of like city play – it's tough, there's grit. That's something I needed to develop, and it helped me a lot."
Durkin cites the strong influence of his father Kevin, who played NCAA soccer at SUNY Oneonta, in both his development as a player and his long-term planning. The family – which tried unsuccessfully to get Chris a European Union passport via their Irish ancestry – sat down with agent Chris Megaloudis, who has represented Najar, Hamid and many other top teenage pros, and plotted out what they believed would be Chris' best pathway to a successful career. It's also worth noting that his little brother Andrew, a left-footed wide player, is a standout U-14 (2003 birth-year class) playing in the Development Academy with Richmond United.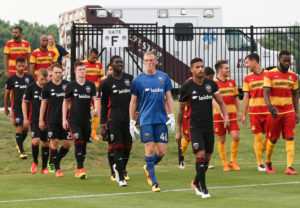 "I was talking with my agent, and they do a lot of percentage rates – what's the success rate of a person starting in Europe and playing, being successful. I think it was around 4 percent from 18 all the way up," explained Durkin. "My chances here are much greater than going over to Europe. My contract ends when I'm 19 years old and that still leaves me with plenty of options both overseas and still here in the US."
United also stepped up and did their part, making a surprisingly significant financial commitment to a 16-year-old. Though Durkin and club officials declined to get into specifics, sources tell SoccerWire.com that Durkin's contract is a four-year deal worth some $300,000 in guaranteed total compensation, a notable rise on most HGP salaries to date.
Durkin's case underlines the value of an emotional connection to a nearby club, something common in other nations but often elusive in 20-year-old MLS.

"He loves this club. It's a really cool thing to see kids that grow up watching this club now turning into pros," said Olsen. "I just think it's a lot of fun to be a part of. We've had Bill, Andy, Ethan White, Jalen [Robinson] – we've had a lot of success. I know there's been a lot of knocks on our academy, but if you look at what they're doing, I still think it's pretty impressive.
"There's a wealth of talent around here. That's certainly part of it," Olsen added, conceding that United's academy has to do more with less funding than many of their MLS rivals due to D.C.'s austere financial outlook while they wait on their new stadium to be built on the Southwest D.C. waterfront.
"But Nolan [Sheldon, United's academy director] has done a great job of leading that academy process here. As you say, not the highest resources in MLS, but again, that hasn't halted guys like Chris Durkin coming through and us constantly having good young kids on the [U-]18s, 16s, 14s. … Their parents and counsel have to figure out the best pathway for these kids. But what we've shown here is that we will play young academy kids."
Durkin went out on loan to his old club the Kickers for last week's international friendly vs. English Premier League side Swansea and has already made his United debut, starting in the Black-and-Red's first and only 2016 U.S. Open Cup match (they lost on a penalty-kick shootout) vs. the Ft. Lauderdale Strikers on June 15. He hardly looked out of place, giving one of his team's best performances, though it may be some time before he dons United colors for an MLS match.
Passing chart from Chris Durkin in his first game. Looks like 38/45, with 24 completed in attacking half #DCU pic.twitter.com/XgDZD5nz2n

— Steven Streff (@streffsoccer) June 16, 2016
Working in concert with his parents, agent and U.S. Soccer's staff at the Bradenton Residency Program (where he spent last semester), United came up with a personalized development plan for Durkin, one that was effectively set in motion when he began training intermittently with D.C.'s senior team nearly a year ago.
After spending most of this summer in D.C., he'll return to Bradenton for the fall and focus on his U-17 duties through the U-17 World Cup (set for September/October 2017 in India), then report back to United.

"He'll continue to develop [in Bradenton] and continue to be with his peers and still be a kid," said Olsen. "But also, if he progresses at the right level, he might be here. If he proves that he can be a part of this group next year and be knocking on the door for the [gameday] 18, then we'll adjust accordingly.
"He's a very sharp kid who's got a good understanding of who he is as a player. He's very mature, his focus level is extremely high for his age. Athletically he's up to speed, and he's an exciting kid to have on the roster. And it's an exciting thing for a coach to try to mold a kid like that into a full-time starter."
Can Durkin change the negative narrative that hangs over United's academy? It's too soon to say, but it's striking to hear the driven young man intertwine his personal goals with the brighter future awaiting his club.
"I want to be starting when the [new] stadium is built, the first game," he said. "I want to be out there. That's probably one of my biggest goals right now – when 2018 comes, to have a big role with this team."