PWSI Icebreaker's opening day showcases passionate play, unique support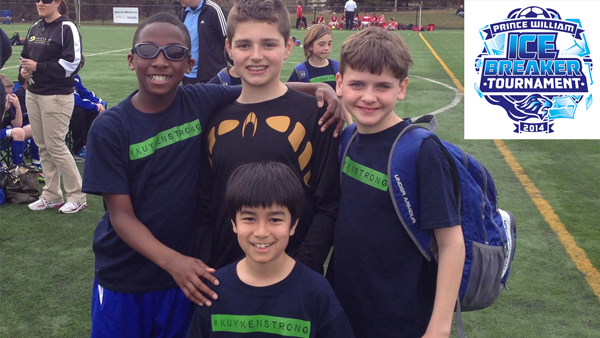 WOODBRIDGE, Va. — For what feels like an all-too brief period of time, the players present at the Prince William Soccer, Inc. (PWSI) Icebreaker tournament in Northern Virginia play and behave like their professional heroes.
Goals are celebrated with knee-slides and index fingers pointed to the heavens, as if they have just tallied in an important English Premier League or UEFA Champions League game. Every save, shot or tackle is congratulated as if the World Cup itself is at stake.
All the while, expectant coaches and spectators implore their charges forward in seven-a-side or eight-a-side games played on a field that is the third of a size of a 11v11 regulation pitch.
As the first weekend of the PWSI Icebreaker kicked off in somewhat overcast and breezy conditions, with the afternoon sun also making an appearance at the end of a long and cold winter, it is worth remembering that those boys taking to the field are in the Under-9 to U-12 age groups.
Trophies and titles could not be further from their minds as they began a two-day period where they play a minimum of three games. But the intensity is still there as players seek bragging rights over their peers from Virginia, Maryland and destinations further afield like Pennsylvania and North Carolina.
This tournament is a useful one for preseason preparation ahead of spring leagues, with an emphasis placed on players enjoying their time on the field and experimenting with different positions rather than focusing on the number of wins they accumulate.
However, it is difficult not to be competitive in a tournament such as this, both for players and for parents, who braved the early morning elements with blankets and jackets, but shed them for 70-degree, "perfect soccer weather" in the afternoon.
Clearly, there is something in youth soccer that stirs the emotions, even at this time of year.
Just standing in the midst of one of the vast field complexes across Prince William County, Va., where the tournament is held, you are able to experience almost every emotion that comes with watching youth soccer.
[ +Find Icebreaker scores, standings and schedules here ]
Often, you hear the cheers of triumph that accompany a goal, and then spot a young player wheeling away, thumping his chest and celebrating a superb personal moment. Then for every goal scored, there is a team that has conceded, and the disappointment is obvious on the faces of parents and players alike.
The conclusions of games bring similar reactions, as players and spectators celebrate victory or commiserate over defeat, with all emotions brought forth by the shrill whistle blown by the referee.
For some parents, the tension is too much. They set up their folding chairs around the sideline, then spend the entire match standing as close to the action as possible, living every moment on the field as if they were playing themselves.
"It's only a game," one parent is overheard saying at the end of a close match decided by a last-gasp winner.
On the field, it is an incredibly intense schedule for the teams on this opening day of competitions. Some start as early as 8 a.m. ET, then after their first game have a brief period of recovery before going through warm-ups for their second.
Despite the physical toll that can take, players work incredibly hard on the field, playing a close and technical game on these small-sided fields as they desperately seek the victories that are so helpful at the start of the spring season.
It's probably for the best that most are clearly unaware of a growing number of experienced coaches at this enormous event who are more focused on the role of these games in developing players for future glory.
The games also have a competitive edge without being overtly physical, with players unafraid to go into a hard challenge or shield the ball from an opponent so it can go harmlessly out of play.
They often do this with the assured touch of a professional, clearly influenced by watching their heroes on television or YouTube. Goalkeepers bounce the ball in their hands with the intensity of D.C. United's Bill Hamid, while outfield players ignore the cries of "Shoot!" from the sidelines when at the halfway line, and instead try to finish from close-range with a calm sidefoot.
And encouragingly to the coaches, though perhaps frustrating for the parents, many teams at every age were seen to be "playing out of the back" on purpose, even though the tactic often resulted in inviting immediate pressure on a turnover.
In players' downtime, which is very fleeting in between games, it is also noticeable that some choose to spend time in the playground. They swing on the swings, hang from the monkey bars and throw bark at one another without a care in the world.
For relatively brief moments on the field however, they could at least pretend to be their heroes, and dream of more weekends like this in the future. And as the standard of coaching increases, it may not be too long before many of America's U-9s are coveted across the globe with real potential to be the stars they emulate today in this growing soccer hotbed just south of the nation's capital.