Purdue signs six new Boilermakers for the incoming class of 2023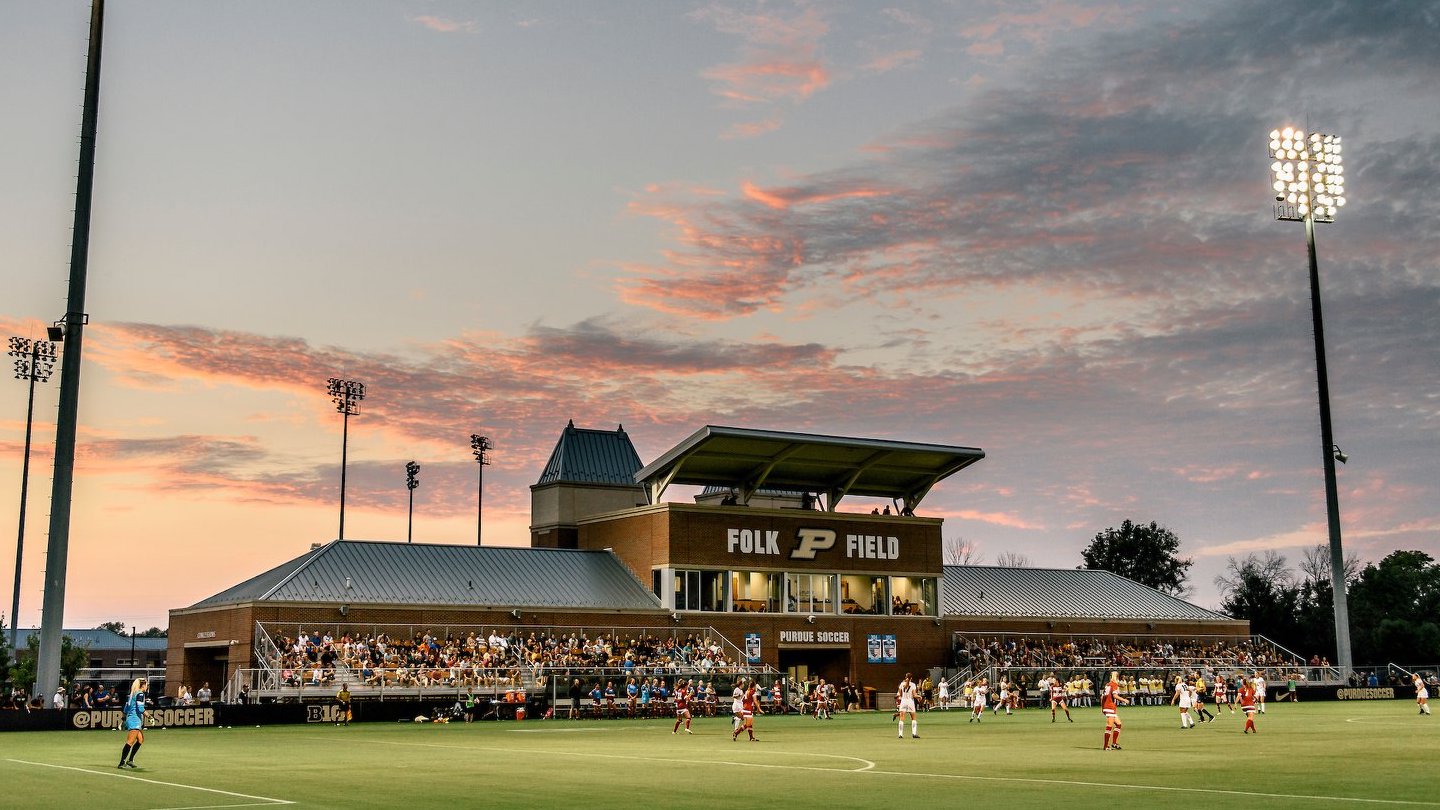 WEST LAFAYETTE, Ind. – Six student-athletes have signed to join the Purdue soccer program for the 2023 season, coach Drew Roff has announced.
This year's signing class features: Lauren Adam (Noblesville, Indiana), Cassidy Brown (Caldwell, New Jersey), Lida Dodge (Wilmette, Illinois), Charlotte Huggard (Plymouth, Michigan), Lauren Omholt (McKinney, Texas) and Moriah Watkins (Memphis, Tennessee).
"Our 2023 class is an impressive group of talented soccer players and high-character individuals," Roff said. "All six have competed at a very high level and proven to be impact players and leaders for their respective club and high school teams. Their ability and personalities ensure that our future continues to be bright, and I look forward to them beginning their journeys in West Lafayette next fall."
The 2023 recruiting class includes a member of Mexico's U-17 national team that played at the 2022 FIFA U-17 World Cup, a three-time Indiana state champion and U.S. Soccer Development Academy and U.S. Youth National Team Training Center invitees. Two team captains and numerous all-conference honors also are featured, while three future Boilermakers are top-25 overall recruits in their state or region.
Coming to West Lafayette from six states, including one from Indiana, the class includes three defenders, one midfielder, one forward and one goalkeeper. The class will make their Folk Field debuts in the fall of 2023.
LAUREN ADAM – DEFENDER – NOBLESVILLE, INDIANA
Three-time Indiana state champion and Noblesville, Indiana, native Lauren Adam is a student at Noblesville High. In four seasons as a defender for coach Michael Brady, she has helped lead her team to four conference titles, four sectional crowns and three regional championships before winning the Indiana 3A State Championship in 2019, 2020 and 2022. Adam, who will play in the 2022 Girls High School All-America Game in December, has been recognized with first team all-conference accolades and first team all-district honors each of the last two years, and she also owns Central Indiana ALL-USA postseason Super Team distinction. With the Indiana Fire Academy for coach Pauly Dolinski, Adam is an ECNL All-Conference Second Team honoree.
Adam is a three-star recruit by Top Drawer Soccer.
Academically, Adam was bestowed with ISCA Girls Academic All-State honors in both 2021 and 2022.
Adam would like to major in biology at Purdue, and she is interested pursuing a career in the field of genetics, specifically genome editing and its impact on debilitating genetic diseases, after graduation and the conclusion of her playing career. Her parents are Christen and Bryce, and she has two siblings. Adam's sister, Morgan, grandfather, William McCoy, and Aunt, Marin Updike, all are Purdue graduates.
Adam on Purdue: "I have always wanted to attend Purdue University. The opportunity to pursue my academic passions while playing soccer for Coach Roff and the Boilermakers is my dream come true, and I fell in love with the team atmosphere and support of the coaching staff. I know the rigorous classroom and athletic expectations at Purdue will provide me with the foundation I need to prepare myself for my career and adult life."
Roff on Adam: "Lauren is a left-footed outside back that has the technical ability and athleticism to be a standout in that role. Her pace, strength and stamina help her break up the play when out of possession, and in possession she makes good decisions with the ball and connects a high percentage of her passes. Lauren also has the ability to impact the game in the final third by attacking space on the dribble and serving a quality ball from the flank. She is one of the top players in the state of Indiana and I look forward to Lauren developing into an impact player during her time wearing the Old Gold and Black."
CASSIDY BROWN – DEFENDER – CALDWELL, NEW JERSEY
Cassidy Brown is a defender and comes to Purdue from Caldwell, New Jersey, where she attends James Caldwell High. Playing for coach Kelli Fernicola, Brown has been named to the all-conference team three times, with first team accolades the last two years and second team honors as a freshman. She helped her team to a state sectional championship in 2020 and was a team captain this season, where she paced her squad in goals and assists. Brown plays club soccer at MatchFit Academy for coach Rob Leather and was awarded First Team All-Conference North Atlantic ECNL in 2021.
Brown is ranked No. 176 nationally by Prep Soccer.
At James Caldwell High, Brown also played on the varsity basketball team and earned first team all-conference honors each year. She also competed on the varsity track & field team as a freshman and sophomore.
Brown hopes to major in integrated business and engineering at Purdue, and she aspires to have a career in engineering, as a technical project manager or a data analyst, after her playing career concludes. Her parents are Karen and Kristian, and she has one sibling.
Brown on Purdue: "My official visit to Purdue allowed me to experience the campus and all it had to offer, from the academic buildings to student activities. I knew at that point that I could see myself there, because it just felt like home. My main focus for schools has been strong academics and an elite soccer program, and Purdue offers both of these. Their engineering and finance programs are nationally recognized, and their soccer team is a main contender in the Big Ten. I am competitive both academically and athletically, so Purdue gives me the perfect blend of the two."
Roff on Brown: "Cassidy is a tremendous all-around athlete that I consider to be one of the best 1-v-1 defenders in the country in the '23 class. As an outside back or a box-to-box midfielder, she anticipates well, she has excellent closing speed to intercept passes, and she also gets in on tackles. The defensive instincts and toughness Cassidy brings when out of possession, and the quality she has on the ball in possession, make her a real standout two-way player. She is very confident playing vertical passes equally well with either foot, and she also has a great willingness to jump into the attack and serve dangerous balls in from the flanks. Cassidy's skillset, combined with her work ethic and competitive spirit, are a great fit for our program and I look forward to her being an impact player in the Big Ten Conference."
LIDA DODGE – MIDFIELDER – WILMETTE, ILLINOIS
A midfielder from Wilmette, Illinois, Lida Dodge is a student at New Trier High. In her first season on New Trier's team as a junior with coach Jim Burnside, Dodge was named to the all-sectional, all-area and Chicagoland soccer all-state teams while helping lead her side to a regional championship. She also plays for the Eclipse Select Soccer Club and coaches Mike Nesci and John Soltani, where Dodge and her team qualified for nationals each of the past two seasons. Additionally, from 2017-19, she attended U.S. Soccer's Youth National Team Identification Centers.
Dodge is a three-star recruit and rated No. 25 in the Midwest region by Top Drawer Soccer. Nationally, she is the No. 135-ranked recruit according to Prep Soccer.
Dodge plans to major in education at Purdue, and is undecided on her career aspirations following her time in soccer. Her parents are Jennifer Marlas and Baird Dodge.
Dodge on Purdue: "From the first time I was on campus in seventh grade with my club team, I completely fell in love with Purdue, and it truly felt like home. Every time I've been back, I just love it more and more. The coaches, team culture and opportunity to compete in the Big Ten is amazing and everything I wanted in a school. I felt so welcomed by everyone and felt like I could be myself. I know that going to Purdue will allow me to reach my full potential on and off the field!"
Roff on Dodge: "Lida is a playmaking midfielder with excellent technique and a great feel for the game. Her first touch, composure and field vision allow her to impact the game in a variety of ways. She is comfortable dropping deep to bring the ball out as a 6, and she also is capable of creating attacking chances in the 8 or 10 role. That savviness and bravery on the ball in tight spaces, as well as her ability to drive a ball with either foot, will contribute to her being a tremendous asset to our possession style of play. Lida's high soccer IQ, outgoing personality and her love for the game are some special qualities that she brings, and I look forward to watching her leave her mark on Purdue Soccer."
CHARLOTTE HUGGARD – GOALKEEPER – PLYMOUTH, MICHIGAN
Goalkeeper Charlotte Huggard is from Plymouth, Michigan, and a student at Plymouth High. She plays club soccer at the Michigan Jaguars Girls Academy for coach Dan Dalzochio. Since 2018, Huggard and her team have competed at the U.S. Soccer Development Academy and the Girls Academy League. In 2016-17, she helped her squad to a Michigan Junior State Cup Championship. Huggard also participated in the 2022 Girls Academy Talent ID Mid-America Region event.
Huggard earned a three-star rating by Top Drawer Soccer.
Academically, Huggard is an honor roll student, a distinction she has achieved each year at Plymouth High.
Huggard aspires to earn a degree in engineering at Purdue, and hopes to pursue a career in engineering after her soccer career concludes. Her parents are Dawn and Kevin, and she has one sibling. Huggard's mother, Dawn, graduated from Purdue in 2002 and earned a degree in engineering. Her father, Kevin, played college hockey at Findlay and Michigan-Dearborn from 1996-2001.
Huggard on Purdue: "Purdue will give me the opportunity to become my best self, both academically and athletically. I am excited for the chance to work hard and prove my worth while being surrounded by talented leadership. I fell in love with the atmosphere and family environment here at Purdue, and I am honored to be a part of it."
Roff on Huggard: "Charlotte is a talented goalkeeper that plays the position with confidence and bravery. She is a good athlete that is quick off her line in break-away situations, and she is a very good shot-stopper. Charlotte also is very capable with her feet and can be an asset in building from the back and switching the point of attack. Her willingness to communicate and organize players in front of her is also an important quality that she consistently brings. Charlotte's commitment to her development as a player is impressive, and I look forward to her making our goalkeeping unit stronger."
LAUREN OMHOLT – FORWARD – McKINNEY, TEXAS
A forward on Mexico's U-17 national team that played at the 2022 FIFA U-17 World Cup in India last month, Lauren Omholt is from McKinney, Texas, and a student at McKinney Boyd High. For coach Elias Ramos, Omholt is a team captain as a senior after being named to the all-state team and the district offensive player of the year as a junior and the district offensive newcomer of the year as a sophomore. A first team all-district honoree both seasons, she helped her team win the area championship last year. Omholt currently plays club soccer for ECNL's DKSC and coach Michael Bones. Previously, with Solar Soccer Club from 2019-22, she helped her team win a conference championship all four years that a title was crowned, and she earned ECNL First Team All-Texas Conference accolades in her U-16 and U-17 seasons. Additionally, Omholt was selected to attend ECNL's National Selection Camp.
Omholt is rated the No. 12 player overall in the state of Texas according to PrepSoccer. She is the No. 29-ranked recruit in the state of Texas and a three-star recruit nationally by Top Drawer Soccer. Among forwards, she is No. 55 in the country, and she also is listed in Top Drawer Soccer's IMG Academy top player rankings for the class of 2023.
An AP scholar with distinction, Omholt is ranked in the top 1% in her class academically. She is active in student government, and was elected McKinney Boyd's student body treasurer. She also is a gymnast and won the double mini at nationals in 2013.
Omholt looks to earn her degree in speech, language and hearing sciences at Purdue, and plans to attend graduate school after her soccer career. Her parents are Laura and David, and she has two siblings, both Purdue alums. Omholt's father, David, and grandfather, Glenn, played baseball for the Boilermakers and graduated in 1992 and 1950, respectively, while her cousin, Amy Burrell Rose, played soccer at Purdue and graduated in 2009. Additionally, Omholt's uncle, Bart Burrell, is a 1981 Purdue alumnus and was on the football team.
Omholt on Purdue: "Purdue was not only the nostalgic choice because of my family history, but it was the logical one too, because it offered the best blend of top academics. Purdue's speech-language pathology program is ranked No. 3 in the U.S., and athletics, with a top Power Five soccer program that is on the rise with great recruiting classes surrounding mine."
Roff on Omholt: "Lauren is a dynamic player that will bring some really special qualities to our program. She has the pace, technical ability and engine to defend and attack at a very high level. She also is one of the few players in the country that has the ability to influence the outcome of a game as a forward or an outside back, on the left side or the right. Making well-timed runs to get in behind the defense is a strength Lauren will bring to our attacking play, and she also thrives in 1-v-1 situations. Once she gets in dangerous areas, her attacking instincts take over, and she is a constant threat to score or create chances for her teammates. Lauren's talent and work ethic, combined with the experience she gained recently playing in the U-17 World Cup, will help her become a difference-maker in our program."
MORIAH WATKINS – DEFENDER – MEMPHIS, TENNESSEE
From Memphis, Tennessee, Moriah Watkins attends IMG Academy in Bradenton, Florida, and is a defender for Miguel Rodrigues and the IMG Academy U-19 Girls Elite team. An Olympic Development Program, U-15 and U-16 U.S. Youth National Team Training Center invitee, Watkins helped her IMG squad to the girls academy national playoffs in her U-16 and U-17 season. IMG also qualified for the U-17 Champions League as Watkins earned the coaches award. Additionally, she led her team in assists in her U-15 season and played on the back line of her U-16 squad that went undefeated and allowed an average of less than one goal per game.
The No. 14-ranked recruit in the state of Florida according to Top Drawer Soccer, Watkins has a three-star rating. She also was bestowed Top150 U15 and U16 recognition.
Academically, Watkins has earned Dean's List honors all three years of high school.
Watkins plans to major in speech, language and hearing sciences at Purdue, and aspires to enter a clinical master's program in speech-language pathology at the conclusion of her playing career. Her parents are Mialika and Marlon, and she has one sibling.
Watkins on Purdue: "Purdue will support my interests academically, athletically and socially. The academic resources that Purdue offers its student-athletes are phenomenal. Playing soccer at Purdue will give me the opportunity to be a part of a program where the culture is defined by hard-work, accountability, and integrity."
Roff on Watkins: "Moriah is a very versatile player that plays the game with toughness and intelligence. As an outside back or as a midfielder, she does an excellent job winning the ball, making the right decision and connecting passes at a high percentage. She is very good on the ball technically and plays the game with great composure. Those qualities will contribute to Moriah being an important factor in our build-up play and our possession game. She also is willing to get forward and influence the attack by travelling with the ball and picking out the right pass in the final third. These are some of the special attributes that Moriah brings to our program, and I am very excited for her to join us next fall."