PSG Michigan Gators U-14 Girls earn pivotal win on Day 2 of Nationals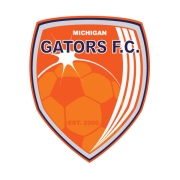 FRISCO, Texas (Via US Youth Soccer) – Defending national champions PSG MI Gators 02 Orange (MI) defeated CUP Gold 01/02 (OH-S) 3-1 to keep its hopes of back-to-back national titles alive on day two of the 2016 US Youth Soccer National Championships.
After suffering a 2-1 defeat at the hands of Florida Elite 01/02 (FL) on day one, the two-time Region II Champions got off to a strong start against CUP when 2015 National Championships Best XI player Caitlin O'Malley made a dangerous run down the right flank before firing a cross for Arianna Jalics to tap in for the first half goal. Just minutes later, Madison Medalle found the back of the net to double the defending champ's lead.
"This game was as competitive as we thought it was going to be," PSG Gators head coach Jeremy Harkins said. "CUP is very explosive, and I think we did a good job of limiting their attack, and we executed like we wanted to."
+Read: US Youth Soccer National Championships Day 1 Recap
CUP, who became the eighth girls team to record a perfect record in the US Youth Soccer National League while scoring 24 goals in seven games, would not go down easy. Shortly after the second half began, 2015 National Championships Golden Glove winner Emma Bourtorwick punched out a CUP cross, only for Ande Allison to volley in her shot to pull CUP within one goal.
CUP would continue to push for an equalizer, but PSG Gators would add another goal when Sarah Bridestine got loose on the left side before cutting in and laying off a pass to Medalle, who calmly finished her second goal of the match to give PSG Gators a 3-1 win. Harkins commended his players for rebounding after a day one loss, but also gave credit to the competition that surrounds the National Championships.
"In this environment you are always going to get the other team's best game. For us the difference from last year is that teams are more familiar with how we play, which is more of a challenge," Harkins said. "This is the biggest stage we can play on in U.S. Soccer. So for us we are so excited not just to be here, but to compete and hopefully win."
PSG Gators will play against Region I Champions BRYC 01 Elite (VA) on the final day of group play, while CUP Gold 01/02 (OH-S) will look to earn its first points of the tournament against Florida Elite 01/02 (FL). BRYC defeated Florida Elite off a late penalty kick on the day two of the National Championships.