Potomac ECNL Review March 20-22: Bethesda, Richmond United play at Jeff Cup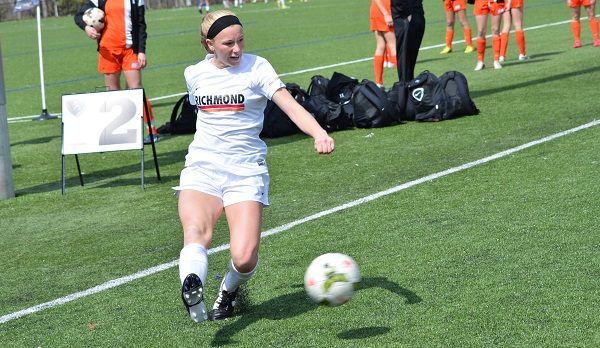 There were five ECNL matches played over the weekend involving Potomac area teams, four of which were played at the Jefferson Cup Girls Showcase between Bethesda SC and Richmond United teams across the U-15 to U-18 age groups.
Bethesda and Richmond split the four-game series with three of the matches being decided by just one goal. Richmond United U-15 ECNL was the finalist in the Jefferson Cup Championship Division and the U-17s won the tournament's top flight in their age group.
+Read: Clutch performances lead to division titles at Jefferson Cup Girls Showcase Weekend
See below for a recap of the Potomac area's ECNL action over the weekend…
U-14
Saturday, March 21
McLean Youth Soccer 1-3 FC Virginia
[player_box id=52575 leftright=right]Midfielder Holly Weber (2019) had all 3 assists for FCV.
Forward Abbey Duncan (2018) had 2 goals and Kayleigh Shackford had 1 goal.
[player_box id=47003 leftright=right]FCV is now 5-1-1 with 25 goals for and 10 goals against.
[player_box id=52577 leftright=right]McLean is now 3-3-2 with 10 goals for and 9 allowed.
U-15
Friday, March 20
Bethesda SC 1-3 Richmond United
[player_box id=44525 leftright=right]McKinley Burkett recorded a brace for Richmond United and now has 25 goals in her last 17 ECNL games.
[player_box id=43425 leftright=right]Paige Franks had a goal and an assist, and leads Richmond United in points with 33 (20 goals, 13 points) in 17 league games.
Alexis Long had an assist for Richmond United, her 3rd of the season.
Richmond United is second in the Cheseapeake Division at 9-1-4.
Bethesda is 6-3-2, second in the Ohio Valley Division with 13 goals and 8 allowed.
U-16
Friday, March 20
Bethesda SC 2-1 Richmond United
[player_box id=46676 leftright=right]Nicole Bautista (2016) and Olivia Kane (2017) each had one goal for Bethesda.
Riley Cook scored her 6th goal of the season for Richmond United.
Bethesda advanced to 4-0-2, improving their grip on first place in the Ohio Valley Division.
Richmond dropped to 8-3-3 and remains second place in the Chesapeake Division, slightly behind FC Virginia.
U-17
Friday, March 20
Bethesda SC 0-1 Richmond United
Richmond United midfielder Bailey Cristian (2015 – University of Richmond) scored the lone goal of the match.
Richmond is 5-5-4, good for third in the Chesapeake Division.
Bethesda is 1-4-1, fifth in the Ohio Valley Division.
U-18
Friday, March 20
Bethesda SC 2-1 Richmond United
Defender/midfielder Clare Severe had 2 assists for Bethesda in the win.
[player_box id=48014 leftright=right]Forward Alexandra Hamer (2015 – Elon) and midfielder Stephanie Shin (2015 – Columbia) each had a goal for Bethesda.
Bethesda is 2-1-3 with 13 goals and 9 allowed, sitting at fourth in the Ohio Valley Division.
Richmond United completed their ECNL season with a 3-9-1 record, fifth in the Chesapeake Division.