Clutch performances lead to division titles at Jefferson Cup Girls Showcase Weekend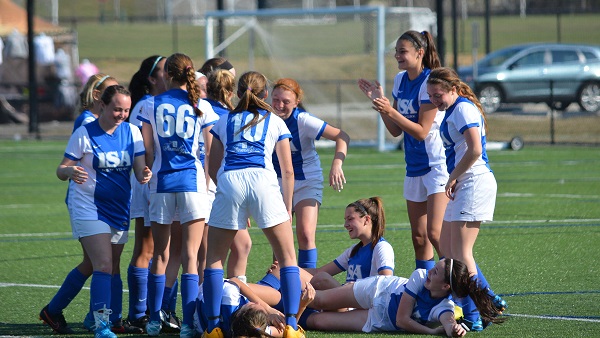 Jefferson Cup Girls Showcase Day 1 Recap | Day 2 Recap
More Jefferson Cup Coverage:
+U-17 girls scramble, adapt as Friday rain forces Jeff Cup reschedules
+SoccerWire Q&A: Duke's Robbie Church talks Jeff Cup, recruiting, spring match vs. UVa
+A long way from icy home for Wisconsin's Strike FC Premier U-18s
+Little margin for error as U-18s scramble for one more taste of Jeff Cup success
+ACC commits light up U-17 girls showcase on Jeff Cup Day 2
+Jefferson Cup helps UVa's Steve Swanson with present and future
+U-16s show quality, grit over marathon Jeff Cup Day 2 marked by weather-enforced double dips
The 2015 Jefferson Cup Girls Showcase Weekend concluded on Sunday afternoon at field locations throughout the greater Richmond area. Hundreds of college coaches representing top programs flocked to the fields once again as many of the nation's best girls travel soccer teams competed for college roster spots and Jefferson Cup division titles.
Bracket winners in the U-15 divisions met in championship matches on Sunday afternoon, while U-16 to U-18 age groups battled it out in a round robin showcase format with the points leader at the end of the weekend being named champion. Both formats led to some dramatic finishes as several championship matches and division races were decided by thin margins.
See below for some recaps from Sunday's action, video clips and a list of 2015 Jefferson Cup Girls Showcase champions and finalists.
U-15
NEFC Elite 2-1 Cleveland FC | Championship Division
Needing a win or a tie to advance to the U-15 Championship Division title match, NEFC Elite edged Cleveland FC 2-1 on a late game-winner by Makenna Hunt (2018) in the final round of group play on Sunday morning.
Just a few minutes after Ally Sidloski (2018) equalized for a speedy and always dangerous Cleveland side, Hunt put the game away for NEFC with a rebound goal after a brilliant initial save by [player_box id=48973 leftright=right]goalkeeper Miranda Thomas (2017) on a shot by Marykate McGuire (2018). The power behind McGuire's shot forced Thomas to knock the ball down rather than catch it, and it leaked out a few feet in front of the net. Hunt bolted in from the top of the box, beating Thomas and a Cleveland defender to the ball and one-timed a shot into the left side of the net.
NEFC took their first lead late in the opening half when center back Jenna Tivnan (2018) headed in a corner kick. Tivnan and left back Elana Wood (2018) were active throughout the match defensively for NEFC, proactively stopping most of Cleveland's runs.
NEFC and Cleveland FC finished first and second respectively in a stacked Group A of the U-15 Championship Division, and NEFC went on to take the division championship over Group B winner Richmond United. NEFC held a slight edge in the tiebreaker over Cleveland FC as the team's entered Sunday morning's final group match with identical 1-0-1 records, meaning Cleveland needed a win over the reigning US Youth Soccer National Champions to represent Group A in the final.
Following a 2-2 draw against FC Virginia United Premier 99 on Friday evening in which Cleveland stormed back in heroic fashion after trailing 2-0, and a 2-1 win over PDA Gunners Blue on Saturday, Cleveland pushed NEFC to the brink on Sunday morning at Ukrop Park. Sidloski, Emily Arellano (2018) and Brooke Weitzel (2018) led Cleveland's offense throughout the tournament and defender Janiece Joyner (2018) was a major contributor once again on both ends of the pitch.
Atlanta Fire United ECNL 1-1 ISA Elite 99 | Elite Black Division
Group A in the U-15 Elite Black Division came down to the final round of group play on Sunday morning as well, as Atlanta Fire United ECNL and ISA Elite 99 squared off at Stratton Park. With ISA needing a win or a tie to move on and Atlanta needing a win, ISA held on for a 1-1 draw despite a late surge by Atlanta.
Following a scoreless first half, ISA took the lead on a goal by Selena Fortich midway through the second half. Atlanta mounted a furious rally in the closing minutes, starting with a brave effort by Natalia Zapata (2018) to score on a tough play in the box while colliding with an ISA defender. Forward Mary Wygle (2018), who had a potential goal of her own robbed by a great save in the first half, provided the assist for Zapata from the right side.
From there, Atlanta made several more late pushes but the ISA back line held strong as they did all weekend, giving up only 2 goals in three group games. Kaitlyn Heneghan, Victoria Fuduli, Jennifer Bonifazio, Alexandra Johnson and Isabel Acosta among others were major contributors for the ISA defense along with goalkeeper Emma Havrilla.
Atlanta finished the weekend with one win and two draws, scoring 3 goals and allowing 2. Class of 2018 goalkeeper Emory Wegener was consistently sharp, as was her back line led by fellow freshmen Madison Ciccone, Jenna Horton, Joselle Morche and Emma O'Connor.
NEFC Elite 3-0 Richmond United | Championship Division Final
Ash Baird (2018) scored in the opening minute of the match and Taylor Kofton (2018) had a second half brace as NEFC shut out Richmond United ECNL 3-0 in the U-15 Championship Division final.
Center back Jenna Tivnan (2018) and goalkeeper Holly Stam (2018) were stellar once again as NEFC shut down a Richmond United team which is second in the ECNL Chesapeake Division at 9-1-4 with a +21 goal differential in league play.
By winning the Jefferson Cup top flight, NEFC added yet another accolade to their remarkable run over the past year in which they have won the New York and New England NPLs, Massachusetts State Cup, US Youth Soccer Region I and National [player_box id=44525 leftright=right]Championships, Disney Showcase and several other top events.
"Richmond had two very special players up top in (McKinley Burkett) and (Paige Franks)," said NEFC coach Carl Tarabelli. "With four games in three days, our players didn't have much left in their [player_box id=43425 leftright=right]legs but we were able to front them and try to deny them of the ball. Richmond plays extremely hard but my kids were able to find some reserve."
"It was a great tournament as far as four outstanding teams," Tarabelli said. "Our players are going to sleep for a week. These games were physical, fast, extremely competitive and you can't ask for anything more."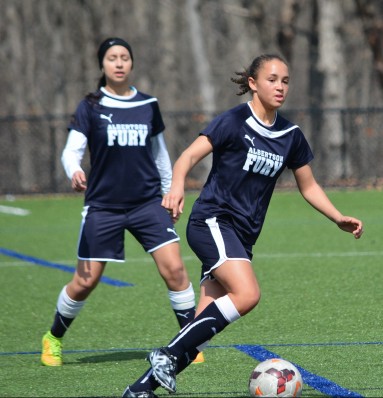 Albertson Fury 3-2 Arsenal FC Golden Fire | Elite Orange Division Final
Erica Bardes (2017), Alex West (2018) and Sarah Jordan (2017) found the net for Albertson Fury in a 3-2 win over Arsenal FC Golden Fire to win the Jeff Cup Elite Orange Division final on Sunday afternoon at Stratton Park.
Albertson held a 2-1 lead at the half on goals by Bardes and West, and Jordan added a late insurance goal in the second half to extended the scoreline to 3-1. Fury would end up using the insurance that West had provided, conceding a quick score to Arsenal's Lauren Schultz (2018) moments later. However, the final whistle blew moments after the ensuing kickoff and Arsenal was out of time for a potential comeback.
Julietta Thron (2018) and Brianna Slider (2018), along with defensive midfielder Nikki Butler (2018) were among the key contributors to an Albertson defense which contained an Arsenal attack which racked up 10 goals in three group matches.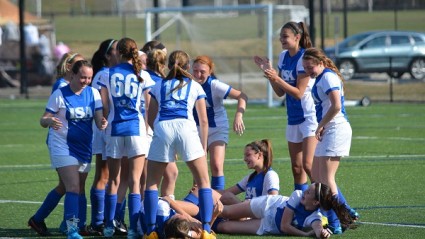 ISA Elite 99 2-2 Connecticut FC ECNL (ISA wins in PKs) | Elite Black Division Final
The last game of the 2015 Jefferson Cup Girls Weekend may have also been the best game of the tournament, as ISA Elite 99 scored two late goals to force overtime with Connecticut FC ECNL then went on to win the U-15 Elite Black Division final after a marathon penalty kick shootout.
Goals by Lauren Segalla (2017) and Elizabeth "Lizzie" Swanson (2017) put CFC up 2-0 and it appeared they would cruise to victory but ISA was once again rewarded for fighting until the final whistle. Stephanie Tsangaris pulled ISA within one goal with under 10 minutes to go, then on the final play of regulation Emily McNelis netted the equalizer on a scramble in the box following an ISA corner kick.
The sides held each other scoreles during overtime and it took eight rounds of penalty kicks before one finally went off the post for CFC, ISA converted the game-winner and went back to Long Island as Jefferson Cup champions.
"The girls did a great job, it would have been easy to give up but they showed a lot of perseverance and a lot of fight," said ISA coach Joe Bonifazio. "Playing a tournament like this against some great competition has definitely brought our team closer together and helped us get into form for the spring season."
ISA is in the beginning stages of the 2014-15 New York NPL spring season. Connecticut FC is currently second place in the ECNL New England Division and went a perfect 3-0-0 in group play at the Jefferson Cup before ISA's thrilling comeback in the Elite Black final.
U-16
NEFC Elite 1-1 Cleveland FC | Championship Division
With the Jefferson Cup taking place in the middle of March Madness, it's somehow appropriate that a player with a famous basketball name came up big.
Kobi Bryant, a junior who attends the alma mater of LeBron James – scored the tying goal on a set-piece to allow Cleveland FC to rally for a 1-1 tie with Massachusetts-based NEFC Elite in a U-16 Championship division match.
NEFC had the run of play for much of the game and took a first half lead on a goal by sophomore Riley Lochhead. However, despite crating many chances, they failed to find an insurance goal and that proved costly when Bryant netted the late equalizer.
"I thought for most of the game we played really well, did a lot of good things," said NEFC coach Chris Hamblin. "But we weren't good enough in the final third. We still have work to do there and that's a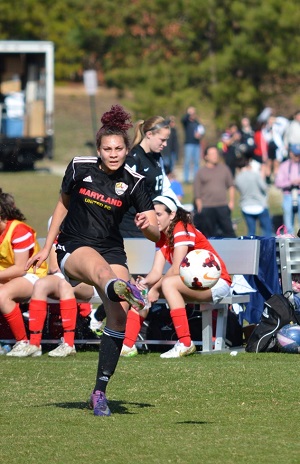 take away from us. We didn't take advantage of our possession, which I thought we did a good job of, and then made a mistake defending a set-piece. So that's a good learning experience for us going forward."
Still, Hamblin was pleased with his team's three games in Richmond. "We got good competition and good tests," he said. "And the girls got seen by a lot of colleges. But it's not just the number but the right colleges. They've all been doing a good job writing and having a dialogue with the schools they're interested in and a lot of those schools were good so that's very positive."
U-17
PDA Arsenal 1-1 Maryland United ECNL | Championship Division
In a U-17 Championship division match featuring two of the more loaded teams not just at the Jefferson Cup but in the country, Maryland United FC 97 rallied for a 1-1 draw with PDA Arsenal from New Jersey.
As expected between two well-coached teams loaded with players bound for high-end Division I [player_box id=48501 leftright=right]programs, the match was intense and evenly played. PDA went up in the first half when a failed clearance by a Maryland defender bounced off her arm in the 18 and a penalty was awarded.
For the second time in three games here, Nicole Whitley stepped up and converted from the spot.
Needing a spark, Maryland coach Shannon Higgins-Cirovski went to her bench at halftime, inserting Rachel Kim, Zoe Smedley, Collette McGarvey, Danielle Steigerwald and Kristen Castle. "Our reserves came on and really gave us a lift and we were much better in the second half and we created a lot of chances."
Despite the chances they created, Maryland still required a bit of fortune to score. Gabrielle Vincent hit a hard show from about 20 yards right at the PDA goalkeeper. She appeared in position to make a simple, two-handed stop only to have the ball go through her hands and into the net, leaving the goalkeeper shaking her head and staring at her gloves.
Despite the draw, PDA coach Meaghan Ryan was pleased with how her team played. "They're a really good team with some very good players and it's always a tough game when we play them," said Ryan, who grew up in Maryland and was recruited as a high school player by Higgins-Cirovski, who was then coaching at the college level. (Ryan opted to play for Rutgers.) "At this stage of our season, where we're just getting outside and playing regularly on grass, we're focused on habits, creating good ones and doing the things we need to, consistently, to get better so that those things just become how we play, not something we do sometimes. And a game like this and a tournament like this really help us get to that point.
FC Virginia 2-1 Brentwood Pride | Championship Division
At its core, the Jefferson Cup is a showcase event for elite players to be seen by college coaches.  Few [player_box id=52553 leftright=right]players have taken advantage of that like Christiana Davey.
A junior forward for FC Virginia 97, Davey scored both of her team's goals in the first half of a 2-1 U-17 Championship division win over Brentwood SC Pride from New York.
Davey is one of just five players on Virginia who hadn't verbally committed to a college program prior to the start of the tournament. So given all the college scouts attending here, her brace was very timely.
"It's big for me, especially being one of the few on our team who isn't committed yet," said Davey, who hinted she's close to picking a school. "This tournament is so important as a showcase so to play well in [player_box id=43841 leftright=right]front of coaches is big."
Davey was quick to praise her teammates for both goals. "The first goal was all Emily Fox," Davey said [player_box id=43418 leftright=right]of her sophomore teammate who has committed to North Carolina. "She made a great run on the left and crossed it in and I just had to not miss."
On the second goal, Julia Phillips, came in from the right and sent a cross in that Davey finished. "She did all the work on that one, too."
Brentwood made things interesting when Katie Ross, another uncommitted junior, scored on a header with about 10 minutes remaining.
U-18
Potomac Hotspur 1-1 VSA Heat | Championship Division
In a U-18 Championship Division match between teams from either side of the Virginia-Maryland state line, Potomac Hotspur and VSA Heat Blue battled to 1-1 draw.
Olivia Korhonen, a senior bound for Northwestern this fall, scored for VSA but Jenna Pastel tied it in the second for Potomac.
"This is always a very close match and we're very familiar with each other," said Potomac coach Steve Knapman. "It's two teams with very different styles, one's more direct, the other more possession-oriented so they basically cancel each other out and have an even game."
While they were completing pre-game warm-ups, VSA learned of their qualification for the US Youth Soccer National Championships this summer in Oklahoma.  "They're very excited about that because most of these girls are seniors and it means they can stay together a little longer," said VSA coach Steve Smith.
Jeff Cup Video Clips

2015 Jefferson Cup Girls from Chesterfield County, Virginia on Vimeo.
3 Awesome Saves by Stephanie Westaway @LakeNormanSC @jeffersoncup #JeffCup #BeautifulAmbition pic.twitter.com/Bd2N12YZTl

— StreamSports NC (@StreamSportsNC) March 25, 2015
Champions and Finalists
U-15
Championship
Champion: New England FC Elite (MA) | Finalist: Richmond United ECNL (VA)
Elite Orange
Champion: Albertson Fury ECNL (NY) | Finalist: Arsenal FC Golden Fire (PA)
Elite Black
Champion: Intense SA Elite 99 (NY) | Finalist: Connecticut FC ECNL (CT)
Superior Orange
Champion: South Carolina United FC (SC) | Finalist: Empire Revolution Buffalo (NY)
Superior Black
Champion: Maryland United ECNL (MD) | Finalist: Smithtown Kickers SC Hotspur (NY)
Platinum Orange
Champion: FC Europa Hotspurs 99/00 (PA)  | Finalist: Tampa Bay United Premier (FL)
Platinum Black
Champion: Syracuse Development Academy (NY) | Finalist: Beach FC 99 Red (VA)
Platinum White
Champion: Vienna Patriots Black (VA) | Finalist: Boston Breakers Academy (MA)
Classic Orange
Champion: New Jersey Rush 99 Grey (NJ) | Finalist: HFC Ready 99 (PA)
Classic Black
Champion: HMMS Eagle FC 99 Villa (PA) | Finalist: World Class FC 99 Magic (NY)
Premier
Champion: Wilmington Hammerheads White (NC) | Finalist: Lehigh Valley United (PA)
U-16
Championship
Champion: Albertson Fury ECNL (NY) | Runner-up: PDA O'Reilly (NJ)
Elite Orange
Champion: Penn Fusion SA ECNL (PA) | Runner-up: NVSC United 98 Blue (VA)
Elite Black
Champion: Seacoast United Elite 98/99 (NH) | Runner-up: Premier SC Real (MD)
Superior Orange
Champion: Florida Krush 98/99 Black (FL) | Runner-up: Council Rock FC Bucks ECNL (PA)
Superior Black
Champion: Quickstrike FC (NY) | Runner-up: FC Copa Academy Celeste (NJ)
Platinum Orange
Champion: LDC United Galaxy 98-99 (PA) | Runner-up: Pitt Greenville SA 98 Stars (NC)
Platinum Black
Champion: SAC Premier Blue (VA) | Runner-up: CASL 98 Ladies Red (NC)
Classic
Champion: Churchland Xplosion Premier (VA) | Runner-up: Council Rock United FC Bucks Storm (PA)
U-17
Championship
Champion: Richmond United ECNL (VA) | Runner-up: Ambassadors FC 97 Blue (OH)
Elite Orange
Champion: McLean YS ECNL (VA) | Runner-up: Oakwood SC Pride 97/98 (CT)
Elite Black
Champion: Florida Fire Juniors 97 Premier (FL) | Runner-up: Match Fit Academy ECNL (NJ)
Superior Orange
Champion: New York SC 97 (NY) | Runner-up: Massapequa SC Crush (NY)
Superior Black
Champion: Pittsburgh River Hounds (PA) | Runner-up: HBC Strikers (NY)
Platinum Orange
Champion: Seacoast United Elite 97/98 (NH) | Runner-up: Quickstrike FC 98 (NY)
Platinum Black
Champion: West Virginia FC Chaos Premier (WV) | Runner-up: Rage SC 97 Athletica (PA)
Classic
Champion: Manhattan SC River Plate (NY) | Runner-up: CASL 97 Ladies Red (NC)
U-18
Championship
Champion: McLean YS 96 ECNL (VA) | Runner-up: Beadling Gunners (PA)
Elite
Champion: Ohio Premier SC 967 Red (OH)| Runner-up: Rage SC 97 Athletica (PA)
Superior
Champion: United German Hungarians Fevernova (PA)  | Runner-up: Match Fit FC NPL (NJ)
Platinum
Champion: LDC United Lightning (PA) | Runner-up: Richmond Kickers Elite (VA)