Potomac area ECNL division leaders in good form as playoffs inch closer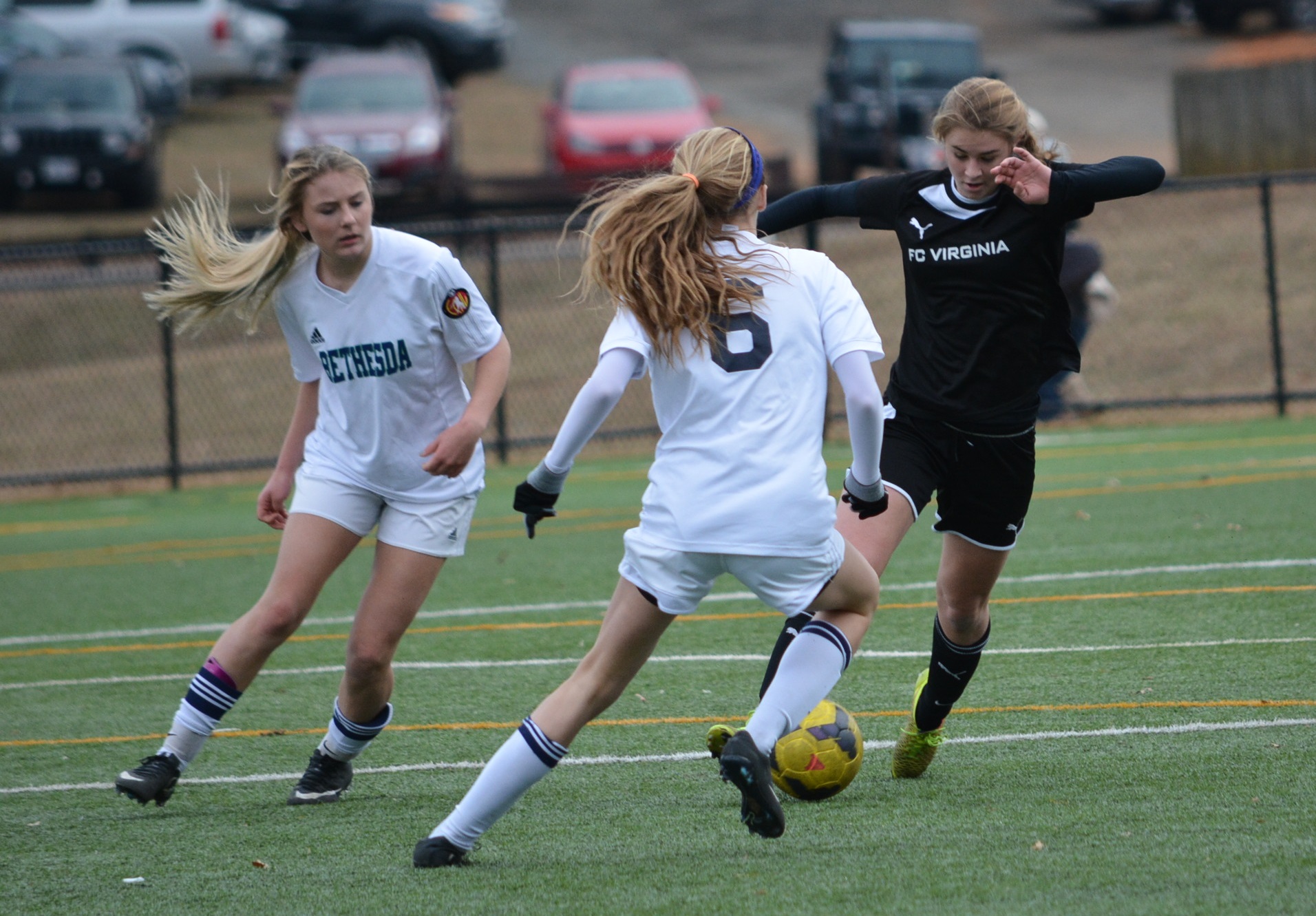 ECNL Ohio Valley and Chesapeake Division-leading teams from Potomac area clubs Bethesda SC, FC Virginia and Maryland United were in good form once again on the second-to-last weekend of regular season play, as they continue to tune-up and battle for higher seeds in the Champions League playoffs.
[player_box id=53569 leftright=right]In the U-14 age group, Bethesda SC (13-0-1) moved within one game of completing an undefeated regular season with 1-0 and [player_box id=53602 leftright=right]4-1 home wins over Ohio Elite Soccer Academy and Indiana Fire Juniors. Bethesda, the No. 1 overall seed for the Champions [player_box id=53565 leftright=right]League with 42 goals scored and only 12 allowed, will seek to wrap up its unbeaten regular season against Maryland United on Saturday, June 6.
[player_box id=43843 leftright=right]McLean U-14 finished its regular season on a strong note, earning 5-0 and 3-2 wins over Indiana Fire Juniors and Ohio Elite [player_box id=54374 leftright=right]while FC Virginia defeated NC Fusion 2-1 at Bryan Park in Greensboro, North Carolina. Cassidy Brown sparked the FCV attack, scoring one goal and assisting Zoe Tran on the other. Sydney Ash provided the assist on Brown's goal for FCV, which will face Ohio Premier in its regular season finale this Saturday.
[player_box id=48448 leftright=right]FC Virginia U-15 (11-1-7 Overall, 8-0-5 Conference) remains unbeaten in Mid-Atlantic Conference play after a 1-1 draw with [player_box id=48436 leftright=right]McLean on Saturday evening. Renee Kohler found the net for FCV while Kristina Toms scored for McLean. Kohler's goal [player_box id=53281 leftright=right]was her 8th of the season while Toms netted her 9th, both good for second on their respective teams. FCV holds the No. 12 Champions League seed sitting atop the Chesapeake Division, while McLean is just outside the wild card bubble with one match remaining, .03 points per game behind Colorado Rush for the last spot. 
[player_box id=45895 leftright=right]Playoff-bound Bethesda U-16 earned its third straight win on Saturday, edging in-state rival Maryland United 2-1 at [player_box id=43412 leftright=right]Hammond High School. Defender Maria Gentile assisted Kori Locksley on her team-leading 9th goal of the season for Maryland United. Olivia Kane and Jadyn Wilensky netted goals for Bethesda in the win, while Cameron Murtha picked up her team-leading 8th assist of the season. Bethesda (11-3-6 Overall, 9-1-4 Conference) holds the No. 12 Champions League seed.
Also in the U-16 age group, McLean and FC Virginia played to a 1-1 draw on Sunday morning at Spring Hill Rec Center. Amber DiOrio scored for McLean and helped the back line hold the division leaders to just one goal of their own, a strike from Ashley Anderson set up by Casey Kent. The goal was Anderson's sixth of the season. First place in the Chesapeake Division, FCV (7-7-5 Overall, 7-1-5 Conference) is the No. 30 Champions League seed entering the ECNL regular season's final weekend.
[player_box id=52553 leftright=right]Ohio Valley Division-leading Maryland United U-17 (12-9-2 Overall, 10-3-1 Conference) picked up its 8th shutout win of the [player_box id=55694 leftright=right]season, defeating crosstown rival Bethesda 2-0 at Hammond High School. Nia Dorsey and Alyssa Hill each connected on [player_box id=48458 leftright=right]their 5th goals while Sarah Osborne earned her 4th assist. Dorsey is now tied with Osborne for the team lead in assists. [player_box id=43841 leftright=right]Maryland United, holding the No. 28 Champions League seed, faces No. 23 Champions League seed and division opponent [player_box id=43842 leftright=right]Ohio Premier at home on Sunday in a pivotal regular season finale. Allison Higgs, Katie Berkowitz, Ashley Paquet, Rachel Kim, Zoe Smedley, Emily Dunn, Kristen Castle and goalkeeper Melanie Stiles have all been key contributors to a dominant defensive unit for MUFC which has allowed just 7 goals in conference play.
The No. 2 overall seed in the U-17 age group, FC Virginia (14-1-4 Overall, 12-0-1 Conference) took care of business once again, defeating McLean 3-1 at Spring Hill Rec Center on Saturday afternoon. Christina Davey sent a cross in to Emma Kershner for a touch-in goal to open the scoring, but McLean equalized later in the half as Breanna Mitchell sent a sliding shot past FCV goalkeeper Maggie Barron. FCV took over the match in the final 20 minutes of the second half, as Emily Fox's 18th goal of the season put her team up 2-1, then Fox assisted Davey on an insurance goal in the waning minutes.
See below for full results from the Potomac region's ECNL action over the weekend, along with updated standings and playoff tables.
Results
U-14
| | | | |
| --- | --- | --- | --- |
| May 30 12:00pm | | | |
| May 30 1:00pm | | | |
| May 30 2:00pm | | | |
| May 31 11:00am | | | |
| May 31 11:00am | | | |
U-15
| | | | |
| --- | --- | --- | --- |
| May 30 11:00am | | | |
| May 30 6:00pm | | | |
U-16
| | | | |
| --- | --- | --- | --- |
| May 30 1:00pm | | | |
| May 31 10:00am | | | |
U-17
| | | | |
| --- | --- | --- | --- |
| May 30 9:00am | | | |
| May 30 3:00pm | | | |
Standings
Playoff Table