Potomac area Development Academy review: April 11-12, 2015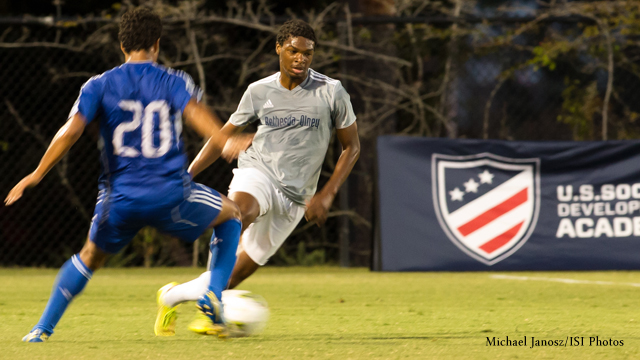 Bethesda-Olney U.S. Soccer Development Academy teams traveled to New Jersey this weekend and earned one win and two draws against some talented PDA sides, highlighting the Potomac area's USDA action.
[player_box id=43477 leftright=right]Mateo Leach scored 2 goals in a four-minute span late in the second half to help the Bethesda U-13/14s earn a 2-2 draw after PDA built a lead with a goal in each half. A first half goal by Jerry Zouantcha and a second half brace for Thomas Hansan lifted the Bethesda U-15/16s over PDA 3-1, and the U-17/18s tied PDA 1-1 behind some strong defense and a 36th minute goal by Ibrahima Kouyate as Bethesda got the best of the host club in the Saturday triple-header.
In other Potomac area Development Academy action, D.C. United U-13/14 defeated SAC 3-1 on Saturday and fell to [player_box id=43440 leftright=right]Philadelphia Union 3-0 on Sunday. The United U-15/16s lost a tough 1-0 match to Philadelphia on Saturday afternoon at Evergreen SportsPlex, with Jack Skahan netting the game-winner in the 80th minute. In the U-17/18 age group, United drew Philadelphia 1-1 on Sunday. Derrick Amaniampong struck in the 2nd minute for the Union and Eryk Williamson equalized in the 4th minute of a game apparently trending toward a shootout, but the defenses quickly buckled down and neither team conceded after the early fireworks.
See below for full results from the Potomac area's Development Academy competition this weekend…
U-13/14
| | | | |
| --- | --- | --- | --- |
| Apr 11 2:15pm | Goals: Alec Townsend (6′), Alexis Cerritos (48′),  Roberto Cabrera (72′) | | Goals: Bennett Detweiler (61′) |
| Apr 11 6:30pm | Goals: Stephen Schmitt (36′) John Murphy (65′) | | Goals: Mateo Leach (75′, 79′) |
| Apr 12 12:30pm | | | Goals: Daniel Bloyou (53′, 68′), Seth Kuhn (71′) |
U-15/16
| | | | |
| --- | --- | --- | --- |
| Apr 11 4:30pm | Goals: Josh Burnett (9′) | | Goals: Jerry Zouantcha (38′), Thomas Hansan (50′, 55′) |
| Apr 12 2:30pm | | | Goals: Jack Skahan (80′) |
U-17/18
| | | | |
| --- | --- | --- | --- |
| Apr 11 2:00pm | Goals: Jalil Blalock (20′) | | Goals: Ibrahima Kouyate (36′) |
| Apr 12 1:00pm | Goals: Eryk Williamson (4′) | | Goals: Derrick Amaniampong (2′) |