MIC test: Chivas USA U-14s shine in Spanish tourney, push Barcelona to final whistle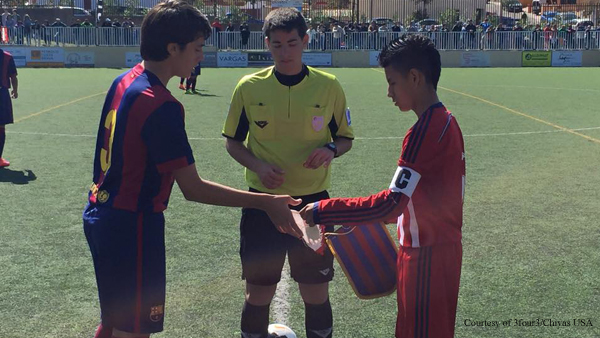 There's a moment in the 21st minute of the Chivas USA Academy Under-14 squad's recent Mediterranean International Cup (MIC) match against mighty FC Barcelona that typifies the style of play that has defined head coach Brian Kleiban's tenure with the club.
Barcelona lose possession in Chivas' defensive half, but instead of booting the ball upfield, a Chivas USA defender quickly passes to a teammate near midfield.
+READ: ODP Boys Region I teams complete successful international trip, including MIC run
Moving towards the midfield stripe with the ball, he weighs his passing options and finds another teammate out wide who one-touches the pass to the run of an onrushing Chivas USA attacker.
In just seconds, a defensive interception has transformed into a dangerous attack as Chivas USA attackers swarm all over the field, putting their opponents on their heels.
With only a split second's hesitation, a Chivas USA player sends a long diagonal ball into the box that splits the Barcelona defense.
Before Barça's defenders can recover, the ball has been cleanly laid on a platter for another Chivas attacker to finish. He pounces on the pass, but his one-time effort sails just wide of goal (see full match video below).
It may have been astonishing for the Spanish crowd to witness an American youth side taking it to one of the best youth academies in the world. But Chivas USA had already shocked one opponent after another in the tournament on the Catalan coast, taking seven points in the group stage before defeating Finnish club Vantaa Football Club (VJS) and Spanish club Getafe en route to the quarterfinal showdown with Barcelona.
"They tend to say that as you get older, [the Europeans] get way better and we stagnate or stay the same," Kleiban told SoccerWire.com. "We proved on this trip that in terms of results and performance, that's not the case with our group."
The Chivas USA Academy lives in a unique, awkward state of limbo, but it hasn't stopped Kleiban and his staff from pushing their talented group to head-turning levels of quality.
+READ: MLS officially shuts down Chivas USA; new LA club to kick off in 2017
The highly-respected youth program of a now-shuttered professional club, the Southern California outfit continues to compete impressively in U.S. Soccer Development Academy play and beyond, months after its star-crossed parent organization was erased from Major League Soccer's rolls following the franchise's sale to new owners.
Chivas USA's U-15/16 and U-17/18 teams are more than holding their own in the DA's stacked Southwest Division, but it's captain Efrain Alvarez and the rest of the U-13/14 group that has inspired the most excitement among observers.
Kleiban and his brother Gary, who documented the trip with tweets, match videos and photos like the ones shown here, took the group back to the MIC after finding it a highly useful test two years ago. That journey also featured a tight clash with Barcelona, one which ended in a 1-1 draw. More details of that match (including video) and the entire 2013 trip can be found at the Kleibans' website, blog.3four3.com.
The Spain trip was financed in part by what the Kleibans refer to as an "outside benefactor," as well as money from players' families and the Kleibans' 3four3 coaching company. MLS, which has nominally operated all things Chivas USA since buying out former owner Jorge Vergara in early 2014, did not contribute financially.
Despite achieving such impressive results against top-level youth clubs, the Kleibans acknowledge that it's a fine balance between focusing on winning and maintaing a desired style of play.
"We never deviated from our style of play," Brian said. "That's critical. Gary got to see first hand this time around that whole argument about development and style of play. It really does go out the window at the top level."
As evidence of this, Kleiban points to the club's match against Barcelona. As soon as Barcelona recognized that Chivas USA were playing a high press and putting pressure on their defenders, they began to play more direct out of the back.
"It was pretty evident, to me anyway, that they wanted to win at all costs; screw the style of play, they have to win," Gary Kleiban said of the Catalan club. "From my vantage point, heads would roll if they lost to an American team."
+READ: Chivas USA Academy in limbo: Respected SoCal program's fate looks hazy
Barca's vaunted ranks of young talent would triumph in this meeting en route to their tournament championship in the "Cat C" (2001-born) bracket, as a few moments of magic from highly-touted Barca prospect Anssumane Fati and a couple of missed Chivas USA chances sank the Californians 2-0.
"When it comes down to it, winning matters," said Brian Kleiban. "Yes, it's important to develop, it's important to play a certain style of play, but it is equally as important to create a winning mentality with players that you're developing to become professionals. You need to develop winners as well."
For many of the Chivas USA players who traveled to Spain, this was yet another opportunity to measure up against some of the best young players in the world and a chance to experience big games in more hostile environments than they're used to in Development Academy play.
"[Playing in big games] is no big deal any more," said Brian Kleiban of his Chivas USA players. "When they play here Stateside and there are big games and the games is on the line, it's calmness, complete calmness about their demeanor and their approach to the game and during the game."
The Chivas USA players have learned to approach their matches with a level of professionalism rarely seen in youth soccer.
"It was the talk of the town when they saw the entire team roll up in full-on blazers, [ties,] and very organized and disciplined," he added. "It was very impactful [on the Chivas USA players] to see the opposing players be shocked at how they were dressed and how serious everything was.
"We're trying to get these kids with a serious pro mindset and the mentality of, 'this is business; this isn't a vacation,'" he added.
+READ MORE about Chivas USA's MIC experience at 3four3.com
However, with its parent club now dissolved and the replacement, LAFC (who will re-enter MLS in 2017), thus far showing little sign of interest in the academy system which it inherited, the Chivas USA academy's future is currently in flux. When asked about that future, Brian laughed.
"That's a question we hear almost daily," he said, adding that there should be more information about the future of the club in the days and weeks ahead.
In the meantime, it's back to the daily grind of training for the Chivas USA U-14s as they prepare for the stretch run of their DA season.
Regardless of what may happen in the weeks and months ahead, the club's performance in Spain has once again demonstrated that for both the Kleibans and their young charges, the future is bright.